New changes have been made to laws in Connecticut that will see online sports betting, fantasy sports, and other forms of iGaming legalized. It is one of several states to change its laws during 2021 as the United States continues to embrace online gambling.
Fantasy Sports & iGaming Legalized
The new bill, House Bill 6451, formalizes agreements that were made back in March. These agreements were between the state's governor, Ned Lamont, and the state's Mashantucket and Mohegan tribes. The bill will allow the tribes to offer sports betting online and at land-based locations.
As well as sports wagering, the tribes will be able to offer fantasy sports and other iGaming services. This is a big move, with fantasy sports being an incredibly lucrative market for bookmakers, especially online. Each of the tribes will be permitted to run one skin for online sports betting, and another for iGaming activities.
There is one more hurdle for the bill to cross before it is officially passed into law. Senator Lamont and the tribes will need to get approval from the Bureau of Indian Affairs at the US Department of Interior to commence activities.
Connecticut Hoping to Compete With Other States
Lamont was very enthusiastic about the bill. He said that by signing it, Connecticut was committed to competing with its neighboring states. He also commented on how the state plans to provide a top-quality and advanced gambling service.
Lamont further commented, saying that months of hard work have gone into getting this bill together and that he believed it should have no problem being approved by the Bureau.
The tribes themselves are also pleased with the deal. Mohegan tribal council chairman James Gessner Jr. said that he was very pleased with the bill, adding that the benefits of the deal will be felt state-wide. He mentioned the Covid-19 pandemic and praised the work of the community to get back on its feet.
Mashantucket Pequot tribal chairman Rodney Butler also commented. He described the bill as a historic moment for the state, adding that gambling is not just a business, but the way that the tribes fund their councils and government.
Plenty of Benefits for Connecticut
The benefits of the bill are likely to be felt across the state, not least of which in the tribe's communities. Connecticut joins a number of other states that have passed bills to allow online sports betting and iGaming in 2021.
Sports betting revenue in the state will be taxed at 13.75%. This is slightly less than iGaming revenue, which will be taxed at 18% for the first five years then 20% for the years afterward. All sports betting licenses will be handed out for a 10 year period.
As part of the agreement, each of the tribes has agreed to contribute $500,000 extra to the state's problem gambling programs and $1 million extra to the Connecticut Lottery fund. This was agreed to help combat opposition who said that the change in the laws would have a negative impact on problem gambling in Connecticut.
America Continues to Embrace Online Gambling
Since the supreme court removed its ban on sports betting in 2018, over two dozen states have legalized the activity in some form or another. While not all of these states have changed their laws to accommodate online sports betting, they all allow sports betting in person.
Many states like Colorado, Illinois, Nevada, and New Jersey have all legalized online sports wagering in one form or another. Many states do still require people to go to the casino in person to register their account. It is not clear yet whether or not this will be the situation in Connecticut.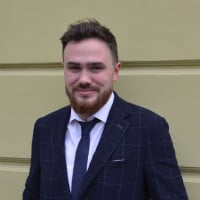 Liam is a skilled writer and journalist, highly regarded for his perceptive examination of the gambling industry. He specializes in online casinos and sports betting, and his work has been published in top-tier publications. Here at GoodLuckMate, Liam covers the latest industry news and has also authored various gambling guides, offering both beginners and experienced players in-depth analyses of games and strategies.