The Japanese are known for their love of anime, manga, vending machines, and weird fashion trends, but very few people know that the Land of the Rising Sun is also home to thousands and thousands of gamblers. Unfortunately, it is impossible for them to play online, and according to statements by Chairperson of the Liberal Democratic Party's National Public Safety Commission, Hachiro Okonogi, the lawmakers plan to leave it that way. In fact, he also announced an even bigger fight against illegal online casinos that accept players from Japan. It seems the anticipated opening of Integrated Resorts in Japan won't do anything for the regulation of online activities.
Can the COVID-19 Pandemic Speed Things Up?
The question about the legalization of offshore casino companies was raised by the opposing politician Hiroyuki Moriyama of the Constitutional Democratic Party. Moriyama warned that the current pandemic, which has been affecting our everyday lives for over a year, incited the Japanese to gamble at unlicensed online casinos. Just like elsewhere in the world, the pandemic influenced the daily activities of most people. Forced to stay at home and limit their social contact, many of them found rescue and entertainment at online casinos.
Okonogi explained how the current IR Development Act doesn't recognize the existence of online establishments, and therefore, they can't be regulated by it in any way. This professional politician, who has been active since 1993, also said he was asked the same question at the Cabinet Committee the week prior, so he provided the same answer - he plans to "take strict action as the police and Chairperson of the National Public Safety Commission". He reminded everyone that there were companies who tried to establish themselves as online operators, and they were all taken to court and prosecuted.

Japan - The Past and The Future
Even though, from the present point of view, the future of online casinos in Japan doesn't seem bright, the country has made significant progress in the land-based gambling industry. After the 2018 amendments in the gambling law, we should soon see the opening of three Integrated Resorts where gambling would be allowed. Yokohama, Osaka, and Nagasaki casinos have been recognized by international investors and gaming providers who see Japan as the next hot gambling market.
Japanese gambling laws are no joke, and the lawmakers even prosecuted players who participated in illegal activities, although in the 2017 case all charges were dropped. Still, most players who want to enjoy online casino games expose themselves and their money to significant risk. At the same time, there has been some progress in the field of online sports betting that is allowed in resorts, as well as betting on the lottery.
Still, even in an authoritative environment like Japan, people find a way to enjoy this popular pastime. One of the most popular ways is pachinko parlors, establishments that offer the Japanese version of slots. Pachinko games are not 100% games of chance, but rather a mix of skill and chance as they do require some maneuvering. Considering the pachinko parlor is not a casino, and can't handle any financial transactions, you can exchange your chips for a small token and plush toy, that you exchange, once again, for a financial prize at a special kiosk once you leave the gaming parlor.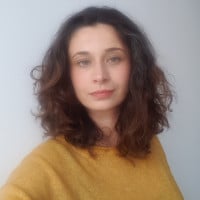 Borina Kopcic Pandur is a skilled and imaginative writer with years of experience in the gambling industry. As a writer for GoodLuckMate, she specializes in crafting detailed and engaging casino reviews that offer a fresh perspective on online gambling. With her unique writing style and profound industry knowledge, she provides readers with expert evaluations and insightful perspectives.