We recently sat down for a chat with SYNOT Games' Chief Product Officer Matej Sopóci. In the interview, Matej discussed the company's goals for 2022 and provided us with detailed insight into his creative process and vision. We also asked him about his personal favorite slot games and asked for his take on what the future of the gambling industry looked like. Check it out below.
First of all, can you tell us a little about yourself? What is your role within SYNOT and how long have you worked for the company?
I am the Chief Product Officer at SYNOT Games and have been with the company for 6 years.
Besides my work, I like to spend time watching movies, reading books, playing games or painting miniatures.
What is the key ingredient that makes SYNOT's slot stand out from its competitors?
Graphics and sound are the stand-out, I dare say signature features of our games. We take time and effort to perfect our symbols to the smallest details so that they are pleasing to the eye individually as well as together on the screen.
Musically, our base melodies are non-disruptive, enjoyable pieces. They are just the right balance of original and subtle to keep the player entertained throughout the game.
The gambling industry is evolving at a rapid pace - what do you think will be the major trends and developments in terms of slot development over the next five years?
There is a noticeable shift towards mobile-oriented gameplay. We observe this trend among players, who chose to play on their mobile devices increasingly more often but also with game providers, who are adapting to the player demand, so much so that they are making slots that resemble mobile games.
What do you feel has been SYNOT's most successful slot, and why do you think that is?
Our most successful slot is without a doubt Respin Joker. For one, we have the data to support our claim. Ever since it has reached the top, it has not moved an inch. It's a simple, straightforward game, rewarding players at every step of the way just enough to tickle their interest and keep them returning. And it looks pretty, it's glossy and has a lovely soundtrack. It seems we hit the right amount of everything with this slot.

Do you think SYNOT's experience in land-based slot machines has been a benefit in helping to break into the online market?
Absolutely. We had a competitive advantage because distributors already knew the name and so did the players. So we weren't moving to the online space completely unknown. Which is not to say it was all that much easier by any measure. 😊
As a developer, what do you look to in terms of inspiration for your online slots?
Of course, the grass is always greener on the other side of the fence, so we keep a close eye at our competition's output. But anything can become a source of inspiration – our hobbies and interests often find their way into our games. With that said, we try to incorporate things that can work together with interesting game mechanics as long as things are not overly complicated. We want the player to relax playing our games.
In such a fast-moving industry, what do you believe is the biggest challenge for slot developers going forward?
Keeping up with the rapid development of browser technologies is one of the most difficult challenges we have to tackle. We pride ourselves on small game size. Our games are easy to download and are not taxing on device performance, partly because we use HTML5 but as browsers evolve, we will have to adapt to stay relevant without compromising on size.
What is the most challenging part of the slot development process? And what is your favorite?
Coming up with an idea that works must be the hardest part, for me at least. Everything else, like budgetary limitations and winning important arguments over details, is a necessary evil that you can learn to deal with over time.
On the other hand, my favorite part is when things finally come together. Every piece fits snuggly into the other, things just work and feel right. And when they don't, we fiddle with them until they do.
Which of SYNOT's slots are you most personally proud of, and why?
My top three include Respin Joker, Diamondz and Corsair Queen, each for a different reason.
Respin Joker, because, well it's Respin Joker. See Q.4.
There was just something I liked about Diamondz from the very beginning. And that feeling stayed with me despite the "z" at the end, which made it to the title as a joke and it just stuck.
And Corsair Queen is my game. Nothing else to add there, it's a completely biased preference. 😊

SYNOT recently entered the Polish market - how important is the Central and Eastern European market to your success?
Like every market, this one is also very important to us. This region however holds another significance – it is our home market so naturally, it is important to be able to be seen in all of its corners.
Landing our license in Poland was one of last year's major milestones. Being able to operate in Poland is a huge step forward, which means bringing many new players to the table.
2021 was an exciting year for SYNOT - what can we expect from the company in 2022?
Like every year, we're setting the bar a little bit higher still. We are bringing in new unique features along with a roster of new games. And we are also unpacking our SYNOT Progressive Bonus tool into many more markets, so get ready. There's lots to look forward to.
Some of SYNOT's most successful titles have been fruit-machined inspired slots - what is it about these slots that you think keeps audiences coming back for more?
We haven't cracked the code yet, either, but it might be because the majority of players are simply used to them. For these players it comes naturally to play for lines of fruits, I guess in the tradition of old mechanical slots. Knowing that, over half of our games are fruity slots and we are making new ones. Players don't seem to grow tired of them any time soon, so we will keep making them.
About SYNOT
SYNOT is an incredibly well-respected developer in the industry that currently operates in over 20 different betting markets. It is native to central Europe, having been founded in Slovakia, but has since expanded across the continent and beyond. The company has over 30 years of experience providing top-of-the-range land-based and online slot games.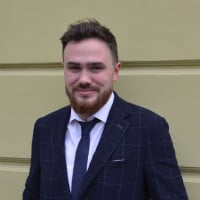 Liam is a skilled writer and journalist, highly regarded for his perceptive examination of the gambling industry. He specializes in online casinos and sports betting, and his work has been published in top-tier publications. Here at GoodLuckMate, Liam covers the latest industry news and has also authored various gambling guides, offering both beginners and experienced players in-depth analyses of games and strategies.