When it comes to new and exciting developers, there are few that can compete with Gamebeat. The company opened its doors in 2020 and has very quickly established itself as a top player. One thing that has helped Gamebeat stand out from the crowd is the visual presentation of its slots. We were lucky to sit down with the company's Art Lead, Svetlana Morgacheva, and talk to them about everything from sources of inspiration to audience expectations, and more
First of all, thank you for taking the time to talk to us. Can you tell us a little bit about yourself and your role at Gamebeat?
You are always welcome, I am happy to answer your questions! At Gamebeat, I work as an Art Lead. I manage a team of artists and animators and I'm responsible for how our games will look. This is a very exciting and responsible job since the visual style of our slots is born specifically in our department.
Can you talk us through the creative process for slot games at Gamebeat?
We could make a whole film to describe in detail all the stages of our work. I will try to describe the process as concisely as possible; first, we thoroughly study the market followed by an active storm of ideas with each team member offering his or her own vision. We discuss this, come to a single concept and agree on it. Then the team writes the necessary documentation and proceeds to the art and technical implementation.
Where do you look for inspiration when designing slot games?
From the sound of the ocean, birdsong, pink sunset, morning rain ...
I joke, of course! It is difficult to name specific things since literally everything (yes, everything!) in the world can be turned into a slot game. Holiday? A crime? Fridge? Toilet? All of these can easily become games and more than excite the imagination. I think the real inspiration lies in the lack of boundaries and freedom.
There are many common themes in the online slot world - Ancient Greek mythology, for example. How do you go about making your slots different from other games with similar themes?
You know, the same clothes look different on different people, because each person is unique. This same logic is applied by slot developers.
Each developer, in one way or another, contributes to the topic, which is wonderful. Personally, I think it's important to focus on the details, as they create volume. This is what our team does, this is what allows us to stand out in the market.
If you had to choose one game that perfectly captures the artistic vision of Gamebeat slots, what would it be?
This release is currently in development!
I can't reveal all the secrets, I can only say that there are masterpieces ahead!
Which of your slots have been the biggest hits with players, and why do you think that is?
Some of our most popular games are Buffalo Trail and Fortune Five Double. Timeless classics will always be relevant and loved by players due to clear rules, good mathematics and generous bonuses.
What is the most challenging aspect of designing an online slot game? What are the biggest challenges you face in bringing your vision to life?
Oddly enough, the most difficult thing is to come to a common game vision and sense of play. Each member of the team can initially perceive the story or concept in their own way, so it is important for us to build a common understanding of the future slot in order to create the very emotional path that the player will go through.
When we come to it, the process goes much faster and the result is wonderful!
Gamebeat is new to the market, and has managed to find a lot of success in a short space of time, what do you think has been the key to this success?
I believe that there are no limits to perfection and we are still on the way to this success. However, now we can say that one of those very secret keys is love and attentiveness that help us create each slot.
How important do you think the design of a slot is when it comes to attracting players?
Very important!
Slots are all about fun, emotions, and drive, but how can you achieve this without beautiful animations, characters, royals and wilds? That's right, you can't.
We are seeing a more significant focus on story and design in slots than ever before, why do you think this is?
This is a natural process. All media and entertainment are developing, the audience is becoming more sophisticated. Technology is also developing, which makes it possible to bring bolder and more unusual ideas to life.
Thanks to this, we can afford a more subtle interaction with the player, enrich our animations and art.
Can you tell us about any upcoming slot games you have been working on?
I prefer to keep the intrigue, but I can give you a hint:
This will be our vision of the classics loved by all!
About Gamebeat
Gamebeat is a young development studio. The company released its first slot in March 2021 and has not looked back since. In the time since then, it has been praised for its innovative approach to online slot design and gameplay, and it promises plenty more exciting titles in the future.
We would like to extend our thanks to Svetlana for taking the time to sit down and talk to us!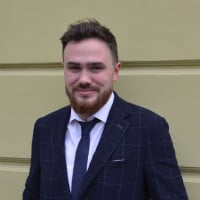 Liam is a skilled writer and journalist, highly regarded for his perceptive examination of the gambling industry. He specializes in online casinos and sports betting, and his work has been published in top-tier publications. Here at GoodLuckMate, Liam covers the latest industry news and has also authored various gambling guides, offering both beginners and experienced players in-depth analyses of games and strategies.