Evoplay has set the iGaming world alight in 2022. The exciting slot developer has continued to innovate and has shown that, after five years on the market, it is truly one of the best in the business. We sat down for a chat with the company's Head of B2C marketing, Alex Rodkin, and spoke about the company's success, what the future holds, and the role that marketing plays in the iGaming world.
Firstly, thank you for taking the time to speak with us here at GoodLuckMate. Can you tell us a little bit more about yourself and your position at Evoplay?
My name is Alex Rodkin, Head of B2C Marketing at Evoplay.
I'm a performance marketer with an analytical strategic mindset and creative approach. In three years - I've built the most robust B2C marketing department in the industry, which includes Influence, Affiliate, Social Media Marketing, PPC, and more. I was also the recipient of the Creator of the Year 2021 from Evoplay.
Can you tell us a little bit more about your marketing strategy and how you make Evoplay stand out from its competitors?
My strategies combine creativity, a focus on results, and precise analytics, so I excel at analysing audiences, perfectly setting clear goals, and achieving them effectively.
I've always been a Performance Marketer, relying on accurate data, multiple analyses and audience insights. But accuracy isn't the only key to a successful marketing strategy; creativity is also. Our excellent game engine, Spinential, launched in 2020, was my title. I wanted to get creative about it because even a game engine can be made interesting with a clever name that describes its essence succinctly and clearly.
When I was thinking about the title, I wanted people to understand that we did a great job and put the best out there to optimise our games for all devices and make the loading process faster, the visuals more enjoyable, and the mechanics more fun. Spinential reflects its internal component - all the best essentials in the gambling industry - spins - Spinential.
I'm always trying to bring something new to marketing, something no one else has done. We were the first company to promote slots using AR technology. We released the first game on the new Spinential engine - Fluffy Rangers, and we developed Instagram masks with the main characters to promote that game. This was a novelty in the industry and the media picked it up immediately. We were the first to promote a New Year's Eve slot using AR technology. You could put a beautiful and, most importantly, very realistic AR tree in your home, tag us in Instagram Stories, and win valuable prizes. A New Year's fairy tale from Evoplay, we're not just gambling - we're creating pleasant emotions and various activities. That perfectly describes my ideology and my unique marketing approach. That's what makes me one of the most in-demand specialists.
Evoplay has expanded into some key markets this year, including both Italy and Romania, are there any other markets you are looking to expand into in the near future?
We are constantly expanding and entering new markets, preparing a separate independent entry strategy for each market media presence in these markets.
The iGaming market is changing at a rapid pace, what do you think will be some of the biggest changes we will see in the coming years?
The game is changing very fast, and sometimes it takes effort to keep track of it. Still, we manage to set up the process so that all the relevant marketing campaigns are automated as much as possible and taken care of well in advance, allowing us to work out our strategies for the future.
We have plans for the next few years, and at the same time, we have ideas that will take more than five years to implement. Some of the ideas I'm working on will be relevant in a few years; the market is not ready for them yet. One of the most exciting topics we are working on is the Meta Universe. I'm sure that in a few years, the Meta Universe will be more accessible and content-rich; therefore, gambling will find its place in it.
The last few years have been extremely challenging for companies in Europe, how have you not only managed to survive through that but also to prosper?
No matter the situation's difficulty, it depends on how you look at the problem. Each side has its own view of what is happening, and we try to see opportunities where others do not. This allowed us not only to stay afloat but also to improve our performance.
Evoplay has dipped its feet into the sports-betting world this year with some football-themed instant-win and slot games. What fueled this move and is this something we can expect to see more of in the future?
Yes, in the future, there will be even more development in this direction. This step was due to simple analysis and identification of a potentially valuable audience, which required its own specific approach.
This year saw the release of your annual Flagman game, Star Guardians. This is different to anything else on the market right now. Can you tell us a little about Evoplay's creative process for the game and what you are hoping to achieve with innovative titles like this?
We all know that to develop and improve, we need to get out of our comfort zone, improve ourselves, do something we have never done before, and raise the bar.
When we released Dungeon, we wanted to show the world that we could do cool projects and take the industry to the next level, now with the release of Star Guardians, we are raising the bar even higher, continuing to set the right direction for the industry by making gambling exciting and diverse.
Developing the marketing campaign for Star Guardians, everything started long before the release of the game; our pre-release campaign lasted more than six months. We worked closely with the development team to work through each character's story in the game, to work through the history of the whole universe and set the right atmosphere for the game. We proceeded to the stage, where we introduced our audience to each of these characters while maintaining a fine line of intrigue, keeping interested in what's next; we used the most diverse marketing mechanics we could come up with.
That's another huge opportunity that our flagships give us. They unlock the potential of the entire company, the developers, the designers, the sales team, and the marketing team as well.
Promoting such games is undoubtedly a massive challenge because it's not only a new and unique industry product but also a new and unique approach to promotion. We unlocked the game's potential and gathered massive coverage before the game's release. This way, we worked out another important aspect of creating such games - the audience's perception. A new product can be misperceived, and the task of marketing was not only to popularize it but to present it in the right way so that B2C and B2B audiences would understand what the value of this product was and why Star Guardians were cool. And we succeeded in doing that.
When the game was released, its audience was already over 50,000,000 worldwide. After the launch, we supported the game with a big tournament, with giveaways and attractive conditions for participation. We will do more activities like this in the future with flagships and regular releases.
2022 marks five years on the market for Evoplay. The company has come an awful long way in this time. What would you consider the company's proudest moments and biggest achievements so far?
Our most incredible pride is our people. From the moment excellent specialists joined our company, we instantly went global and still hold the leading position today.
Most of all, I was pleased to receive the "Marketing Guru" award, the "Marketing Campaign of the Year", "Innovation in Casino Entertainment" awards, and twice "Slots Developer of the Year", among several others.
This shows us that our marketing is on the right path.
Evoplay has had a hugely successful year in 2022, receiving recognition and rewards from across the industry, what do you believe has been the key to this success?
The decisive factor, year after year, is our creativity and freedom of thinking. We are not afraid of new challenges; we create our challenges. We try to compete with ourselves to become better.
Following on from this, can you give us a little taster of what Evoplay has in store for us in 2023?
Continuing the theme of self-development, in 2023, we will show a new level of creativity and set a new high bar. In 2023 we will appear more in the media space with streamers, with affiliates, and we will make more great content on social networks. Beautiful and exciting games and one incredible release await you. Stay tuned.
About Evoplay
Evoplay burst onto the iGaming scene in 2017, and in the five years since has established itself as a major player in the industry. One of the reasons for this is the company's innovative approach to slot game development and design. It has picked up numerous industry awards for its efforts and it has no intention of slowing down in the near future. The developer has created over 160 different games and its products can be found at top online casinos all across Europe.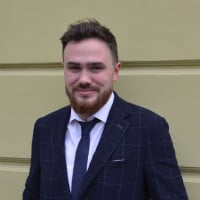 Liam is a skilled writer and journalist, highly regarded for his perceptive examination of the gambling industry. He specializes in online casinos and sports betting, and his work has been published in top-tier publications. Here at GoodLuckMate, Liam covers the latest industry news and has also authored various gambling guides, offering both beginners and experienced players in-depth analyses of games and strategies.