Gamzix is one of the most exciting new slot developers on the market today. The company launched in 2020, overcoming the odds to establish itself as a hot new developer in an increasingly competitive environment. We sat down with Oleg Galushko, the company's CPO, to talk about the challenges that his company has faced over the last two years, what the future looks like for Gamzix, and much more.
First of all, thank you for taking the time to sit down and speak with us. Can you tell us a little bit about yourself and your role within the company?
Hi, my name is Oleg Galushko, I'm CPO at Gamzix. I've been working in the iGaming industry for 5 years. I love my job and am happy to be a part of this gambling world. I'm responsible for the work and results of Gamzix's technical team. I deal with any questions regarding games, mechanics, mathematics, promo settings, bugs, technical details, and integrations with partners.
Gamzix launched in 2020. How difficult was it getting your products off the ground during the pandemic and what challenges did that present?
Nobody expected it would be easy. But that's life. If you have a business, it will always cause external and internal difficulties. The most important thing here is the people who surround you. If you have a reliable rear, all these difficulties become challenges. And this is exactly what happened to our team. The same values, goals, and priorities kept us together and helped to get through it.
You've made an instant impact in the market in a short period of time; what has been the key to your success?
The key to our success is not a big secret. People are looking for a magic trick which causes success, but the reality is different. Probably you have heard this a lot of times, but this is exactly what worked for us:
Flexibility. The last few years showed us how quickly and unexpectedly things change, even in a global way. So if you can't deal with it, you are staying behind those who could.
And, of course, our young and ambitious team, which consists of young motivated professionals with great experience in the iGaming industry.
This is our key and perfect match!
We noticed that your company is raising and donating money for refugees in Ukraine. Can you tell us a little bit about this and let our readers know if there is any way they can help or contribute?
Personally, I see no other options. A lot of our colleagues are from Ukraine. Their families and friends are staying there. And I had no doubts that company management will support this idea with donations. I feel like this is the minimum we can do, but extremely proud of being a part of such an initiative.
The total amount of donations to the Ukrainian army and war victims reached more than €40,000 in the first month of the war, and Gamzix is planning to increase this amount in the future.
Your company has a strong presence in Europe, can you tell us about any markets you plan to expand to in the future?
I wish we could enter all the markets, but we need more time anyway! Our team is working hard to conquer new markets within a short period of time. Gamzix currently operates in CIS and Western Europe, now we are aimed at Africa, Asia, and Latin America.
As a new company in the industry, what do you feel you have done to make yourselves stand out from other new developers? And what are the biggest challenges you anticipate facing as you continue to grow?
As for our main advantages, I'd mention a wide choice of in-game features, API-free rounds and jackpot, and Gamzix's workshop – our constructor for creating games on the backend.
Something that makes us different is a mix of youth, experience, and flexibility. What does that mean? Youth is about following trends and being open to new ideas. We can be passionate and daring, but youth brings a fresh glance to our work and the courage to try something new.
Experience. Let's drop the stereotypes about young people who have no experience. Because this is not about age, but about professional values. As long as you grow with us and make yourself and the company better, we trust you and never point at your age.
Flexibility, as I said before, is about reacting to everything happening inside and outside the company quickly and professionally. The gambling market is a place full of big players, so we have to match them.
For future growth, Gamzix focuses on improving the acquisition and retention of casino operators and gamblers. So our main goal is to find new ways for attracting gamers and standing out from the crowd.
If you were to introduce one game to players that really captures what Gamzix is all about, what would it be, and why?
Gamzix is all about fusion! Being rather young slot creators, we are trying to enrich our portfolio with various games: video slots, crash games, and other non-standard games with different themes. So it's challenging for me to introduce one game to players. I'd advise gamblers who haven't played our games and want to feel the Gamzix atmosphere to begin with such slots as Sunny Coin: Hold the Spin, Rich Granny, and GoGo Spinner. And I highly recommend checking out two new releases: Buffalo Coin: Hold the spin and 3х3: Hold the spin!
You've recently launched your Rich Granny slot game; can you tell us a little bit about that and why audiences should check it out?
Rich Granny is Gamzix's latest slot. It is a 5-reel, 10-payline video slot that incorporates a maximum win potential of up to x40,000. The Bonus Game, when players land three Scatters or more, is known as the Robbery Bonus Game and includes three free respins. These respins consist of special icons that provide different rewards. There's also an additional horizontal reel at the bottom which can give extra spins or increase the current win. The slot has a unique robbery theme that we find unexpected but exciting. It's not often that you see grannies in online slots, yet here we have one in the main role!
Thanks to its originality, uniqueness, and freshness, the Rich Granny slot was shortlisted for the category "Best new casino game" at SiGMA Awards.
Also, Rich Granny is the game that was the main topic of our IGB branded stand in Amsterdam. And we're going to represent our company on SiGMA Europe in November with this game as well. So we are really proud of this product, and we are glad it is not just our opinion.
Gamzix has been incredibly busy with its release schedule in the last two years, what else can we expect from your company in 2022?
Our team is growing and our goals are with it. So we're planning to participate in several great iGaming exhibitions, like SiGMA Europe in November, and release more cool games: classic and mini-games, crash games with innovative features, and slots with new mechanics.
We're also planning to obtain MGA and local European markets licenses. And these are just the latest plans. We are sure that in 2023 we will think and act bigger, so don't miss it.
What do you believe is the single most important element for players when it comes to choosing a slot game?
In my opinion, many factors influence slots' popularity, there is no one special key to success.
Slots with colorful visuals and enticing audio effects are more enjoyable. The adaptive and user-friendly game design also played a great role in increasing popularity, because players can have access to spin the reels with a few taps on their smartphones or other devices.
The gameplay with spins, bonus rounds and big potential wins is more interactive and involving for a player. Slots should be engaging and have easy rules – not only experienced gamblers, but also beginners should get used to a slot quickly and play with pleasure.
Some games which are available on every online casino tend to gain popularity quicker than others. I can't ignore the fact that the popularity of a provider also plays a great role in the choice of game. Players are more likely to choose a slot from a world-famous provider than a newbie.
These factors bound all the players to a particular game, but it is just the tip of the iceberg, as there are many other things that make slots more popular than others.
We have seen with games like GoGo Spinner that you are willing to push the boundaries when it comes to innovation. Where does your company find inspiration for games like this? And can we expect more games like this in the future?
I suppose that it is definitely teamwork! All employees are encouraged to share ideas because this leads to greater inspiration and productivity. They are close to the processes, products, and customers. At Gamzix, we appreciate and take the ideas of every team member into consideration, that's why our company is developing fast and showing good results.
We are not afraid of experiments, so you can absolutely expect in future not only video slots but other nonstandard games with new mechanics.
About Gamzix
Gamzix is an exciting slot developer that burst onto the iGaming scene in 2020. The company was established in Estonia and wasted no time expanding to Cyprus and Ukraine. It prides itself on innovative slot development and offers one of the most exciting iGaming products on the market.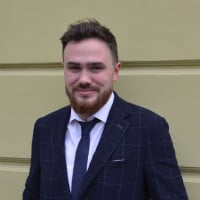 Liam is a skilled writer and journalist, highly regarded for his perceptive examination of the gambling industry. He specializes in online casinos and sports betting, and his work has been published in top-tier publications. Here at GoodLuckMate, Liam covers the latest industry news and has also authored various gambling guides, offering both beginners and experienced players in-depth analyses of games and strategies.