Mancala Gaming burst onto the scene in 2020 and has wasted no time in making itself a huge name in the iGaming industry. It takes a special team of individuals to get an iGaming company up and running with such efficiency, and we've been lucky enough to sit down with one of those individuals - Lucie Kadlecova, Mancala's Head of Marketing. Lucie sat with us and talked about everything from the company's launch to the creative process for slots, and what the future holds. Keep reading to find out everything they had to say.
Thanks for taking the time to sit down with us. Firstly, can you tell us a little bit about Mancala and your role within the company?
Hi and thank you for interviewing me! Mancala Gaming is an online slot game provider, we are based in Prague and have been on the market for about 3 years now. I oversee the marketing activities of Mancala Gaming I have been in the company from the early days when there were only 5 of us and we started building everything from zero.
Mancala launched in the middle of the pandemic. This was a challenging time for most companies, how difficult was it to get started during this time period?
We spent several months in preparations for the launch and when we were ready, the pandemic was just starting, and no one knew how it was going to be and how it would influence our lives. The iGaming industry was growing with great speed during the pandemic but getting started for a new game provider was very challenging. Key company representatives, including me, have many years of experience in the iGaming industry. So, we also used our network to get the name of Mancala Gaming out there and start bringing the first partners on board.
As a newer company in an incredibly crowded industry, what challenges have you faced in terms of making yourself stand out and getting the attention of players?
Our primary vision was to create unusual and interactive slot games focusing on a rather younger generation of players that demand more than just a single button click. We have delivered a couple of skill games that those players enjoy and love and as time went by and we grew as a company we understood that we have the capacity to cater to a broader player base and started creating also classic slot games in classic themes but with the same passion and attention to the detail.
In your first few years you've really hit the ground running, what can we expect from Mancala Gaming in the next 12 months and beyond?
We expanded our game studio and from January 2023 players can be looking forward to 2 new game releases each month and that makes me very happy! Also, our gamification tools, which are heavily used by our partner casinos, will be updated to give them new options and flexibility to make players' experience in Mancala Gaming slots even more enjoyable.
As a company that creates games for younger generations, the future is hugely important for you. What do you think will be the major changes we will see in the iGaming industry in the coming years?
I believe that we can expect more changes in the way slot games work and completely new game types to appear on the market. As new and younger players start playing in casinos, we all will need to adjust to what they prefer, and how they think and interact with technology.
You are currently in the process of applying for licenses from both the Spanish and Italian markets - what would being granted these licenses mean to your company, and how will it affect your plans for the future?
Our plan is very easy. We want to make our games accessible to as many players as possible so you can expect to see Mancala Gaming games available for licensed markets in the future.
If Mancala had to present one of its slots to a player to highlight what makes it such a unique company, which one would it be, and why?
I find it very hard to pick just one game that represents the company the best (in my opinion!). I would highlight my personal favorites such as Portal Master and our latest game release Seance: Mysterious Attic. Portal Master was the first game with an added element of skill we released and is still very popular due to the fact that players can influence the outcome of the game with their actions.
Seance: Mysterious Attic, as I mentioned earlier, is the latest game we released and besides the captivating game mechanics, you can see the precision and attention to detail when it comes to art, sounds and animations. Players can enjoy plenty of free spins with various kinds of wild symbols that are significant for this game together with a visually beautiful and immersive experience.
You currently offer players a selection of online slots - are there any plans to offer other games such as table games or live casino in the future?
We are fully focused on slot games now because it is something we know and love. The expansion into other areas might come naturally in the future, but right now there aren't confirmed plans like this.
What does the creative process for an online slot at Mancala usually look like? How long does it typically take to get from the idea to the finished product and what does each stage entail?
We were lucky enough to have gathered an amazing group of very talented and creative individuals in our game studio and the whole company, everyone can come to our game studio with a suggestion for a new game theme or mechanics.
There are many steps and stages in game creation and many people are involved. All starts with the initial idea, this idea is then transformed into a more detailed and technical brief including the game mechanics and behavior and desired art style, which is then presented to the Head of the game studio. Once approved by him, our artists take over to create the static art, and then animators and sound designers come into play. In the meantime, our mathematicians create a unique mathematical model. The game is then put together by our developers, thoroughly tested and prepared for release. Before the game is released, marketing and account management departments start preparing all materials for our casino, media and affiliate partners.
You've released a good selection of fruit-themed titles since your launch - what is it about these kinds of games that you think resonates with players?
I believe it is the classic feel and simplicity of those games that get the players coming back and playing more.
About Mancala Gaming
Mancala is an up-and-coming developer that is based in Prague, Czech Republic. In its short time on the market, it has established itself as a major player and one to watch for the future. Its products can be found at a range of top online casinos and it is constantly looking to expand. Keep your eyes peeled for Mancala Gaming slots in 2023, with the company lining up two new and exciting releases each month.
We at GoodLuckMate would like to take the time to thank Lucie Kadlecova for sitting down to talk to us.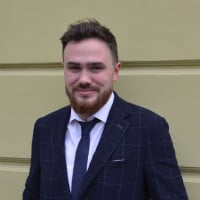 Liam is a skilled writer and journalist, highly regarded for his perceptive examination of the gambling industry. He specializes in online casinos and sports betting, and his work has been published in top-tier publications. Here at GoodLuckMate, Liam covers the latest industry news and has also authored various gambling guides, offering both beginners and experienced players in-depth analyses of games and strategies.