In big news for fans of mobile gambling, Google Play Store has now allowed gambling apps to be downloaded in 15 new countries starting March 1st.
Change of Policy Opens the Door For Gambling
From that date, players in Australia, Belgium, Canada, Colombia, Denmark, Finland, Germany, Japan, Mexico, New Zealand, Norway, Romania, Spain, Sweden, and America will be able to download mobile casino and sports betting apps from the play store. This is due to a change in the company's policies. Currently, this is only an option for British and Irish players.
This law change, however, does not mean that any online gambling app will be able to join the Google Play Store in these countries. There are individual restrictions and regulations in place that differ from country to country, and in the case of some countries, from state to state.
Strict Rules in Place
In Finland, only apps developed by the company Veikkaus will be allowed, while in Germany, only sports betting and state lottery apps will be approved. Norway, another big market in the industry, does not appear to be enforcing any restrictions on the apps that are allowed. In the USA, the restrictions will be enforced based on the individual gambling laws in each state, with some being stricter than others.
Talking of the USA, Daily Fantasy Sports, which is a popular way of gambling within the country, may also be included in this change of regulation. This will depend on how each state's laws consider Daily Fantasy Sports, with some already allowing these apps to be downloaded and not classifying them as gambling, and others being stricter.
This is different from the laws that regulate gambling the UK and Ireland, which allow for any licensed gambling application or lottery app to be added to their play store.
Any concerns that these policy changes will open the floodgates for a range of questionable gambling apps have been immediately put to bed. Google has a tough testing process to determine which apps will be accepted. This includes making sure that all of the operators have an appropriate gambling license for their territory, with companies also having to prove to Google that they are meeting the required standards of their country or individual state.
As well as this, every application must also provide information about responsible gambling, including a collection of resources for those who feel as though they may have a problem with their online gambling.

Availability Rules
Due to the easy accessibility of the Google Play Store for younger users, each app must be rated as AO (adult-only). The Play Store has also confirmed that all of the mobile casino applications must be free to download and that they will not feature any in-app purchases either.
The Google Play Store is the main application store for all Google and Android devices. There are many online casinos that will allow you to directly download their applications from their website providing you are within a certain territory. We advise caution for players who decide to take this option, as there are more potential safety issues associated with downloading from third parties. It is always better to download directly from the Google Play Store where possible.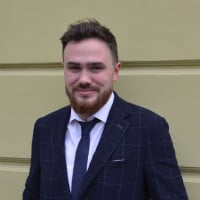 Liam is a skilled writer and journalist, highly regarded for his perceptive examination of the gambling industry. He specializes in online casinos and sports betting, and his work has been published in top-tier publications. Here at GoodLuckMate, Liam covers the latest industry news and has also authored various gambling guides, offering both beginners and experienced players in-depth analyses of games and strategies.