Anne Marie Caulfield has been appointed as the CEO of Ireland's Gambling Regulatory Authority. This move comes as the country prepares to publish statements regarding the creation of an official regulatory body.
Early Signs of Progress
Caulfield's appointment into the role of CEO was confirmed by James Browne TD, the Minister of State in charge of Law Reform. The Department of Justice also confirmed that it had begun the legislative process to establish a full regulatory body for gambling in Ireland.
The Department said that the early appointment of Caulfield and the establishment of the program board were to help speed up the process before the launch of the regulatory body. The appointment of Caulfield has been highlighted as a major step in the right direction.
Lots of Experience
Speaking of the appointment, James Browne said they were delighted to give the role to Caulfield. They highlighted her experience in similar roles and said that this would be a huge benefit to the regulatory body when it launches.
Browne added that the appointment is a big milestone for the progression of the Gambling Regulatory Authority. The plans to bring a regulatory body into Ireland have been discussed for a long time.
Initial plans were established in 2019, with a bill breaking this down in more detail in 2021. The bill was called the General Scheme of the Gambling Regulation. It said that a new gambling regulator would be established and would have total control over gambling regulation and licensing in the country.
Gambling Regulatory Authority a Long Time Coming in Ireland
The proposed bill will see some big changes to gambling laws in Ireland. As things stand, there is no regulatory body in the country to control gambling.
As well as the establishment of a Regulatory Authority, several other laws were put forward in the General Scheme of the Gambling Regulation bill. These included strict regulations on advertising and the banning of credit cards for gambling use in the country. These are similar rules to the ones seen in the UK.
Like a lot of regulatory bodies, Ireland's will want to put a big emphasis on player protection and will have big fines and punishments in place for operators who do not follow the rules. There is no date announced for the launch of the Regulatory Body, but it is believed that the appointment of Caulfield will help to speed up the process.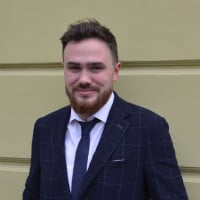 Liam Hoofe
Updated: 26 Sep 2022
Liam trained and qualified as a journalist in 2013 and has been working as a writer ever since then. His background is in sports journalism and he has worked with various well-know...