A key Mississippi state representative has put forward a bill that would allow for online sports bets to be legal there. This is the fourth attempt to pass such a bill, with the previous three all being denied.
Strong Numbers Delivered
Mississippi was one of the first states to legalize sports betting in America. The state passed a bill allowing the act in August 2018. Despite this, the state has still not legalized online sports betting despite various failed attempts.
Cedric Burnett, a representative in the state has put forward House Bill 184. This would make adjustments to the current laws surrounding sports betting. It would allow 'digital platforms' to accept sports bets. This was put forward at the start of the legislative session on January 4th. The legal definition would be a racing or sports betting operator that allows for sports bets using the internet.
Under the new laws, Mississippi's current casinos and sportsbooks would be able to accept sports bets. Online operators would also be able to accept bets for a licensed operator. The bill was not clear in how many operators one of these venues would be able to do business with. It did, however, say 'an operator' which would suggest that it could be just one.

Proposals for Operators
As per the proposal, operators that work with licensees will need to receive approval from the state gaming commission. The vertical will be taxed in the same way as other gambling in the state. This is 4% on revenue to $50,000 monthly, 6% up to $134,000, and just 8% extra for anything above that.
The bill will now have to go through the House Gaming Committee and then the House Ways and Means Committee before it can be approved. It is not clear how long this process will take or the likelihood of it being passed.
Failed Attempts
Burnett will be hoping that the state looks more favorably on the bill this time. He previously introduced a bill in 2019 which failed to see the floor. He then followed this attempt up a year later, but it was given the same treatment. In 2021, Scott DeLane, another representative, introduced another proposal that would allow betting via mobile and online and this was refused.
While there is nothing to say that the house will respond more positively this time, other states have seen a lot of promising returns from legalizing online gambling. With a lot of the US slowly starting to accept the vertical, Mississippi will not want to be seen as falling behind its neighbors.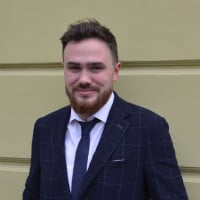 Liam is a skilled writer and journalist, highly regarded for his perceptive examination of the gambling industry. He specializes in online casinos and sports betting, and his work has been published in top-tier publications. Here at GoodLuckMate, Liam covers the latest industry news and has also authored various gambling guides, offering both beginners and experienced players in-depth analyses of games and strategies.