TS Anil, the new chief executive of digital bank Monzo, has written an open letter to the British government calling for increased protection of customers playing at online casinos and sports betting sites. This is because a generational review of UK gambling laws is currently underway. Also, the number of people gambling online in the United Kingdom has increased over the last 12 months during the COVID pandemic.
Upcoming Review of the Industry
The United Kingdom's gambling industry has been under some scrutiny in recent years, with increased calls for social responsibility and protection of customers. Now, the British Government is set to undertake a generational review of the 2005 Gambling Act in the coming months and this could see some huge changes for gambling in the UK.
The review will be presided over by Nigel Huddleston, the UK Parliament's Under-Secretary of State for Sport, Heritage, and Tourism at the Department for Digital, Culture, Media, and Sport. In his letter, Monza CEO TS Anil requests that Huddleston makes self-exclusion schemes easier for customers. Additionally, he has called for self-exclusion technology to be implemented nationwide – to cover all gambling operators and the businesses that interact with the industry.
The process requested would involve gambling companies providing their full bank details. This would lead to the universal blocking of transactions by customers who have requested it.

Monzo Leading the Responsible Way
Monzo itself has operated its own gambling block service since 2018. Anil says that it has been a great success, with over 250,000 customers asking the bank to block all transactions to gambling websites. Anil, therefore, believes that this demonstrates that such a thing would be possible, stating '"These tools are simple to build, proven to work." Anil went on to say that the proposals "will help protect hundreds of thousands of people."
In his letter, he continues to state that the review of the United Kingdom's 2005 Gambling Act provides the country with a unique opportunity to set a standard that can be followed worldwide. The country is already renowned for its robust measures, with many of its major banks offering safeguards for their customers. Monzo has stated that while these options are available, they need to be made much easier to access and obstacles need to be removed so that customers can take advantage of them.
Research shows that only around 60% of UK bank customers have access to these self-exclusion schemes. The letter argues that this number needs to be increased and that these options should be available to all account holders.
Anil also points to the changing ways that players can deposit and withdraw money as a reason for increased measures: "The rise in online gambling, and new ways to pay, requires a robust response from the government."
Academic Support for Self-Exclusion
The proposals that have been made by Monzo have received some backing from the University of Bristol, for example, which has publicly supported the letter. The University has spent a lot of money researching the effects of gambling and finding the most effective ways of supporting those at risk.
In fact, the letter presented by Monza was co-authored by Professor Sharon Collard, who has been one of the key figures behind the research taking place at the University of Bristol. The letter discusses research that recommends the use of a self-exclusion triangle.
The Betting and Gaming Council, speaking to the British newspaper The Guardian, has also supported the proposal. The organization stated: "We support all forms of blocking capabilities and are encouraged by the continued uptake by banks of these functions."
In addition to its proposals for gambling operators, Monzo has stated that the government should also work with video game companies to see if a similar process can be applied to loot-box payments. Loot boxes or crates are in-game purchases that have caused a lot of controversies. Many commentators believe that they promote gambling to younger people.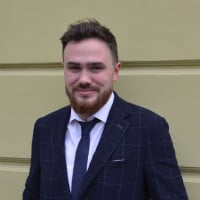 Liam is a skilled writer and journalist, highly regarded for his perceptive examination of the gambling industry. He specializes in online casinos and sports betting, and his work has been published in top-tier publications. Here at GoodLuckMate, Liam covers the latest industry news and has also authored various gambling guides, offering both beginners and experienced players in-depth analyses of games and strategies.