Despite plenty of promising signs, PlayNY has projected that it will be nearly impossible for New York state to achieve its $500M a year tax revenue target by 2024. Experts say that the main reason for this is the state's tax increase of 51%.
Near Impossible Numbers Needed
The original projected numbers for the state of New York were $99M in tax revenue in 2022, $357m in 2023, and $500m in 2024. PlayNY now says that the $500M figure is near impossible. In order to achieve this goal, the nine online operators in the state would have to generate $1bn in gross gaming revenue that year. This is a number that no US state has ever recorded before.
While it may not reach the original figures that were set out, that doesn't mean that online gambling won't be lucrative for the state according to Eric Ramsey, a data analyst for PlayUSA. They added that the kind of demand that would be needed would be off the scale.
Ramsey did acknowledge, however, that if any state can pull it off, it's New York. The state is one of the biggest in the country and its potential market means it is not impossible. However, they did describe it as 'incredibly optimistic'.

Comparison With Other States
In order to achieve the target, the nine operators would all have to take over $13bn in bets over the course of 12 months. That is providing they stay at an average hold of 7.5% of all wagers, which is what they are currently at.
The closest state for comparison would be Pennsylvania. The neighboring state is slightly smaller than New York population-wise but it has the highest tax rate in the country at 36%. The state has 14 operators and they are set to take around $6bn for the year. This will generate around $115m in taxes.
Despite the projected failure to reach its target by 2024, it is still believed by PlayUSA that New York will go on to beat every other state comfortably. Eric Ramsey commented on this, saying that they believe that New York's model will be a huge success, though, not one that would necessarily perform well in other states.
A Strong Market
Ramsay said that bettors in New York have a strong variety of different betting options. They believe that the attraction of New York will be enough to attract more operators and create an even stronger and more competitive market.
Ramsey believes that there are billions of dollars to be generated in New York and that the sky's the limit. The state will need to tempt players away from playing offshore and will also need to oust competitors. Ramsey finished by saying that only time will tell whether New York can overcome these predictions and reach its goals.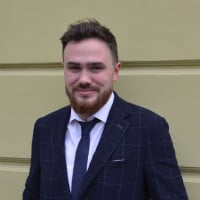 Liam is a skilled writer and journalist, highly regarded for his perceptive examination of the gambling industry. He specializes in online casinos and sports betting, and his work has been published in top-tier publications. Here at GoodLuckMate, Liam covers the latest industry news and has also authored various gambling guides, offering both beginners and experienced players in-depth analyses of games and strategies.