Residents of North Dakota could see online sports betting fully legalized by 2025. The North Dakota State House passed a bill that could allow an amendment to the constitution to allow sports betting. The bill has now been passed on for approval in the State Senate.
A Long Process
The bill passing through the house is the first stage in what will be a long process to legalise online sports betting in North Dakota. The bill was introduced to the House on January 3rd and was passed in its second reading on January 12th. The bill narrowly passed with a vote of 49-44 in favour.
Twelve representatives have sponsored the bill, 11 Republicans and one Democrat. It will now be passed forward to the Senate, which will also need to pass it with a majority vote. If this is successful, the bill would then be forwarded to the voting public in the 2024 General Election.
If the public supports the amendment, then North Dakota could see legalized online sports betting in 2025. Those that have sponsored the bill hope this is the first step in bringing online sports betting to the state and believe that it will pass these stages.
A Divisive Issue
Passing through the House will have been seen as a positive step by sponsors of the bill, but it has also been met with a lot of opposition so far. There were discussions in the House last week, with several people arguing that it would worsen addiction and ruin lives. Greg Stemen, a representative for the bill argued that it would bring the state millions of dollars in revenue.
There were also some arguments made by policy analysts regarding the lack of clarity in the bill. There is no confirmation as to whether it would allow betting on college sports. Pat Gibbs, a member of the Counsel for the Sports Betting Alliance argued that these issues could be ironed out by future lawmakers and that progressing forward with the bill starts an important conversation.
A State that Enjoys Gambling
One key argument that has been made in favour of this amendment is that people in North Dakota enjoy placing sports bets. It is estimated by the American Gaming Association that up to 138,000 residents of North Dakota bet over $300 million a year. The state currently allows people to place sports bets in tribal casinos and the belief is that it could generate huge revenue if online betting was allowed.
North Dakota is one of the smallest states in the country, with a population of around 770,000. The numbers suggest that sports betting is popular among a high percentage of this population and that there is potential for growth.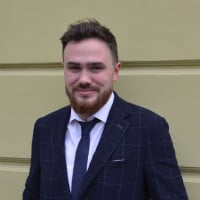 Liam is a skilled writer and journalist, highly regarded for his perceptive examination of the gambling industry. He specializes in online casinos and sports betting, and his work has been published in top-tier publications. Here at GoodLuckMate, Liam covers the latest industry news and has also authored various gambling guides, offering both beginners and experienced players in-depth analyses of games and strategies.