The Norwegian gambling regulator, Lottstift, has been tasked with creating a compensation plan for cultural organizations that were hit financially by the Covid-19 pandemic. The move comes from the Norweigan government's Ministry of Culture and Gender Equality.
Recovery For Those Impacted by the Covid-19 Pandemic
Lottstift has been asked to help create a scheme that will help those hit hardest by the pandemic. The compensation program will provide help for cultural organizations and subcontractors who had to change or call off events between November 2021 and the end of February this year.
The compensation scheme will be funded by the Norwegian lottery funds. It will be backed by the Foundation Authority. This authority supervises state-owned enterprises and company's that work for the public good. This source of funding was confirmed by Marianne Skjeldestad Hove, the minister of voluntary support.
Important to Act as Quickly as Possible
Marianne Skjeldestad Hove spoke about the importance of making sure the help is available in time. They said that they are getting everything ready. They anticipate many applications coming in once everything has been confirmed, and as such, there is pressure mounting to be ready. They reinforced the fact that cultural actors and organizations are in need.
Norway has been keen to protect its industry in recent months. Towards the end of last year, the country submitted plans to block offshore gambling sites that were targeting Norweigan players. This is all part of the new Gambling Act which is set to be introduced in the country.
This new ability to block offshore gambling sites will be given directly to Lottstift. It will be able to order internet providers to prevent offshore operators from accessing the Norweigan market. It is hoped that this will deter illegal gambling and will help the licensed market in Norway flourish.

A Dual Monopoly in No
rway
Norway has strict gambling laws. The country enforces a dual monopoly over its market. It is controlled by the state-owned Norsk Tipping and Norsk Rikstoto. This model has proven to be a success in the country so far, and it hopes to maintain this through its tougher regulations.
Times are changing at Norsk Tipping though, with Åsne Havnelid stepping down from their position as CEO. Havnelid has held the position for six years and has helped to boost the country's gambling industry significantly in that time. No official replacement for Havnelid has been confirmed and they will stay in their position until one has been found.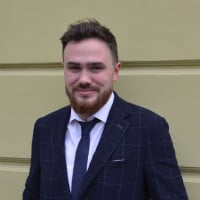 Liam is a skilled writer and journalist, highly regarded for his perceptive examination of the gambling industry. He specializes in online casinos and sports betting, and his work has been published in top-tier publications. Here at GoodLuckMate, Liam covers the latest industry news and has also authored various gambling guides, offering both beginners and experienced players in-depth analyses of games and strategies.