There are many reasons why a casino operator may receive a fine from a regulator, but sending out your terms & conditions is not one you hear very often. That's exactly what happened to Optibet, who received a fine from the Lithuanian Gambling Supervisory Authority for sending out their updated t&cs in an e-mail. The regulator reasoned that the e-mail was a way of promoting gambling.
A Newsletter or an Advertisement?
Optibet is a brand that is owned and operated by UAB Nordic. It is well-respected within the industry and has a strong customer base in Lithuania. This customer base of around 10,600 people was sent an e-mail updating them on rule changes for new games.
The e-mail was titled 'Update of Rules: New Games'. The Lithuanian Gambling Supervisory Authority had examined the newsletter and determined that it could be considering gambling promotion.
In the e-mail, the operator said 'We would like to inform you about changes to our terms and conditions: rules for new games have been added." There was then a link to the new rules on remote gaming. According to the authority, this breached article 10, section 19 of the country's gaming act. The act in question prohibits all forms of gambling promotion.

Previous Dealings With the Regulator
UAB Nordic has received a fine for the incident discussed above. This is not the first time that the company has found itself in a tricky situation with the Lithuanian Gambling Supervisory Authority. In October 2021, the company was issued a warning for offering a remote promotion in one of its blackjack games.
In this instance, the promotion allowed players the chance to increase their winnings. The regulatory body eventually decided to only issue a warning, deeming the case to only be minor. UAB Baltic will be hoping for the same outcome this time around, with the company not ruling out an appeal against the fine they have been issued.
A recent appeal by Cbet against a fine issued by the authority was successful. In this case, the company had been fined for limiting the actions of one of its players. The operator had put limits on a customer and had received a €15,000 fine for doing so. When the decision went to court, a judge ruled that it should be down to individual operators to decide how they regulate their customers. As such, Cbet did not have to pay the fine.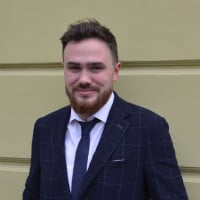 Liam is a skilled writer and journalist, highly regarded for his perceptive examination of the gambling industry. He specializes in online casinos and sports betting, and his work has been published in top-tier publications. Here at GoodLuckMate, Liam covers the latest industry news and has also authored various gambling guides, offering both beginners and experienced players in-depth analyses of games and strategies.