A study of data by the Royal College of Psychiatrists provided by the UKGC shows that there has been a significant increase in the number of gamblers over the age of 65 in the last two years. The study showed that there are at least 620,000 more people over the age of 65 who gambled compared to the numbers in 2019.
Increased Isolation Identified as a Possible Cause
Increased isolation is a key factor. The Covid-19 pandemic has hit all parts of society but those over 65 have been encouraged to stay at home more than others in a bid to protect them.
This leads to a reliance on social media and the internet to stay in touch with the world. In turn, this leads to more exposure to advertising. Studies all over the world have seen an increase in gambling advertising, with many companies looking to take advantage of the increased online presence of potential players.
Other reasons that have been identified are also closely linked with the Covid-19 pandemic. Financial worries and shifts in routine were also noted as potential causes, as well as increased anxiety.
Identifiable Patterns in Other Age Groups & Countries
Of course, the UK is not the only country to have been hit by the pandemic and, as such, other countries have also reported similar increases. Notably, the Netherlands also stated they had seen an increase in elderly gamblers in recent months.
The UK statistics showed a 4.8% increase in year-on-year gambling activity in the age group. This was the biggest increase of any demographic in that time frame. The next age group down, 55-64 saw a 0.9% increase, while 45-54 reported the second-biggest increase with 4.5%. 35-44-year-olds saw a small 0.1% increase, while all groups younger than this saw a drop.

Higher Risk of Addiction
Matt Zarb-Cousin, the director of Clean-Up Gambling, stated that the risk of becoming a gambling addict is higher with online gambling. This is because online gambling is not as restricted or as easy to supervise as land-based gambling. They added that older people were at a bigger risk because of their increased exposure and prolonged isolation.
Henrietta Bowden-Jones, speaking on behalf of the Royal College of Psychiatrists said that the pandemic has affected our behavior in many different ways. They described the increase of gamblers aged over 65 as an anomaly that has been caused by the pandemic.
They went on to say that counselors are prepared to see an increased number of problem gamblers aged over 60. They also speculated on the long-term effects of the pandemic and whether this situation would correct itself when everything is over.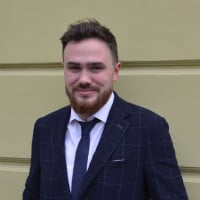 Liam is a skilled writer and journalist, highly regarded for his perceptive examination of the gambling industry. He specializes in online casinos and sports betting, and his work has been published in top-tier publications. Here at GoodLuckMate, Liam covers the latest industry news and has also authored various gambling guides, offering both beginners and experienced players in-depth analyses of games and strategies.