A new study funded by GambleAware has shown that minority groups are more at risk of gambling harm in the UK. The study was completed by Ipsos UK and ClearView Research and supported by the University of Manchester.
Analysing the Numbers
The report revealed some alarming findings. It showed that 20% of white British majority groups would suffer harm related to gambling activities. In contrast, 42% of minority groups that gamble online were likely to suffer gambling-related harm.
The results were surprising as studies show that the number of white British majority gamblers was 17% higher. The figures show that 48% of the white British majority that took part in the study gambled, while only 31% of the minority groups did.
There were also some interesting numbers regarding the reasons for this. The report found that 18% of minority groups would gamble to escape a difficult situation. Only 6% of the white British group surveyed said the same, with the contrast between these two raising some wider socio-economic questions.
Gambling harms were defined as anyone who scored 1 or higher on a Problem Gambling Severity Index.
A Need for Solutions
ClearView's Director of Impact, Niamh McGarry, spoke about the findings and their implications. They said that there is a need for further research, but the results clearly show that people in minority groups are much more vulnerable. McGarry continued by saying that there is a need for more services to be designed that give attention and provide a voice for minority groups.
Zoë Osmond, CEO of GambleAware, also commented on the research. They said the company is dedicated to raising awareness and supporting minority communities. They highlighted the fact that the group was more averse to getting support and said that GambleAware and others would need to help find a solution for this.
Osmond finished by saying that there needs to be more work done to encourage people to reach out for support and overcome the stigma attached.
Part of a Bigger Picture
For the research, minority groups were defined as people who identified as a member of an ethnic or religious minority or those from a migrant community where English was not the first language.
GambelAware said that the findings highlighted bigger structural issues in the UK. This includes income, discrimination, and social standing. All of these factors were determined to have an impact on an individual's gambling activity and the way that they view and engage with gambling.
About GambleAware
GambleAware is an independent charity that is focused on promoting responsible gambling in the UK. The company works alongside other major charities and organisations in the UK, including the NHS. The charity regularly funds research and studies to help tackle gambling harm issues.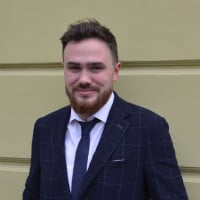 Liam is a skilled writer and journalist, highly regarded for his perceptive examination of the gambling industry. He specializes in online casinos and sports betting, and his work has been published in top-tier publications. Here at GoodLuckMate, Liam covers the latest industry news and has also authored various gambling guides, offering both beginners and experienced players in-depth analyses of games and strategies.