Synot Games has received approval and a supplier license from the United Kingdom Gambling Commission (UKGC) so that it can operate within British territories. This marks a big step for the software development company that will allow them access to a key iGaming market.
Exploring the UK iGaming Market
Synot Games was granted the green light from the Commission just before Christmas (although they only recently announced this to the world in late January). The company will now start rolling out its products to online gamblers in the UK. Synot has a range of popular online slots available. This includes titles like 243 Mexicana, Monkey Slots, Joker 50 Deluxe, Sync Spin, and many more.
The UK Gambling Commission has notoriously strict guidelines and background checks, so securing a license from them is a sure sign that the Czech company is adhering to the highest standards in the industry. The United Kingdom is also one of the biggest and most popular markets for online gambling in the world, and being able to operate there is a huge deal for any iGaming company.
Martina Hrabinská, the CCO of Synot Games, talked about how the marketing team will now shift its focus to UK-based customers. She said 'Gaining as much exposure as possible to reach as many players as possible across the country will be [our] main goal for now. We are excited to launch our exceptional slot games across the UK."'
Big Ambitions and Global Reach
Synot is already an established casino games developer within the industry. The company, which is headquartered in Prague, Czech Republic, already has a license from the Malta Gaming Authority (MGA). This is yet another top license within the industry that allows the company to operate in a lot of European countries and further afield. Synot slots are targeted at a large audience, with their products being available in up to 25 different languages.
The company was originally founded in 1991 and spent much of its early life developing lottery machines in former Czechoslovakia. After finding success in this area, they finally made the switch to online games in the 2010s, rebranded itself as an online slots developer. Earning this license goes a long way in helping the company establish a strong reputation for itself as a brand that can be trusted by both online gamblers and casinos alike.
Synot Makes a Play for UK Market
The future is beginning to look very bright for Synot and players in the UK will surely be seeing its products pop up more and more at their favorite online casinos. The United Kingdom has a population of around 60 million and is one of the wealthiest countries in the world.
As well as this, it is also a hotspot for gambling. According to statistics published by the United Kingdom Gambling Commission, the country made a total of £14.6 billion between the months of Oct 2018 and September 2019. Needless to say, then, that having access to this market is always going to be a big step forward for any company.
Synot clearly has big plans and they intend to spend much of 2021 focusing on this market. 2020 was a successful year for the company and they will be hoping that the next 12 months can be more of the same. This news is certainly a very big step in the right direction for the Czech company.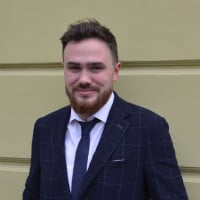 Liam is a skilled writer and journalist, highly regarded for his perceptive examination of the gambling industry. He specializes in online casinos and sports betting, and his work has been published in top-tier publications. Here at GoodLuckMate, Liam covers the latest industry news and has also authored various gambling guides, offering both beginners and experienced players in-depth analyses of games and strategies.