Disclosure: GoodLuckMate is reader-supported. We may earn a commission if you sign up to a casino via links on our site. Find out more.
Back to list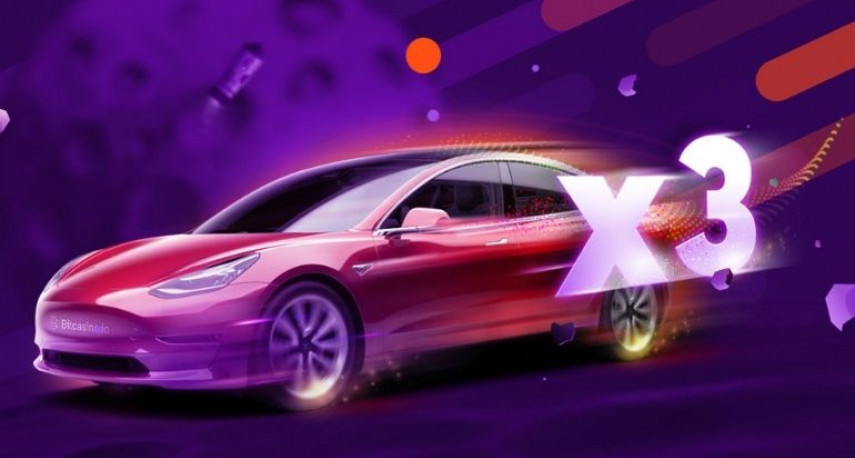 The Tesla Live Crash Campaign by Bitcasino.io
How about you walk away with a Tesla Model 3? Yes, you read that right. A Tesla Model 3 is up for grabs at Bitcasino.io courtesy of the Tesla Live Crash Campaign. So, what is the Tesla Live Crash Campaign and what should you do to cruise in this state-of-the-art beast?
Everything About the Tesla Live Crash Campaign
Don't worry, you don't have to crash a Tesla to win. The Live Crash is actually an instant win game developed by OneTouch. This is the kind of title that pumps your veins with adrenaline. The main aim of this game is to accumulate the highest multiplier before the car crashes. You have two options when it comes to reaching the highest multiplier. You can choose to preset when to cash out or you can do so manually.
As you might have guessed already, the higher the multiplier, the more you win. The question is, do you have the nerves of steel to hold out as long as required before cashing out for a place in the top 20?
Well, with a Tesla Model 3 up for grabs, you will need utmost precision. The campaign consists of three Live Crash tournament finales. These finales will take place on May 10 - May 16, June 07 - June 13 and July 05 - July 11.

How the Campaign Works
As mentioned earlier, the campaign consists of three finales. But before reaching the finals, players must go through eleven qualifiers. At the end of it all, only the top 20 highest multipliers in each of the 11 qualifiers will move to the finales. The winner of each finale will drive off with a brand new Tesla Model 3.
This is how the points are calculated. For instance, if you wager 1 mBTC on three boxes and cash out 1.5 from one box, 3.0 on another and 9.0 on the third box you will have three points. That's because the highest winning multiplier is what's used to calculate the points. In this case, 9 mBTC (the win) divided by the bet amount (3 mBTC) you get 3 points.
The top 10, on the other hand, will share a prize pool of 75 mBTC. Quite considerate, don't you think? This means regardless of the qualifiers you finish in, as long as you are in the top 20, you will walk away with something. That's if you don't win the ultimate prize. Here's the breakdown of what each of the 10 players will receive:
Position 1 – 22 mBTC

Position 2 – 13 mBTC

Position 3 – 9 mBTC

Position 4 – 7 mBTC

Position 5 – 6 mBTC

Position 6 to 8 – 4 mBTC

Position 9 to 10 – 3 mBTC
All Qualifier and Final Dates
Qualifier 1 – April 19 - April 25

Qualifier 2 – April 26 - May 02

Qualifier 3 – May 03 - May 09

Qualifier 4 – May 10 - May 16

Qualifier 5 – May 17 - May 23

Qualifier 6 – May 24 - May 30

Qualifier 7 – May 31 - June 06

Qualifier 8 – June 07 - June 13

Qualifier 9 – June 14 - June 20

Qualifier 10 – June 21 - June 27

Qualifier 11 – June 28 - July 04
Final Dates
Final 1 – May 10 - May 16

Final 2 – June 07 - June 13

Final 3 – July 05 - July 11
Promotion Terms and Conditions
The promotion is available to Bitcasino members starting from April 19, 00:01 (GMT) to July 11, 23:59 (GMT).

Members must play the Live Crash game by OneTouch to qualify for the promotion

The Tesla Model 3 Performance costs €58,560 and the operator will only pay for this amount. Winners will cover all other costs.

Tournament rewards will be issued in mBTC only. Furthermore, prizes don't carry any wagering requirements.

Your wager is the sum of all bets per round.

The highest win per round is what will be used to calculate your points.