Licensees in the United Kingdom have been warned by the Gambling Commission to be aware of an increase in suspicious activity. There has been a significant rise in reports of this submitted to the National Crime Agency (NCA) in recent months.
Increase in Money Laundering & Other Offenses
The Covid-19 pandemic has seen a huge increase in the number of people gambling online. With that, there has also been an increase in suspicious activity. The Gambling Commission noted in a recent bulletin that the NCA has received more submissions regarding this.
The statement within the bulletin stated that it had received an increase in SAR submissions during the Covid-19 pandemic. It also reinforced the importance of operators performing thorough checks and reporting any issues straight away. If licensees failed to do this, then they would be committing a criminal offense. Furthermore, they could even be held accountable.

Licensees to Stay Vigilant
The UK's current laws regarding money laundering were updated in January 2020. These put more of a focus on the activities of casinos. The updated laws highlight operators performing their due diligence on suspicious accounts. That is especially when related to high-risk third-party countries.
The report from the UKGC also stated that operators need to pay more attention to complex or large transactions, as well as keeping an eye out for suspicious patterns. The recent increase in suspicious activity has seen the NCA drive home these messages even further.
One of the biggest challenges facing operators comes from cryptocurrencies. These are difficult to trace, and as such, the NCA has flagged them as high-risk. The UK Gambling Commission has asked operators to be on guard and to monitor these payments. It is expected that scams involving cryptocurrencies are going to be on the rise in the next few years as the method gains more traction. There was also a warning issued about the rise of organized crime. The report noted that this has been increasing globally. Hence, operators should pay close attention to the source of a customer's funds.
Organized Crime & Scams On the Rise
This notice mentioned monitoring transactions from high-risk third-party countries. The list of countries that have this status includes Barbados, Cayman Island, Cambodia, and Senegal. Pakistan was recently added to this list after an increase in suspicious activity from the country.
All these countries are considered to be high-risk when it comes to money laundering. That is either because of high levels of organized crime or tax avoidance. The United Kingdom has seen a serious increase in cybercrime in general since the start of the Covid-19 pandemic.
In May, a report was released by the UK's National Cyber Security Centre. This revealed that there had been a 15-fold increase in the number of illegal online activities and scams. These scams involved e-mail campaigns based on getting people to forfeit their bank details or online passwords and usernames. At a cybersecurity event held in May, people in the United Kingdom were advised to be more vigilant when they were online to avoid potential scams.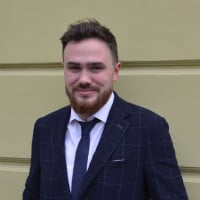 Liam is a skilled writer and journalist, highly regarded for his perceptive examination of the gambling industry. He specializes in online casinos and sports betting, and his work has been published in top-tier publications. Here at GoodLuckMate, Liam covers the latest industry news and has also authored various gambling guides, offering both beginners and experienced players in-depth analyses of games and strategies.