The United Kingdom Gambling Commission shut down an illegal lottery operation on Facebook. The operation was successfully done in conjunction with other intelligence agencies and Facebook.
Protecting the Vulnerable
The lotteries in question were unlicensed and a risk for younger customers and vulnerable players. They would offer the chance to win cash prizes, toys, and clothes. There were two people identified as being promoters of these activities. They were immediately removed from the platform. They were also issued a cease and desist order from two different crime units, one from the North East and another from the South West.
According to Helen Venn, the Executive Director of the UKGC, hundreds of players were playing these lottery games. The focus was not on those playing but on the organizers. Venn said that thanks to help from Facebook and the authorities, they have been able to find the perpetrators. They said that monitoring these kinds of activities on social media will carry on being a priority this year. They said that they were pleased to have found those involved and that the practices have been disrupted.

Cooperation is a Necessity in Stopping These Activities
The key to the operation's success was the cooperation of everyone involved. This is not something that has gone unnoticed. David Gill, a GAIN Coordinator in the South West highlighted this. They said that they will carry on providing support and working with the UKGC. They said that this highlights the importance of different agencies cooperating.
Gill also noted that the people responsible for running these lotteries are very persistent. They reinforced the need to keep monitoring these situations and making sure that users on these platforms are protected.
Kevin Benson, a GAIN coordinator from the North East also spoke about the issue. They said that they will continue to work with other parties and will provide assistance in clamping down on these activities. They spoke of the harm these activities can cause. Benson said that they can seriously affect those that suffer from gambling addiction.
To finish their statement, Helen Venn said that the Commission would continue to disrupt these activities. They noted that none of these activities positively contributes to anything. They also said that customers taking part in these games are not protected and should be vigilant.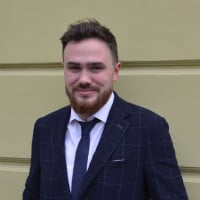 Liam is a skilled writer and journalist, highly regarded for his perceptive examination of the gambling industry. He specializes in online casinos and sports betting, and his work has been published in top-tier publications. Here at GoodLuckMate, Liam covers the latest industry news and has also authored various gambling guides, offering both beginners and experienced players in-depth analyses of games and strategies.