The Vita Media Group has confirmed its takeover of the Spanish operator, Greenplay. Greenplay was formally owned by the Codere Online Management Services and Vita Media Group will be hoping that the deal can help strengthen its position in key markets. No fee was released for the deal.
A Busy Year for Vita Media Group
The Vita Media Group is a Danish-based company that has grown significantly in recent years. It believes that the purchase of Greenplay will help it to secure its position in key Latin American and European markets.
The deal was completed at the end of 2021 and wrapped up a successful year for the company. Greenplay was the third operator in the last 12 months to have been added to the Vita Media Group's affiliate division. This follows the acquisition of Trada Affiliates brands from the UK, and Affilisearch in its native Denmark.
Continued Expansion
Continuing to expand is the main goal at the Vita Media Group and this is something that Jimmi Meilstrup, the company's chief executive has emphasized. They said that the acquisition of Greenplay will help expand its iGaming ecosystem. They believe that the deal will help the company to reinvent itself in several key markets.
They went on to say that the deal will open up loads of new opportunities. They described the deal as a strategic move and said that it would help the brand offer more quality in the upcoming 12 months. Greenplay and all affiliates operating under the provider will now be added to Vita's OMG affiliate program.
The brand will be the seventh added to the OMG affiliates program. Once the migration is complete, all of the new affiliates will be introduced to the management system.

Time of Change at Codere
Vita Media's acquisition of Greenplay comes at a time of substantial change for Codere. The Spanish company was recently acquired by its shareholders and it looks as though there will be a restructuring of the company's assets. The sale of Greenplay looks to be one of the first changes.
The shareholder acquisition came after a dramatic sequence of events for the company. The Spanish National Securities Exchange Commission suspended the company from the Madrid stock exchange. This led to the company being dissolved and the shareholders buying it out.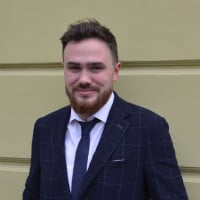 Liam is a skilled writer and journalist, highly regarded for his perceptive examination of the gambling industry. He specializes in online casinos and sports betting, and his work has been published in top-tier publications. Here at GoodLuckMate, Liam covers the latest industry news and has also authored various gambling guides, offering both beginners and experienced players in-depth analyses of games and strategies.