Online Baccarat Rules
Before we get started on giving you the key information to take your baccarat gameplay to the next level; first let us go through the basic rules of the game. Baccarat is overall a very simple game to play, which is what has made it so appealing.
In Punto Banco Baccarat, you're playing a simple game of chance. Even though this is a card game, you don't actually decide how to play a hand yourself because this is something determined by the game rules.
The dealer at the table plays both the Banker's and Player's hands since the way the hands are played is determined by the rules of the game.
#1 Playing a Hand: Betting Options
In baccarat, you are betting on a winner or a tie for each game round, where a Player's hand is opposing a Banker's hand. You, therefore, have three options when it comes to placing bets before the round starts;
Betting on the Player's hand to win

Betting on the Banker's hand to win

Betting on a tie between the two
There's no extra charge for betting on the Player, but betting on the Banker will usually cost you a 5% commission if you win.
#2 Cards are Dealt
Two cards are dealt to the Player and the Banker each. Whether the cards are dealt face up or face down depends on the variation of baccarat that's being played.
There are instances where a third card will be dealt. There can be several variations and point discrepancies between the Banker and the Player for the third card rule to be triggered. However, this is usually simplified in online play.
If neither side manages to get a score of eight or nine from their two cards, then a third will be dealt to both.
For live play, however, these rules are slightly more complex and favor the Banker ever so slightly. In this case, the Banker will either draw or stand depending on the Player's score.
#4 The Banker's Decisions
The Banker's edge is due to the reactionary nature of coming second in combination with the three-card rule. As in live play, the side of the Player will always go first and the drawing of a third card will result in the Banker standing or drawing, depending on the following circumstances:
Hit for a third card, if the Banker's score is zero, one or two

Hit on a three, should the player score other than eight

Hit on a four, should the player score between two and seven

Hit on a five, should the player score between four and seven

Hit on a six, should the player score either six or seven

The banker will always stand on a score of seven, eight, or nine
This is where the slight edge of the Banker comes from, as their play will be entirely dependent on the Player's score. This does lead to slightly more favorable outcomes over many rounds played.
You don't need to remember these particular values for when a Banker hits or stands for that third card in online play. However, although it is certainly good to know why that 5% commission is implemented and why you won't be receiving a 1 to 1 return on betting on the Banker.
Incidentally, knowing this caveat is also why the majority of baccarat players tend to favor betting on the Banker.
Baccarat Tableau
The Tableau, or table, describing how the Banker plays in Punto Banco Baccarat has set rules.
This is basically what makes baccarat a game of chance since neither the Player nor the Banker can decide how to play.
The reason the Banker has a greater chance of winning than the Player is that the Banker has the benefit of going last and can therefore decide what to do based on the Player's result.
This is the baccarat tableau:
| | | |
| --- | --- | --- |
| Banker's points | Player's 3rd card | Banker's move |
| 2 | | Banker always draws a 3rd card |
| 3 | 1, 2, 3, 4, 5, 6, 7, 9 | Banker draws a 3rd card |
| 4 | 2, 3, 4, 5, 6, 7 | Banker draws a 3rd card |
| 5 | 4, 5, 6, 7 | Banker draws a 3rd card |
| 6 | 6, 7 | Banker draws a 3rd card |
| 7 | No 3rd card drawn | Banker always stands |
Baccarat Card Values
Baccarat is a card game in which all the cards are used, except the joker. Normally, the dealer's shoe holds either 6 or 8 decks of cards. Each card has a point value:
Ace:

Valued at 1 point

Cards 2

–

9:

Valued at the face value of the card, so you get 2 – 9 points

10, J, Q, & K:

Valued at 0 points

The scores of each hand are added up to give the total score, which determines the winner of the round.
In the case that a total score is a double-digit number, only the last digit will be counted.
This means that a score of 11 will count as 1 and a score of 19 will count as 9.
A score of 9 is what you want from whichever side you bet on, as the side with a score closest to 9 wins.
Baccarat Side Bets Explained
In the world of Baccarat, players not only engage in the classic Player vs. Banker showdown, but they also have the opportunity to spice up the game with various side bets.
Side bets in Baccarat are additional wagers that players can place alongside their main bets on either the Player's or the Banker's hand. These bets are centered around specific outcomes, such as the total number of cards dealt, the combination of cards, or even whether the hands will tie.
While these side bets can offer higher payouts compared to the main bets, they also come with increased risk due to their more specialized nature.
One popular side bet is the "Dragon Bonus," where players bet on the margin of victory for the winning hand.
Another is the "Pair Bet," allowing players to wager on the possibility of the first two cards dealt being a pair.
However, it's important to approach these side bets with caution, as they can significantly alter the odds and potentially lead to bigger wins or losses.
Before diving into Baccarat side bets, it's crucial to understand the rules and odds associated with each one. While they can undoubtedly add an extra thrill to the game, responsible and informed betting remains key to an enjoyable Baccarat experience.
Baccarat Payouts and House Edge
Another caveat of baccarat that you will need to be aware of is the payout table associated with it. While any winning bets on the Player payout at a rate of 1 to 1, meaning you will double your stake, winning bets on the Banker will at a rate of 19 to 20.
This is due to the Banker taking a 5% commission on any payouts that have been gained from betting on the Banker to win.
Lastly, an 8 to 1 payout is awarded for winning Tie bets.
This is because the banker is statistically likely to win just over 50% of rounds. In fact, while the Player's house edge stands at 1.24%, the Banker's edge comes on top at 1.06%.
And, for those wondering, the Tie bet stands at a house edge of 14.36%. Since this is extremely high, some casinos choose to pay out tie bets at 9:1, lowering the house edge to 4.85%.
These percentages mean that for betting on the Player, you can expect to lose 1.24% of units gambled for every 100 when looking at averages.
Beginner's Tips for Baccarat Strategies
Even though the basic rules of online baccarat are simple, there can be a lot of strategies and outcomes that you will have to keep in mind when placing your bets.
First, it is highly important that you familiarise yourself with all of the rules of baccarat to get the most out of the game and your bets of course. Other than that, we have listed a few tips for those of you who are just getting started with your online baccarat adventure.
Free Play Mode
If you are new to baccarat we highly recommend that you play for free at a virtual baccarat table. Get a feel for the game before you start to wager your actual funds.
Even if it's just for 10 minutes, the overall simplicity of baccarat lends itself to be easy to learn. It really does go a long way to start off with at least a few rounds, so that you can become comfortable staking real money while being free to test out some strategies.
Avoid Betting On Ties
We've mentioned it before here, but we'll say it again; it is inadvisable to stake your money on a Tie in baccarat. While the 8 to 1 payout may appear tempting, the 14.4% house edge is generally not worth pursuing.
Instead, consider the Banker only, Player only, or One-Sided baccarat betting strategies explained next.
Banker Only Or Player Only Strategy
A Banker only or Player only strategy revolves around placing continuous bets on either the Banker or Player until your chosen side loses.
From there, the strategy dictates that you then switch sides and again bet continuously until this side loses. Rinse and repeat.
In the rare case that a Tie happens, simply act as if the round never occurred when placing your next bet.
This is a very popular baccarat strategy amongst baccarat players. It helps cut down the decision-making process, which is very valuable for those who do decide to go for the Live Speed Baccarat tables.
Variations Of The Baccarat Card Game
While browsing online for Baccarat tables, you will come to notice that there are many variations of the game. The bulk main rules and principles, as described above, will tend to remain the same.
There can however be found slight differences that may be more fitting to your play style. Take your time to familiarise yourself with these differences, so that you won't be confused when entering a table with slightly different adaptations on the overall rule set.
European Baccarat
With a more simplified set of rules, which is eloquently optimized for online play, European Baccarat ensures that the role of the Banker is handled by the dealer.
Standing or drawing when it comes to the 3rd card is optional for the Banker, regardless of the score from either the Banker or Player. The Player, on the other hand, is given the choice of standing or drawing for that 3rd card, should the Player's score be equal to 5.
This, therefore, forgoes the usual play table associated with traditional baccarat when it comes to the 3rd card rule. You'll most likely see plenty of European Baccarat tables at online casinos.
No Commission Baccarat
As with any major card game, new versions of the game are appearing with a few tweaks in the rules. This is also true for baccarat.
An alternative version of Punto Banco is No Commission Baccarat, which has become a very popular online baccarat game at live casinos.
This is a game where no commissions are required to place a bet on the Banker. However, every time you get an advantage of some sort in a new version of a game, you also get a disadvantage.
Mini Baccarat
Another version of Punto Banco Baccarat is Mini Baccarat. In reality, there aren't many differences in how these games are played.
The rules are the same, but Mini Baccarat is often played on a smaller table. The bets you can make on the table are smaller too. The minimum and maximum bets in Mini Baccarat are often targeted more toward casual players.
At many casinos, the "real" baccarat tables can have minimum bets starting as high as several thousand euros, so if this is a bit more than you want to bet, Mini Baccarat could be the game for you.
Chemin de Fer
Chemin de Fer is a baccarat game where there's no house since both the Player's and the Banker's hands are played by actual players.
For every game round, one player is the Banker and all other players are the Player. The Player is only one hand. One of the players is the representative for all players, and this person is actually playing the hand.
The Banker designation goes counter-clockwise around the table, while the representative Player is determined by whoever makes the biggest bet.
Baccarat Banque
Baccarat Banque is another version of baccarat that's closely related to Chemin de Fer Baccarat. There are two differences, though.
First, the Banker will either be the first player at the table or the player with the highest bet, depending on the house rules.
Second, there are two Player hands. The total number of players, not including the Banker, is 10.
In addition, it's also possible to bet behind if the 10 players at the table cannot, or will not, match the Banker's bet.
Playing Baccarat at Online Casinos
Just like blackjack and roulette, there are two main ways to play baccarat at online casinos. The first is on RNG-powered machines, where the software generates the outcomes.
You see virtual cards and a table, but this is all cosmetics. The other option is to play live baccarat at live dealer casinos. Here, the action happens in real-time and it's streamed from dedicated studios.
Live Casino Baccarat
Featuring professional live dealers with high production values in studios draped in real casino aesthetics, live baccarat delivers a real authentic feeling.
This is all possible from the comfort of your home or the palm of your hand.
Live baccarat can provide players with instant feedback and interaction through a seamless user interface. Players can view the table's statistics, other players' bets, and more. Even communication with other players is possible via live chat functionality.
Providing a real social aspect to the game, which one might only expect from visiting an actual casino, online live casino games have come far in offering an immersive experience powered by innovative technology and experienced croupiers.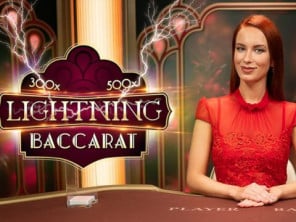 Lightning Baccarat
Lightning Baccarat by Evolution infuses an electrifying twist into the classic baccarat setup. Maintaining traditional baccarat rules, Lightning Baccarat introduces a dynamic "Lightning" feature, offering the potential for substantial multiplier wins in every round.
Players place bets on player, banker, and tie selections, alongside side bets for banker and player pairs. A 20% Lightning Fee fuels the multiplier prizes. The Lightning Round generates up to five cards with 2x to 8x multipliers.
While retaining baccarat's essence, Lightning Baccarat raises the stakes with its rewarding lightning cards, with prizes capped at €500,000. Evolution's innovative take provides an exhilarating live dealer experience.
Lightning Baccarat Review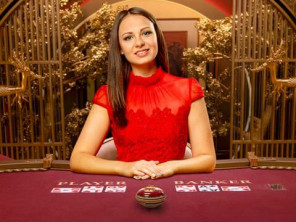 Golden Wealth Baccarat
Golden Wealth Baccarat, offered by Evolution, is a captivating live dealer casino game that adds a stylish twist to the classic baccarat experience. Infused with an Asian-inspired theme, the game introduces random multiplier golden cards, elevating potential winnings. The immersive environment boasts golden dragons and an augmented reality magical pot for first-person play.
The game's allure lies in its entertainment value, with a maximum prize of €500,000. Resonating with baccarat enthusiasts seeking an extra edge, the golden card multipliers present an enticing proposition. With similarities to Lightning Baccarat but lower volatility, players enjoy enhanced chances of winning hands and multipliers.
Golden Wealth Baccarat Review