How to Play Super Andar Bahar
We get it. All the things we said don't exactly say much about how to play Super Andar Bahar. However, that doesn't mean the GoodLuckMate team will leave you hanging! Just as the name implies, Super Andar Bahar is an elevated form of the standard Andar Bahar.
This online live casino game is played pretty similarly to the classic version. The dealer will use one deck with 52 cards. Then, they will deal the first card, also known as the house card or the Joker card. Please, don't mistake it with the usual Joker (you know, the one with the jester), as the Andar Bahar Joker can be any card from the deck.
The Super Andar Bahar game continues with your bet. Your main goal is to predict whether the card of the Joker value will land in Andar or Bahar position. At this point, you can also place side bets. So far so good? Let's move on.
After the dealer closes the bets, they will place the first card on Andar, the second one on Bahar, and repeat the process, until they reveal a card that has the same value as Joker. The winning side is then announced, and the round is over. In a few moments, the next round will start. Super Andar Bahar rules make it super easy for you!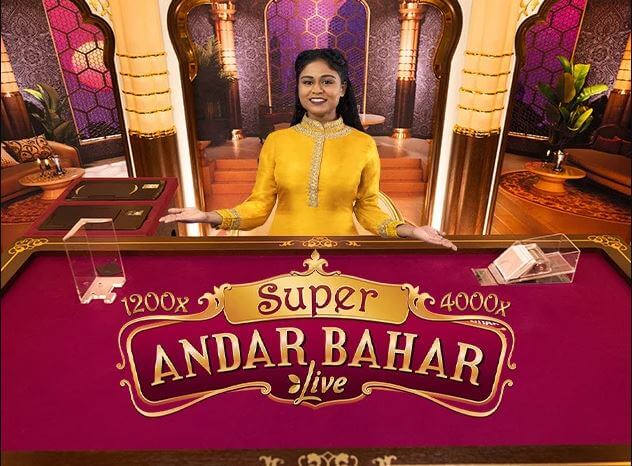 Place Your Bets!
As said before, there are two positions you can bet on:
Andar

–

also known as the inside bet

Bahar

–

known as an outside bet
Andar position will be the one closer to the dealer, but that won't affect you in any way. It is just how the table is laid out. Every round begins with a fresh deck of cards, automatically shuffled. Between each round, you will have approximately 10 seconds to place your bet. Still, considering that the dealer has to fill out the shoe before every round, you will have time for a breather.
The dealer will position the Joker card in its dedicated place on the table. You will get a chance to place the bet, and all that is left to do is to sit down and observe. In the gaming menu, you will notice a nifty feature that displays both the multipliers and how many cards have been dealt until a certain moment. Super Andar Bahar strategy is nonexistent. It all comes down to whether you'll be lucky enough to predict the next outcome.
Super Andar Bahar Winnings & Payouts
What makes Super Andar Bahar super is the fact you can get a bigger prize than in the original. This happens thanks to randomly assigned multipliers, available only in side bets (but more on that later). The multipliers in this game are higher than usual and can reach up to 4,000x. If there is no multiplier attached, things are pretty simple:
Andar pays 0.9:1

Bahar pays 1:1
The Andar position has a somewhat lower payout, but higher RTP, while Bahar has the opposite. It is up to you to choose how you wish to play Super Andar Bahar online!
Game Features
The best features in Super Andar Bahar are side bets. Side bets allow you to win sensational prizes, thanks to multipliers that come with them. Here is how multipliers are spread across the deck:
1

–

5 cards revealed - 2x to 9x

6

–

10 cards revealed - 3x to 14x

11

–

15 cards revealed - 4x to 19x

16

–

20 cards revealed - 5x to 29x

21

–

25 cards revealed - 8x to 39x

26

–

30 cards revealed - 12x to 59x

31

–

35 cards revealed - 20x to 99x

36

–

40 cards revealed - 40x to 199x

41

–

45 cards revealed - 110x to 499x

46

–

49 cards revealed - 800x to 3999x
According to the Super Andar Bahar bonus game, or side bet, if you like, there may only be two multipliers per round. Multipliers are assigned completely at random. If there is no multiplier assigned to your side bet, the regular payout is applied.
The interface also features some basic stats that might help you decide which bet to choose. Find the colorful chart in the bottom right corner, but keep in mind that outcomes in this game are completely unexpected!
Play Super Andar Bahar at Online Casinos
Super Andar Bahar is a fun game that is incredibly easy to learn. This makes it an optimal choice for players who have just entered the electrifying world of online gaming. However, even more experienced gamers won't be disappointed. Things may move pretty fast, depending on how quickly the dealer changes the deck. Evolution, once again, outdid itself by creating an immersive title that combines the latest technologies with tradition. In addition to all that, we should mention that the gaming studio is simply breathtaking, all gilded in gold and rich purple hues.
Evolution Gaming is one of the biggest live gaming providers out there, so you should find Super Andar Bahar casino with ease. GoodLuckMate has reviewed many operators that live up to our high expectations and provide good value for money. We are pretty sure you will find at least a couple that will work for you and your newly found passion for Super Andar Bahar.