TV game shows go as far back as the early 1940s, but it wasn't until 2017 that the concept was brought to online casinos with Evolution's Dream Catcher. Live casino game shows usually draw inspiration from different popular TV shows like Deal or No Deal and Wheel of Fortune. But, there are also unique twists on more conventional casino games, like roulette and slot games, where the two can even be combined. These types of games have proven themselves very popular with players in the short amount of time they have been around, providing an immersive quality that only the contestants would be able to feel in the classic TV shows.
How to Play Game-Show Games
Learning how to play Game-Show games isn't necessarily as simple as learning Blackjack, for example. It is not a matter of learning one core ruleset and then applying some tweaks to form other varieties of the game.
For the most part, each game will instead feature completely different formats, bet types and additional features. While Dream Catcher and Crazy Time are both Wheel of Fortune-style titles and share a lot of common traits and rules, they are very much different games from, for example, Monopoly Live or Football Studio.
As such, in casino game shows, rules can change wildly but are kept off putting by their overall simplicity. Most titles follow the same order of events that you would expect at a card table. Generally speaking, bets are placed at the beginning of the round before the result is called, which then triggers the next round.
A lot of the time, you will be asked to make a specific prediction with your bets, such as a certain segment or outcome on a board. One of the reasons these games are so popular is their simple nature and instant recognition to those already familiar with the game formats. Even newer players should have an easy time hopping in after spectating just a couple of rounds.
Place Your Bets!
Formulating a good live casino game show strategy will be dependent on your preferred game. One piece of advice you can take across all of your games is to effectively manage your bankroll. Doing a good job of managing your funds not only provides a greater potential to extend your playtime but also decreases the likelihood of disappointment. A lot of games will let you place a minimum bet of €0.10, which allows you quite a bit of flexibility even with a smaller budget.
You are also free to simply spectate rounds should you feel that there is a cool period going on. Bets are placed using chips in various denominations, making it feel very akin to other live casino games. In fact, the entire user interface will feel familiar to anybody who has played live casino games before. This means you can expect betting options like doubling your last wager or an undo button that withdraws all your placed chips before confirming your bet.
Casino Game Shows
: Winnings & Payouts
Win multipliers can get rather ridiculous in these games, especially in bonus feature rounds. Crazy Time, for instance, is capped at €500,000 for its maximum winnings, as the multipliers in the bonus rounds have the potential to go way beyond that amount. Payouts can vary as widely as the games here, though, and it is best that you check out our reviews for individual games to find their exact probabilities and payouts.
Bonus rounds tend to have the potential to reach tens, if not hundreds, of thousands of euros. The most common payouts you will likely see, though, are one-to-one and two-to-one payouts. You can usually expect the return to player (RTP) to be in the mid-90 percent, meaning that players are, on average, expected to receive around €95 for every €100 wagered. Keep in mind that this is purely a statistical expectation, and some players can win more or less equally.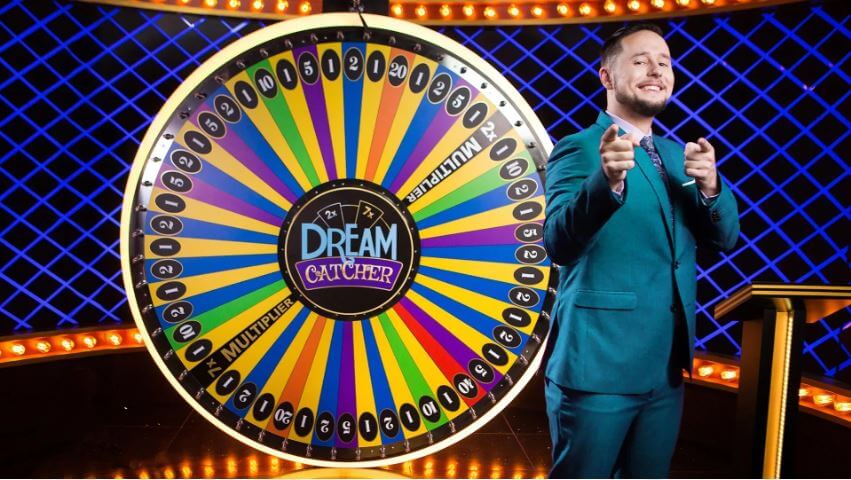 Game Features
Live dealer game show games bonus features can be expected in virtually all titles, as this is where the big jackpots are found. Providers are eager to advertise the high win potentials of their games and come up with creative bonus rounds to implement into their games. One notable bonus feature is available in Monopoly Live, which is a Wheel of Fortune-style game.
Entering the bonus round sees players transported to a virtual rendition of the classic Monopoly board. There it becomes all about getting good dice rolls to attain high win multipliers and further bonus rewards. Crazy Time also makes a spectacle of its bonus rounds by having four very different features possible for players to enter when the specific feature is both wagered on and landed on by the wheel.
Common Types of Live Casino Game Shows
The scope of a live casino game show may represent many different things. Game developers try to stay relevant by coming up with new ideas. So, there are different types of live dealer shows, even though they all are often placed into the same category.
Wheel of Fortune Live Casino Games

– These game shows often include a wheel of fortune/magic wheel/etc. that offers various prizes.

Ball Game Shows

– Based on lottery or bingo, live casino game shows of this type often include drawing balls with numbers.

Dice Live Casino Shows

– These are game shows that involve rolling dice of any kind.

Card Game Shows

– Cards have always been an important part of the game of luck experience, and some live casino shows involve this mechanic.

Slot-Inspired Live Game Show Games

– Operators try to mix the concept of their most popular slots with the game shows. Such examples are Gonzo's Treasure Hunt and Sweet Bonanza Candyland.
Most Popular Live Casino Game Shows
Providers have understood the power of game show games online, and, therefore, the list of new titles constantly grows. The leading suppliers work tirelessly to come up with new concepts and ideas. There's only one goal for this – to make players happier and more engaged.
Below, we've listed the top options for fans of live casino game shows.
Dream Catcher
Dream Catcher was the first live game show released by Evolution. It has simple rules and follows the wheel of fortune concept of play. Players bet on where the wheel would stop spinning and win appropriate payouts if their guesses are correct.
Sweet Bonanza CandyLand
Sweet Bonanza CandyLand is a live game show by Pragmatic Play Live and inspired by the provider's popular Sweet Bonanza video slot. The game also follows the wheel of fortune concept, meaning it's easy to play and understand.
Gonzo's Treasure Hunt
Gonzo's Treasure Hunt is a unique game show inspired by the Gonzo's Quest video slot and created by Evolution. This game gives players the opportunity to join the explorer and discover El Dorado together. Regarding gameplay, this live show is similar to Keno, but you choose fields instead of numbers. Some stones hide generous prizes, and some are empty.
Deal Or No Deal
Deal Or No Deal is another Evolution game show based on the popular TV show of the same name. Following the proven gameplay, the game lets you spin a wheel to qualify for the next stage. Then, the Top Up phase comes, where you choose briefcases. Finally, the briefcases are then opened, and the banker makes cash offers to those whose cases are still in the game.
Mega Ball
Mega Ball is a live game show by Evolution, which could be considered bingo's cousin. Mega Ball includes 51 balls and involves classic bingo gameplay where players get cards and hope to win a payout. Besides line payouts, there are various bonuses awaiting for users, and this segment makes the game that more exciting.
Cash or Crash
Evolution also offered its take on the widely popular crash games with Cash or Crash. A ball machine draws green, red, or a single golden ball. Green ones take you higher, red ones crash you down, and the golden ball is a shield against the following red ball. Depending on how high you get, your payout will grow, as well.
Most Popular Live Game Shows Providers
Online casino providers typically focus on online slots because they are the most popular game category. The situation is a bit different with games shows live games. After all, not many providers have the means and technology to develop special studios and employ professional dealers. And even some of the established live dealer game suppliers don't feature game shows.
Below, we've listed the most popular as well as best developers of live dealer game shows.
Evolution
Evolution is the most popular live casino supplier and also the leader when it comes to live game shows. The company has started the trend, in fact, and boasts the first ever live casino show - Dream Catcher.
Pragmatic Play Live
Pragmatic Play Live is the live casino division of Pragmatic Play, a leading online casino supplier. While the company initially focused on slots, it now boasts a range of live casino games, many of which are attractive game shows.
Playtech
Playtech has been a huge iGaming brand for years now, so it makes sense that it's also known for its creative game casino shows. The company stands behind The Money Drop, Adventures Beyond Wonderland Live, and a range of other unique titles.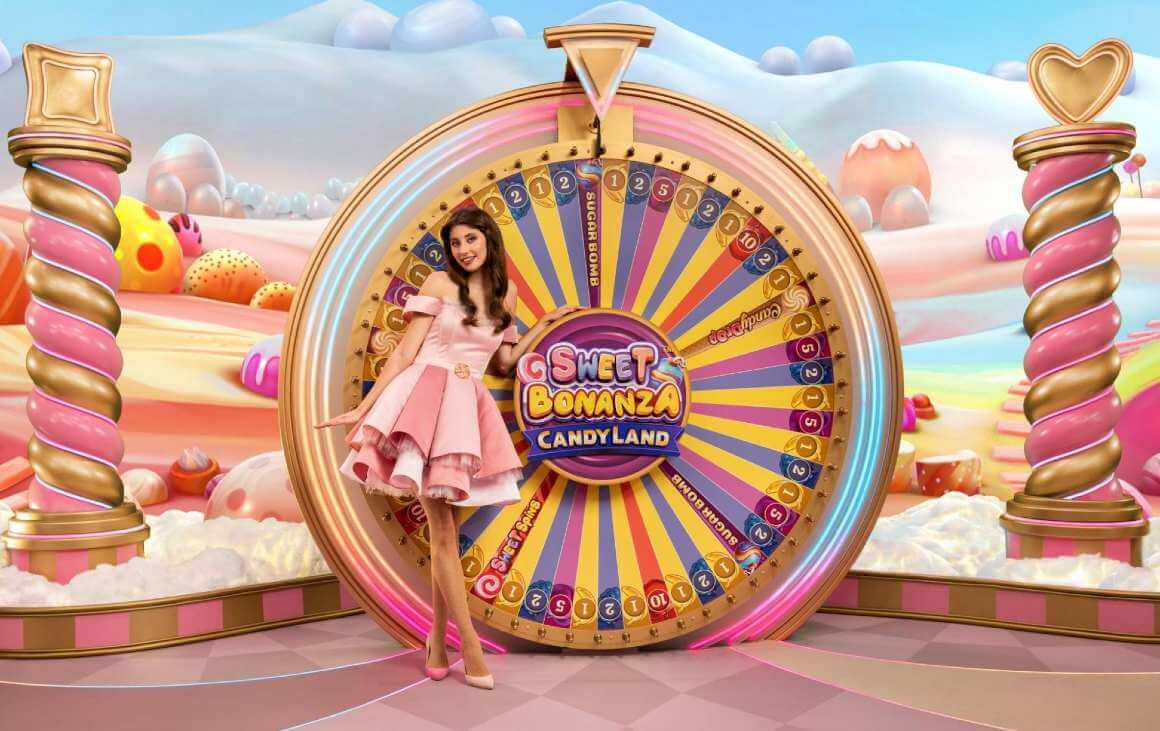 Can I Play Live Game Shows for Free?
No, most providers and live dealer casinos won't let players try the game shows for free. These are created for real money action only. So, for those asking themselves are game shows gambling, the answer is yes. To participate in these games, you must stake real cash, and that's why you must employ all the responsible gambling practices.
Are Live Dealer Game Shows Fair?
Yes, the game shows live games recommended on this page are 100% fair and safe. They come from trusted live dealer providers whose releases are frequently tested and approved. All of them are additionally licensed in multiple jurisdictions. So, you have nothing to worry about when you play games with live dealers. But this also means there are no live casino tricks you can employ to beat the house. As with all online casino games, the outcomes are generated 100% randomly and unpredictably.
Are There Casino Bonuses for Game Shows Live Games?
There's no clear-cut answer when it comes to live dealer game show bonuses. Some casinos will launch such deals, and others won't. Generally speaking, due to their nature, live games shows are often excluded from bonus offers. Your best option is to check the rules of each offer individually to see if the game shows are banned.
Do Live Game Shows Have RTPs?
Yes, most live game shows have RTP rates because their outcomes come from RNGs, just like for other online casino games. Typically, the game rules also state the payout rate of the game. Here are the RTP rates of some popular shows found at live casinos.
Dream Catcher – 96.58%

Mega Ball – 95.40%

Sweet Bonanza Candyland – 91.59-96.83%

Cash or Crash – 99.59%

Gonzo's Treasure Hunt – 96.56%
As you can see, the typical RTP of live casino game shows moves between 95% and 97%. However, some options come with varying RTP as well as worse or better house edges.
Play Game-Show Games at Online Casinos
It can be time-consuming to find a good site to play your favorite live casino game shows online. With so many online casinos out there, it is almost overwhelming with the amount of choice available, and even with these types of games being a relatively new innovation, they have a consistently growing player base attached to them.
Finding the right game show casino can be done in a matter of seconds, but finding the right one for you may not be so simple. Gathering the information together to get a full understanding of the value and trust you can attribute to a site isn't something most people have time for, especially when there are hundreds of sites out there.
That's why your best bet is letting us do all the hard work here at GoodLuckMate, as we provide unbiased online casino reviews written by industry veterans.