I've been busy writing about the developed UK iGaming market when the US started seeing its first legal online casinos not long ago. Regulators in certain states finally welcomed the concept instead of letting residents gamble on illegal and offshore websites. Until then, Americans from those states would use every trick in the book to play somewhere they got protection close to zero.
So, I've been wondering if US regulators are somewhat too slow when it comes to introducing relevant legislation. If they're behind every trend, and I'll point out a few of those below, they're risking players' well-being; be it from lack of protection in terms of responsible gambling tools to exposure to unregulated products.
From Idling to the Fast Lane
Once the American iGaming story began, so did all the aggressive advertising. Marketing is huge if done right, so whenever you open American content, you'll see at least one online gambling ad. Meanwhile, sweepstakes casinos entered nearly every state, while skill machines give Nebraska regulators headaches.
It's a lot, I know.
In reality, the US gambling market is one of the largest and most lucrative in the world, but it is also one of the most complex and fragmented. The regulation of online gambling in the US is a matter of both federal and state law. Naturally, each jurisdiction has its own approach and challenges.
Let me dive deeper into specific aspects I already briefly mentioned to exemplify what I'm talking about.
First, let's focus on the advertising aspect. Many developed markets have banned gambling advertising and have strict rules on when such ads can appear. If you watch some streaming services with ads and an American VPN, though, you start wondering if there are such rules at all.
I did some research. Rules exist and vary by state. In general, gambling ads in the US can't target minors, should not be misleading, and need to include a problem-gambling hotline number. From my experience, I haven't been able to watch anything using an American VPN without seeing at least 10 casino ads.
Be it Unibet, DraftKings, or FanDuel, there's always a gambling ad. If I think they're overdoing it, what are other people thinking? In my opinion, some additional restrictions are needed in gambling ads, which often make the viewer feel as if massive prizes await them. We all know that's now always true.
Sweepstakes and Skill Machines Abusing Lack of Regulations
While reading industry news last week, two topics caught my eye.
First, it seems that skill machines have uncontrollably spread throughout Nebraska, worrying both residents and regulators.
Second, sweepstakes casinos are once again in the middle of a class action, this time filed against Amazon and in Nevada.
Apparently, skill machines are incredibly similar to slot machines. Yet, they're not classified as such and are unregulated. So, grocery stores, bars, and convenience stores are abusing the situation by adding them left and right.
Reports claim there are nearly 4,800 of them in about 1,600 locations across the state.
Obviously, there've been lots of complaints from worried citizens. Statements appear claiming nobody checks the age of the players, creating a new generation of problem gamblers. Even industry experts complain that casino operators pay hefty fees for their licenses on top of taxes while skill games are overlooked.
In my opinion, this aspect is ripe for new regulations. I'm not saying they should be banned, but regulated for sure. If I've learned anything from my experience of nearly a decade in iGaming, healthy laws are the best way for everyone involved.
And don't let me get started on sweepstakes casinos. I have already written about this concept– perhaps too harshly – calling social casinos the worst of both worlds. Due to the complete lack of regulations, they've found a way to be everywhere. Players from states where online gambling is banned can freely join sweepstakes casinos, make real money purchases there, and play casino-style games.
I'm mentioning them again because they landed a class action against Amazon in Nevada. The plaintiff claims that these addictive games have been brought to any home, 24/7, with the help of Amazon.
Similar lawsuits have resulted in Washington and Idaho being listed as banned states. Nevada will likely join their company next after the class action news broke out.
Late Reaction Just Isn't Good Enough in This Industry
People are asking Amazon to return any profits from such "illegal" activities to consumers. Whether that happens or not isn't all that important to me at this point. What's important is how did the situation even get here?
Once again, I believe that regulators let it slip.
If you see a product that's 90% like gambling and your priority isn't to regulate it, you're doing something wrong. And yes, I'm well aware that drafting legislation is a long and complex process. I also know that there've been some attempts that failed.
But it's evident that faster reactions are necessary for everyone's well-being. So, I would expect lawmakers to find a way to either introduce changes faster or to be better at spotting arising trends.
Today are social casinos, yesterday were skill machines, tomorrow will be something else. With the money big companies can invest in advertising, AI tools possibly targeting certain customer profiles, and new technologies ahead, a watchful eye is necessary.
Be it using successful examples from international markets, staying more alert, and paying more attention to complaints, I think that faster changes are a must.
I'm sure that all the other countries that finally took the time to reinvent their gambling laws regret not doing so earlier. With the US being such a big market, the potential risks are higher than ever. Finally, I'd hate to see the iGaming industry's reputation ruined in the eyes of American consumers due to the lack of proper laws.
This article delivers the thoughts and opinions of the author, and it doesn't represent the stance of GoodLuckMate.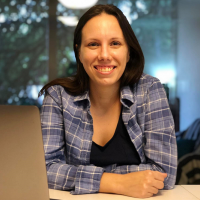 Milena is second-to-none when it comes to researching, reviewing, and recommending top online casinos. She stops at nothing when it comes to getting all of the facts and figures straight in each of her expert reviews. Plus, having worked as a writer within the iGaming industry since 2014, Milena has seen it all and is familiar with every aspect of online casinos.