Gambling and betting online were only available on desktops for a while. However, with the rapid development of technology, mobile iGaming action was soon established as the industry standard. But, how do these two compare? What are the benefits and drawbacks of desktop versus mobile gambling? Is any of the concepts superior? Well, in this GoodLuckMate article, we'll compare desktop vs. mobile gambling to see which one is better.
Display Size
We all know that the bigger the screen, the better the experience. Desktops have larger screens, and they are much better when it comes to displaying the casino website. Partaking in live casino action and spinning slot reels is more enjoyable due to the superior graphics on a bigger screen.
Tablets and smartphones, by contrast, have smaller screens. As powerful as they may be, most of them lack a decent-sized screen. Often, you will find yourself hunching over the phone trying to navigate the website. Sometimes, it's even frustrating, especially if there's a lot of information displayed on the site. There are, however, smartphones with screen sizes big enough to capture all the visuals and effects providers include in their games.
Playing Experience
Playing online casino games on a desktop computer certainly gives you a better view of the website. However, you complete actions by using your mouse, which isn't that appealing. When it comes to mobile gambling, things are different. In contrast, playing on mobile is more engaging as you are using your fingers to navigate the site.
For some people, that's convenient because they can zoom in and out and have more control over the screen. However, for others, this is a major inconvenience due to practical issues like smaller buttons.
Graphics
iGaming must provide top-notch graphics and sound effects to attract more players. When it comes to desktop gambling, that's not hard. The screen is bigger, so you can fully enjoy the impeccable graphics and sound effects. Animations and special effects also work flawlessly on desktops, making for a seamless gaming experience.
All of this should also be available on mobile, but only if the game you're playing is mobile optimized. You will experience the same quality of graphics and animations on mobile, especially on HTML5 games. Betsoft, NetEnt, Play'n GO, and Yggdrasil are among the providers whose games look perfect regardless of the device.

Availability
All online casinos and games are available on desktop by default. However, with the development of mobile technology, most of the new releases are developed using HTML5. They are not excluding any audience and work flawlessly across devices.
Another important thing when it comes to availability is speed and loading times. Desktop computers load games faster and work at a better speed than mobile devices. However, technology has advanced, and with the arrival of 4G and 5G, it seems like mobile casino gambling is taking over. Due to the fast internet connection, mobile devices can now offer a smooth gaming experience too.
Bonuses
Most casinos online come with generous welcome bonuses. Whether they are no deposit or deposit bonuses, players are always in the mood to grab them. Casino games also come with extra features, bonus games, and rewards. Most of the iGaming bonuses go towards players who play on desktops, but not all of them.
Many of the mobile casinos and mobile-optimized games give out the same bonuses to players. Some of them took it a step further by offering exclusive perks available only to smartphone and tablet gamblers. So, in this situation, mobile users aren't overlooked. In fact, they sometimes get better offers than those playing on desktops and laptops only.
Convenience
This is something where mobile gambling is dominant. You cannot carry your desktops around with you. Desktop gambling is only available from a fixed place. Laptops help, but some of them are still too large and heavy to be carried around all the time. Mobile gambling allows you to play your favorite casino slot machines and games wherever you are.
Are you taking a short break from work? Relax with a couple of spins on your favorite slot machine. Got stuck in traffic? Have a quick poker or blackjack session. Whatever your preference, you will find a game that suits you. All you need is a stable internet connection, and you can fully enjoy gambling on the move.
The Takeaway
If you look at both options, you'll notice that the differences are not that big. Of course, there are certain things you can do on desktop and not on mobile and vice versa. However, both offer some unique aspects, and there's no outright winner.
Mobile casino operators have gained a lot of popularity, and mobile gambling is expected to reach new heights in the upcoming years. Still, desktops and laptops haven't lost their importance yet. Most importantly, you can always join one of the best operators available on both desktop and mobile and enjoy the best of both worlds.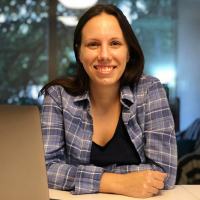 Milena Petrovska
Updated: 23 Feb 2021
Milena started her journey in the iGaming industry as a full-time English Content Writer back in 2014. It didn't take long for her to become passionate about this fast-growing mark...