The iGaming industry is in a constant state of flux, with new markets constantly being explored and game development changing to suit these. As such, the way we consume games is also changing, with developers and studios constantly trying to find new ways to entertain players.
I don't think I am alone in noticing the increased presence of crash games at online casinos in recent months, with Spribe's Aviator being particularly prominent. In this article, I'm going to take a look at crash games, explain what they are, why they're so popular, and why I think they are going to continue to soar over the next few years.
An Easy-to-Play Game
If you're new to the world of crash games, then let me give you a brief rundown. In a crash game, players will place their bet and then watch a sequence play out involving some sort of vehicle or person. The longer the sequence goes, the higher a multiplier builds up. Players have to attempt to cash out of the game before the game crashes, and they lose their money.
In Aviator, for example, you watch a plane fly and have to cash out before the plane crashes. In Spaceman, a crash game by Pragmatic Play, the same principle is applied to a person flying through space.
One of the reasons I believe these games have been so successful is because of their simplicity. Players must place their bets for each round and then see how long they can hold their nerve. It's a simple concept, and sometimes, that is all you need.
While a lot of slot studios are trying to outdo one another with complex mechanics and intricate bonus features, crash games have kept things incredibly straightforward, and sometimes, that is all you need. The concept, while not new to the market, also feels incredibly refreshing, and it has an instant-reward element that slot games can lack.
Social Elements
One of the biggest reasons I believe we are about to enter a new age of popularity for crash games is their social elements. iGaming and sports betting are on the rise in the United States, and a new generation of players is finding new ways to connect with it. Gen Z players, in particular, are more likely to look for different ways of engaging with games.
Crash games allow players to watch each other's bets and see how the game plays out. Whenever you play a game like Aviator, you will see a list of other players on the side of the screen and the bets they have placed for the round. This provides a perfect social element to the game, allowing players to share their achievements with one another.
What's more, Spribe, the company behind Aviator, has confirmed that they intend to add further features to the game in the next 12 months. One of these is a competitive element, which is something that will no doubt help the game become even more popular among players.
The idea of being able to share bonuses and free bets with other players is also something that has helped these games stand out. It is building a community around games that other products have not quite been able to do in the same way.
Streaming & Communities
One of the biggest mediums that are shaping iGaming is streaming, and it feels as though crash games have been made with streamers in mind. Crash games are fast and thrilling, which is the perfect combination for live-streaming. Players can jump in and out of streams and watch fast rounds. This quick consumption feels perfect for newer players that have grown up watching TikToks and Instagram Reels.
The games also have hugely intuitive and user-friendly interfaces and have been designed with an emphasis on mobile users. This encourages more social elements, with players being able to share their scores with one another. Online slots are always optimized for mobiles, but in my experience, they are always more enjoyable on desktop devices.
One other element that I think will benefit from crash games is betting behind. This is when players match the bets of their favorite streamers. This has become increasingly popular in recent years, and crash games feel as though they were made for this.
Potential Issues
Of course, as with anything that is taking off in the iGaming world, crash games are likely going to come under the microscope of regulators. Anyone that has played a crash game will no doubt agree with me that these games are hugely enjoyable and that they can be addictive.
Crash games put a time limit on how long you have to place your bets and could promote impulse betting, which is something that some regulators, especially stricter ones like the UKGC, may not like. The gameplay of crash games does encourage fast decisions, and these could certainly fall foul of responsible gambling regulations.
Some of these games have been on the market for a long time now, but their recent boom in popularity and their heavy promotion from casinos could see them put in the spotlight.
A Soaring Future
In my opinion, crash games are on the brink of becoming incredibly successful. Spribe has seen massive success over the last few months with Aviator, and it won't be long before other developers try to get in on the act. The rise of more social elements of iGaming has come at the perfect time for crash games, with these titles being the thing that could bridge the gap between online casinos and younger generations that are just discovering online betting.
This article delivers the thoughts and opinions of the author, and it doesn't represent the stance of GoodLuckMate.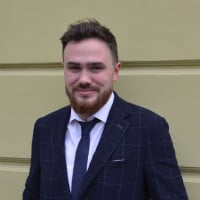 Liam is a skilled writer and journalist, highly regarded for his perceptive examination of the gambling industry. He specializes in online casinos and sports betting, and his work has been published in top-tier publications. Here at GoodLuckMate, Liam covers the latest industry news and has also authored various gambling guides, offering both beginners and experienced players in-depth analyses of games and strategies.