Blackjack is a classic card game known throughout the online and offline gaming world. The mixture of skill and luck makes blackjack, or 21 as it's known in some countries, one of the most entertaining games to play in a casino.
Side betting and in-game features are nearly always included in the live blackjack experience. This takes us to the so-called bet behind blackjack side bet.
It has caught many people's attention, and it is this betting option that we will be looking over in more detail on this page.
Let's learn how to place such bets, whether they are worth your time, and where you can bet behind in blackjack.
Bet Behind Explained
Well, before proceeding to pros and cons, let's answer the question of what does bet behind mean in blackjack. The simplest answer is placing bets behind other players on the table.
For example, let's say there is a blackjack table with seven players. You notice one of them is really good. You want to bank on the player's skill and luck by placing a blackjack bet behind wager on that player. With this bet, you are tailing the player rather than playing your own hand.
Your bet outcome depends on the player's hand outcome. If they win, you win. If they lose, you lose.
Not all casinos allow bet behind in blackjack, so you should make sure that it's an option. Typically, the betting limits for this wager are lower, so it attracts players with low budgets.
Bet Behind in Land-Based Casinos
Before we move on to the online gambling world, let's give insights to those who may want to try this side bet in a brick-and-mortar casino.
The process is simple. You need to visit a casino facility that offers bet behind blackjack games. Then, you should choose a player who's already active on the table or preparing to play. To place a bet behind side bet, you should put your chips behind the player.
The round will play out as per usual. Once it's over, your bet will be resolved depending on the player's outcome.
Bet Behind in Online Casinos
When talking about the blackjack side bet bet behind option, we must highlight that it doesn't quite exist in online casino games. These games are individually played and have results generated by random number generators.
You play them alone rather than sharing the experience with other players. In that sense, there are no other players to place a bet behind on them. Instead, if you want to try betting behind blackjack online, you'll have to do so on live dealer blackjack games.
Bet Behind in Live Dealer Casinos
Bet behind live blackjack is one of the most exciting games blackjack fans can play online. The gameplay on these games is just like what you'll find in a land-based casino. The game is hosted by a real person, you share the table with other players, and you can – sometimes – place live blackjack bet behind side bets.
Let's see how to do this.
You should find a reliable live casino that offers blackjack with the betting behind option. We share some insights on what operators typically have such games later in the article. So, make sure to scroll down and find your gambling site within a few clicks.
Once you choose a live casino, complete registration and make a deposit. Then, you can open a suitable live blackjack game and bet behind active players. Thanks to top-quality casino software, bets are resolved automatically and within seconds after the round ends.
What Is Unlimited Bet Behind in Online Blackjack?
Some casinos may limit the number of bet behind side bets a player can place. For example, you may be allowed to bet behind three or four players only. An unlimited bet behind game would be a situation where such a restriction doesn't exist. Let's say there is a full seven-seat table. An unlimited bet behind blackjack would let you bet behind all seven players.
Another unlimited aspect refers to the number of bet behind bettors. Again, some casinos may allow only a certain number of watchers to join the action through this side bet, while others don't have such a limit. In the latter case, there may be dozens of players who are placing bet behind bets.
Payouts on Bet Behind Side Bets
What is bet behind blackjack is the most common question on this topic. Yet, another important question is related to the payouts on this side betting option.
As always, the exact payouts and rules vary depending on the provider that supplies the game and the casino that offers it to its players. In this section, we'll cover the basics. But please make sure to double-check the exact bet behind payouts on the game you play for the most accurate info.
Generally speaking, the payouts for bet behind bets are identical to the standard blackjack bets. For instance, a winning hand gets the players 1:1, and the same payout goes to the person who placed the bet behind bet. A straight blackjack traditionally pays 3:2, and the same would apply to the bet behind side bet.
Some brands would let those betting behind combine their bet with other side bets, including the perfect pairs, straight, straight flush, etc.
Getting to Grips With the Bet Behind Option
One disadvantage that you can find with live blackjack games, as you have with land-based casinos, is the space for people to play the game. A limited number of seats are available, especially with the popular low-stakes games that tend to fill quickly. The usual alternatives are to wait, find another table, visit another site, or simply not play at all. The bet behind option was introduced to solve this problem.
So, what is bet behind in blackjack? It gives you a chance to bet on other players' hands while waiting for your seat, so you never miss out on any of the action.
The bet behind option is now hugely popular for those finding themselves in this "waiting" scenario. The betting odds are the same, 1:1 for beating the dealer to win and 3:2 for hitting 21. Now you no longer need to worry about finding a seat when playing live blackjack games. It also helps if you have a favorite dealer, so having to wait to be seated at their table is also no longer a problem.
In short, betting behind is a handy feature that allows players to guarantee blackjack action when logging in to an online casino. After all, we don't expect to be waiting when playing online. We play online to access games 24/7, and the bet behind option is helping players do just that.

When to Do It?
We covered the basics of what backbet blackjack is. Now is the time to give you a few tips on when is the smartest time to take advantage of this option.
Full Tables

– When the tables are full, and you want some blackjack action, you can partake through back betting until a spot opens for you.

Trust an Experienced Player

– When you notice an experienced player and you want to try and profit from their experience. Naturally, blackjack is a game of luck above anything else. Yet, any good player will know their chances and will make smart moves.

Play With a Friend

– If you want to play with a friend together rather than separately. Even though the active player calls the shots, if you bet behind, you may win or lose together.

Have More Action

– It's possible to place behind bets even if you're an active player on the table. With this option, you can get double or triple the action and even maybe scoop some wins from other players.
How Does the Bet Behind Option Benefit Players?
For experienced players who play advanced blackjack strategies, the bet behind option gives them more chances to win. The benefit of the bet behind feature is that if you play along with someone who is quite skillful, you can also bet on their hands. Carefully observing players and looking at their previous hands can help determine those on hot winning streaks.
Observing experienced players is a clever way to optimize your betting, especially if you are still learning the game. If you are someone new to live casino gaming, then the bet behind option gives you a chance to ease into the whole live dealer experience. You don't have to "sit down" at center stage and know all the rules of the game. You can simply "stand back" and place your bets on someone who is at the table and looks to be playing well.
Find simple lists of the main pros and cons of betting behind on blackjack right below!
Pros of Betting Behind
Always enjoy your favorite dealer

– You can always join the fun and bet with your favorite dealer, even if there are no seats.

Get more action

– You can place multiple behind bets on multiple players at the same time.

No bothering with finding a seat

– You won't be stressing out about free seats.

Can benefit from another person's blackjack skill

– You can take advantage of skilled players and maybe even profit from their knowledge.

Some casinos offer insights into players' winning streaks

– These insights can help you bet behind players with solid stats and to avoid those who underperform.

Not necessary to double bet

– If the player doubles down, you don't have to follow.

Doesn't restrict you from joining the table

– You can play and bet behind. This side bet doesn't restrict you.

Option to surrender or stay in the game

– You can surrender if the surrender option is possible, even if the player doesn't do it.

Lower stakes allowed

– Betting behind typically comes with lower betting limits, making it a solid choice for those with small playing budgets.
Cons of Betting Behind
No input in strategy decisions

– You can't affect the decisions and actions the player makes.

Your outcome depends on another player

– Everything depends on the active player, not on you. Even if you have some insights, they don't matter.

Feels like sports betting

– In many cases, it feels like sports betting as you're betting on a player rather than partaking actively in the gameplay.

Some limitations apply

- Players not allowing this option and a limited number of bet behind bets allowed per player are some limitations that can affect your experience.
Is the Bet Behind Option Worth Your Money?
The bet behind option certainly solves a problem for those players who don't have time to wait for seats to come free. It will also undoubtedly help amateur players improve their skills as well. Experienced players may well prefer to concentrate on their own game, and backing someone else to play the game may get frustrating. But there is definitely room for the bet behind option in the live dealer environment.
As we mentioned, the fact that you can bet on other players' hot streaks is a really useful tactic for those learning to play blackjack. Live dealer gaming can be a daunting prospect for some beginners. Yet, most players realize that the experience is actually straightforward once they start playing. The bet behind option is a way to ease yourself into the live casino world if you feel unsure about how it works. Watching others play and placing bets only when you want to is a great option and removes any initial worry that inexperienced payers may have.
Overall, the bet behind option adds another dimension to live dealer blackjack. Plus, who wants to turn down the chance of cashing in on another player's good play? Whatever you feel about the option of betting behind in blackjack, it looks like it is here to stay.
Bet Behind Strategy and Tips
If you understand what does bet behind mean and how to use this option, you probably have some ideas about when to use it, as well. Still, we'd like to highlight some tips and guides regarding the best blackjack bet behind strategy. These should help you make informed decisions next time you're at that thrilling blackjack table.
First, analyze all active players and their skills.

Stick to players who have had a good winning streak and clearly know the game.

Stick to players who avoid side-betting options.

Trust players who employ blackjack strategies and make the statistically best moves.

Analyze how players react when it comes to doubling down and splitting hands.
As you can see, it's not advised to just bet behind any player. No, you want to profit from the knowledge of another experienced player. To see who that player is, you must analyze and watch the table for a while before betting behind.
Where to Find Online Casinos With Bet Behind Side Bet?
If what you've read and learned so far sounds inviting, you may want to try placing your first live blackjack bet behind wager. So, the question that comes up next is a logical one. What casino providers and casino sites offer these options?
Our research has shown that established brands with the betting behind wager are Evolution, Ezugi, and Pragmatic Play Live.
Evolution live casinos

have hundreds of games and an impressive game variety. Among the options, you'll also find Live Blackjack with this attractive side bet.

Ezugi live casino sites

boast Blackjack Bet Behind in their game lobbies. This brand is owned by Evolution and has professional dealers as well as a solid game variety.

Pragmatic Play Live gambling sites

are also an excellent pick for those wanting to place bet behind blackjack wagers. This brand is a true leader when it comes to top-quality games and innovative features.
Bet Behind – Bottom Line
Overall, placing the bet behind blackjack side bet comes with benefits and drawbacks. If there are no seats and you want to join the action, this wager is your friend. If your playing budget is lower, you may also consider placing this stake.
However, if you want to take an active part in the gameplay and make decisions regarding your hand, then avoid it. The blackjack behind bet feels more like sports betting rather than playing blackjack. That can make it a bad choice for those looking to test out their skills and snatch high payouts.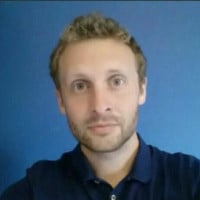 Steven is GoodLuckMate's casino veteran, having started in the industry in 2007! Although he knows everything about online gambling, it's sports betting that is his true passion. Additionally, he's not only our go-to writer for casino reviews, but he's also the one keeping the closest eye on iGaming companies, so he always knows what they are going to do next.