Blackjack is a classic card game and known all across the online and offline gaming world. The mixture of skill and luck makes blackjack, or 21 as it's known in some countries, one of the most entertaining games to play in a casino. The latest online trend is live blackjack, and this gaming experience is fast becoming the go-to option for many blackjack fans. Side betting and in-game features are nearly always included in the live blackjack experience. The bet behind feature has caught many people's attention, and it is this betting option that we will be looking over in more detail now.
Getting to Grips With the Bet Behind Option
One disadvantage that you can find with live blackjack games, as you have with land-based casinos, is the space for people to play the game. A limited number of seats are available, especially with the popular low-stakes games that tend to fill quickly. The usual alternatives are to wait, find another table, visit another site or simply not play at all. The bet behind option was introduced to solve this problem. So, what is bet behind in blackjack? It gives you the chance to bet on other players' hands while waiting for your seat, so you never miss out on any of the action.
The bet behind option is now hugely popular for those finding themselves in this "waiting" scenario. The betting odds are the same, 1:1 by beating on the dealer to win and 3:2 for hitting 21. Now you no longer need to worry about finding a seat when playing live blackjack games. It also helps if you have a favorite dealer, and so having to wait to be seated at their table is also no longer a problem. Though it should be said that this feature is not an option in every game, so check the betting rules to confirm.
In short, betting behind is a handy feature that allows players to guarantee blackjack action when logging in to an online casino. After all, we don't expect to be waiting when playing online. We play online to access games 24/7, and the bet behind option is helping players do just that.

How Does the Bet Behind Option Benefit Players?
For experienced players who play advanced blackjack strategies, the bet behind option gives them more chances to win. The benefit of the bet behind the feature is that if you play along with someone who is quite skillful, you can also bet on their hands. Carefully observing players and looking at their previous hands can help determine those on hot winning streaks.
Observing experienced players is a clever way to optimize your betting, especially if you are still learning the game. If you are someone new to live casino gaming, then the bet behind option gives you a chance to ease into the whole live dealer experience. You don't have to "sit down" at center stage and know all the rules of the game. You can simply "stand back" and place your bets on someone who is at the table and looks to be playing well.
Is the Bet Behind Option Worth Your Money?
The bet behind option certainly solves a problem for those players who don't have time to wait for seats to come free. It will also undoubtedly help amateur players improve their skills as well. Experienced players may well prefer to concentrate on their own game and backing someone else to play the game may get frustrating. But there is definitely room for the bet behind option in the live dealer environment.
As we mentioned, the fact that you can bet on other players' hot streaks is a really useful tactic for those learning to play blackjack. Live dealer gaming can be a daunting prospect for some beginners. Yet, most players realize that the experience is actually straightforward once they start playing. The bet behind option is a way to ease yourself into the live casino world if you feel unsure about how it works. Watching others play and placing bets only when you want to is a great option and removes any initial worry that inexperienced payers may have.
Overall, the bet behind option adds another dimension to live dealer blackjack. Plus, who wants to turn down the chance of cashing in on another player's good play? Whatever you feel about the option of betting behind in blackjack, it looks like it is here to stay.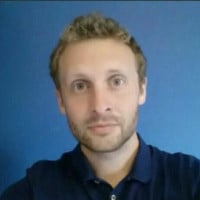 Steven is GoodLuckMate's casino veteran, having started in the industry in 2007! Although he knows everything about online gambling, it's sports betting that is his true passion. Additionally, he's not only our go-to writer for casino reviews, but he's also the one keeping the closest eye on iGaming companies, so he always knows what they are going to do next.