Summer is here, and legislation talk is too much for my dreamy brain. That's why I decided to keep this month's iGaming opinion piece for GoodLuckMate fun and unusual. I can write about new laws, game features, and whatnot next time, right? Focusing on the entertaining part of gambling, I opted to scratch one scratch card every day in May. Yes, that's right! I scratched off 31 scratchies, and I'm here to share my experience and data collected from this small research. Did I win a massive jackpot? Will I quit my job? Well, read on and find out!
Backstory and Scratch Card General Info
I've had this idea for a while now. You may know that I enjoy testing things out if you've read some of my articles. I did an analysis on bonus buy slots, for example. Scratchies are fun to me, and they aren't too expensive here in my city. So, they were the perfect choice for this experiment.
I went with physical cards as it was the simplest way for me, plus I enjoy the scratching-off part. Or so I thought. But more on that later!
I got 31 cards in a single purchase. This scratch card collection is called Fruity, and each card costs 50 MKD, which is about 0.81 EUR. I paid a total of 1,550 MKD or approximately 25.24 EUR. To simplify things for my international readers, I'll keep sharing all the values in euro even though the originals are in Macedonian denars.
I will admit that I chose the cheapest option, despite my favorite scratchie being the Bingo one. It's somewhat more engaging and lets you win multiple prizes on one card. It's €0.50 more expensive, though, and I didn't want to overindulge.
Back to the notorious Fruity scratch card and its prizes, as well as RTP information.
The back side of the cards states that the prize pool was around €533,441, with a return rate of 66%. If you've read our guides, you know this is a terrible percentage. Yet, I went with it anyway, and, honestly, I didn't even check this before making the purchase. Yikes!
I could win one prize per card, and there are a total of 327,760 prizes. I wasn't aware how many of those have already been claimed. The lowest prize equaled the card price of €0.81. The max payout was a juicy €6,465. Not bad for an investment of less than one euro.
In fact, I read the news that a lucky lady hit one of the 15 main prizes a few days ago. Was it me? Hmmm, we'll see.
As for the scratch card mechanics, I'd say it wasn't great, but it wasn't terrible, either. There were 5 so-called Fruity Numbers and then 20 Player Numbers. You scratch all of them, and you get a corresponding prize if there's a match. The prize was printed below each Player Number. The card is printed in a way that gives you a chance first to see the numbers. In case of a match, you can scratch off the part beneath the winning number to reveal your bounty.
Suspenseful, for sure!
I liked that aspect because it gave more value and excitement to the action. Compared to simple 9-field scratchies, at least.
Results and Stats
As I said, 31 days and 31 scratch cards.
I started off full of excitement and high expectations. I hoped purchasing so many tickets at once would surely include some big jackpots.
All happy and hopeful, I started my adventure with a potato.
Obviously, I won't bother you with my daily results, but I'll present you with some amusing stats.
Out of 31 scratchies, 20 had no prize at all. This figure represented 64.52% of all the cards. About two-thirds were losing ones. If I multiply the 20 cards with their price of €0.81, I lost €16.2 right there.
Will the prizes make up for this loss? Let's see!
I scored a prize on 11 scratch cards, i.e., 35.48% of the cards were winning ones.

I won the minimum €0.81 prize on 8 scratchies. That totaled winnings of €6.48.

I won 2 special fields, which doubled the minimum prize to €1.62 each. So, another total of €3.24.

Finally, the biggest prize I hit was a depressing €3.23. I was happy when it happened, though. This €3.23 reward was two levels above the lowest and one of 15,000 such prizes. Not a great accomplishment, but still worth mentioning.

My total prizes were €12.95, representing about 51.50% of my total investment of €25.24.
Overall, at the end of my scratch card scratching adventure, I lost €12.29.
Some interesting facts I can share:
My longest winning streak was four wins in a row.

My longest losing streak was six days in a row.

I collect souvenir coins from different places I've visited. So, I used those to scratch off and made notes of the "luckiest" coin.

The winner in this category was the coin I bought in Valletta, Malta (a perfect coincidence, right?). It got me five wins, including the biggest prize.

I started and ended this endeavor with a losing scratch. Tell me about anticlimactic experiences.

I was trying different scratching strategies to keep things fresh.
Was It All Worth It?
Yes and no!
On one hand, it was really exciting to just buy 31 scratchies at once. The person selling them was cheering for me, and the other people in the shop were just stunned. I dreamed of hitting a big prize and boasting about it in this very article.
Unfortunately, the lady that did hit the jackpot wasn't me. Congrats to her, though!
And scratching off the cards was fun, to some extent. I tracked each outcome, and losing streaks were depressing. By the end, I lost my hopes of winning a big prize, so the experience wasn't as enjoyable. I think I still prefer getting a scratchie from time to time. Feeling the pressure of the money I spent on 31 cards somewhat removed the fun factor. It was an adventure I'll remember for sure, anyway.
I want to remind everyone to gamble responsibly and within their means!
This was something I did primarily as a work experiment. And the results show that there are definitely no rules. A person can buy one scratch card and snatch €5,000, while someone (me, unfortunately) can buy 31 cards and end up in the red.
Another thing I'd mention is the option to play scratchies online. For example, you can try your luck on Chaos Crew Scratch right here on GoodLuckMate. You can play it for real money at our trusted gambling sites if you like it.
I think that online scratchies are simpler as you can get them anywhere and anytime. Moreover, there's no mess, and they're eco-friendly, I guess, as they're virtual. Now that I think about it, maybe I should've done that. Though, I'm unsure if there are online scratch cards in my country.
So, that's it. I gambled and lost.
Would I do this again? Probably not. Will I scratch off scratchies again? Absolutely! Do I regret this whole thing? Not in the slightest.
I hope you enjoyed reading about this scratch-card-a-day experiment. If you have any ideas about what I should test next, please share! I'm open to ideas. At GoodLuckMate, we always try to provide entertaining and real-life experiences.
Once again, I remind you to play responsibly, and I hope you'll be luckier than I was.
Until next time mates!
This article delivers the thoughts and opinions of the author, and it doesn't represent the stance of GoodLuckMate.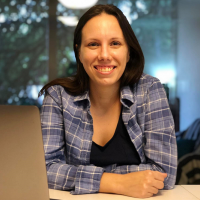 Milena is second-to-none when it comes to researching, reviewing, and recommending top online casinos. She stops at nothing when it comes to getting all of the facts and figures straight in each of her expert reviews. Plus, having worked as a writer within the iGaming industry since 2014, Milena has seen it all and is familiar with every aspect of online casinos.