First of all, thank you for taking the time to talk to us. Can you tell us a little bit about yourself and your role at Onlyplay?
Hello, my name is Christina Muratkina. I have been in the gambling industry for more than 10 years. I started my career as a software and games developer, and after a long and persistent path, I am in the position of CEO and co-founder of the Onlyplay company.
Before we became a product company, we worked as an outsourcer, but in 2020 we decided that we are ready to make games under our own brand.
What do you feel gives Onlyplay an edge over other studios in the industry?
We are about speed and flexibility. We are fearless when it comes to turning our cutting-edge ideas into complete solutions, and brave enough to address our new mechanics to the market. We spend approximately 10-20% of our resources on innovations, and this distinguishes us from other slot companies.
In our portfolio, you can see classic slots and completely new mechanics, for example, Infinity Play. The Need for X game was released in February 2023, but it has already found its market and its player.

Crash games have been a big part of your early success - can you tell us a little bit more about crash games and why you think they've connected with an audience?
Crash games are one of our favorite genres.
Our Fighter was released in February 2020 and is still our top 5 title. We dared to expand the functionality of crashes, added bonuses and jackpots. It made the game more dynamic in terms of how the profit grows during the game session, and as a result more attractive to the player.
As a fun feature, we added emojis. On long flights, you can see how the players push the emotion 🙏 of waiting for a bigger X. This is a bright indicator of socialization and how crashes hold the audience due to multiplayer. Playing together is more interesting.
It is not the end of our crash line. A cute and funny cat driving a tank, the main character of our Limbo Cat, is also a part of our extraordinary portfolio.

The TNT-Booster feature is also a big selling point for your games - can you explain what that is and why you think it has been so popular?
Some time ago, I discovered the world of social casinos, and I wondered why people put money into such games if they never have the opportunity to win and get real money back. When I understood this genre, I also realized that there are very many cool mechanics that can improve gambling games.
Then I carefully implement some of them and watch for an increase in engagement and retention rates.
The TNT booster in the games Juicy Crush and Crystal Cascade allows the player to influence the playing field and reach the best winnings. Moreover, the player can do it when he considers it necessary.
Many of your features seem to concentrate on giving players some control in the game -can you tell us why this is? And do you think we will see more of this in the industry in the future?
Here, the main thing is not to overdo it. The player likes probability games, it is obvious. But who doesn't want to press the "magic button" when they're not lucky? :)
Your company develops slot games that can be played with cryptocurrencies. How important do you think cryptos are going to be for the future of the iGaming industry?
Our system supports the game for all fiat, cryptocurrencies and even tokens.
The first game of Onlyplay Lucky Clover is made in the classic crypto style, with honest control, which crypto players really like. We launched this project on crypto exchanges.
Also, we have an internal closed project - blockchain for gambling, which solves the problem of transaction speed and cost. But after visiting the SIGMA Malta conference with it, we realized that the industry is not yet ready to blockchain in gambling.
Nevertheless, it is the cryptocurrency game that has taken a stable position in our market and is actively developing. Cryptocurrency is about speed and simplification, it is highly regarded by the players, so the potential of cryptocurrency is very high in our market and will only grow.
Can you give us a sneak peek into what new games Onlyplay is releasing soon?

Onlyplay talks about developing games for the players of tomorrow, what do you think the players of tomorrow will look like? And what trends do you think will shape them?
To see the future player, you need to follow the development of trends both in the industry and outside it. By bringing something new from social gaming and inventing new mechanics, we are shaping the player of the future and the industry as a whole.
Onlyplay is already live with over 1000 operators globally, what does the next stage of your expansion look like?
We have different games in terms of mechanics and settings, and we are represented in many geolocations. Now we see which of our games are doing best, and one of our tasks is to work on local markets. We like to make games based on the preferences and cultures of certain countries.
Also, we are currently at the active stage of certification and obtaining licenses, so soon our games will appear on more and more platforms.
Finally, if you had to choose one slot or game that embodies what Onlyplay is all about, which one would it be, and why?

Let me add that our spirit is read in the slot Chervona Kalyna, launched by our team from the bomb shelters in the first months of the war, and we had no idea this game would already get in the top 3 of our games in its first hour of 'live'.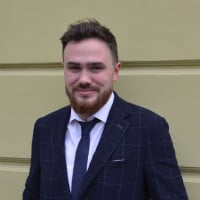 Liam is a skilled writer and journalist, highly regarded for his perceptive examination of the gambling industry. He specializes in online casinos and sports betting, and his work has been published in top-tier publications. Here at GoodLuckMate, Liam covers the latest industry news and has also authored various gambling guides, offering both beginners and experienced players in-depth analyses of games and strategies.