One of the most common questions new players have is this: "How can I drink for free at a casino?". Never fear – in this article, we will answer that question in detail. By the time you get to the bottom of this page, you will never be thirsty again during a night out at the casino.
The Basic Idea behind Free Casino Drinks
The first thing you need to know is that free casino drinks aren't actually free.
This may seem like a shocking revelation at first, but it is actually fairly evident. Remember that all casino games have an RTP of around 93% to 98% or so. That means each game has a house edge ranging from 2-8%. The casino makes a profit off this house edge.
Any free casino drinks you get are being paid for by the money you lose in the house edge. Usually, the drinks are cheap enough that it does not cut into the casino's profits. Drinks are usually served one at a time, with long gaps between each. This actually improves profit for a few reasons. Players with a light buzz are likely to have more fun betting. With less impulse control, they may spend more and more money rather than stopping after a while.
Essentially, the casino is playing you when they offer you free drinks. Now that you are aware of this fact, you can actually turn it back around on them! Here are a few ways to do so.
1. Slow and Steady wins the Race
Most casinos have a policy of offering playing customers drinks at regular intervals. Waiters or attendants will walk around the casino floor, keeping track of the customers. They will note who is playing and who isn't.
However, they can't tell how much you are betting or how fast you are playing. So, what you can do is make very small bets, or play at a table with a lot of players so that it takes a while for your turn to come up. The waiters will see that you are sitting at a table or slot machine and playing, so they will offer you the drinks menu. They won't know how slowly you are spending your money. You can simply make a spin for €0.10 at a slot machine once a minute and still get offered free drinks.
Some casinos are wise to this trick now. They will require you to spend a minimum amount before any drinks are offered. Despite that, the minimum amounts are fairly low and most players shouldn't have any trouble meeting them.

2. Tip Generously
Each time a waiter or waitress shows up with your ordered drink, give them a tip. A €1 or €2 tip is usually enough since you will be tipping them several times throughout the night. The Wait Staff makes most of their money from tips, so they will always appreciate a generous tipper. They will pay more attention to you and bring drinks at faster intervals in the hopes of getting more tips.
3. Bring a Friend to cheer them on
Normally casinos only offer complimentary drinks to customers who are actually paying and playing. However, nothing kills the buzz more than coming to the casino with your significant other or best friend and watching them try to cheer you on with a parched throat.
That is why casinos will sometimes offer a player's companion free drinks as well. If you are watching someone else play, be sure to cheer for them loudly. When the Wait Staff takes note that the two of you are here together, they will offer you both free drinks. In this case, you should still give a generous tip.
This approach becomes dubious if there are three or more people. Casinos can't make a profit if they are paying for three people's drinks from the house edge of one person's bet. There is only one real option for getting free drinks as a group.

4. Become a VIP or High Roller
When it comes to VIPs and High Rollers, most of the rules for normal players go out of the window. High-Rollers bring a huge amount of business to the casino. They will get comped for as many drinks as they want. They can also get expensive, luxury bottles rather than cheap drinks.
Of course, drinks are just one of the things VIPs get for free. Private rooms, meals, hotel rooms, private transportation, etc. are also comped for them.
Becoming a high roller just to get a few drinks is overkill, of course. However, if you are already a regular high-stakes player, you can increase your spending a bit more to get to the VIP club and all of its benefits.
Final Words How to Drink for Free at Your Local Casino
Nothing in life is free. However, casino drinks come pretty close. You can get as many as you want over a long night of gambling at no extra cost beyond what you are already spending on betting. Be sure to follow the steps outlined above and you won't ever have to leave your spot at the table or pay for overpriced drinks at a bar.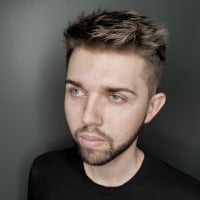 Nerijus Grenda
Updated: 29 Jan 2023
Nerijus is one of our top writers here at GoodLuckMate, and he knows exactly what casino players want to read about. He got started in the iGaming industry as a player, more specif...