Gambling is one of the most popular leisure activities for people from around the world. If you want an entertaining gambling session and great rewards the next time you play, reading is vital. Books are an excellent source of information, and they cover various gambling-related topics. So, whether you need some inspiration, motivation, or you need to learn the specifics of a casino game, you only need to find the right book and read it. Below, we have a list of the top books about gambling you should read in 2021.
Squares & Sharps, Suckers & Sharks (2016)
Squares & Sharps, Suckers & Sharks is an excellent book written by Joseph Buchdahl. It was published in 2016, giving readers an insight into the psychological aspect of gambling. According to the author, in gambling, there are sharks and suckers. Buchdahl explains that luck significantly impacts the game outcome. However, certain habits and behavior patterns make some players better than others. Squares & Sharps, Suckers & Sharks helps you approach gambling with an open mind, and it's definitely worth reading.

Bringing Down the House (2002)
Bringing Down The House was written by Ben Mezrich, and it was published in 2002. Six MIT students and their eccentric professor decide to go to Las Vegas and win blackjack tables with a card-counting strategy. As a result, they managed to get around $10 million in winnings using the so-called spotting strategy.This is one of the favorite books for gamblers that offers exciting stories and legends. If you want to know how these people beat the house and learn more about their methods, this is a book you must read.
Titanic Thompson (2010)
Kevin Cook's Titanic Thompson is a 259-page gambling book published in 2010. The book describes the life of the main character and his gambling adventures as an underground casino operator. Titanic Thompson is someone who loves gambling but doesn't take it very seriously. Nevertheless, he gambles millions of dollars and manages to win consistently. Thompson doesn't bother with fair play and honesty, and he finds such games and betting contests boring. He is an unusual character that prefers rigged games because those are where he benefits the most. All in all, this is a captivating book that's certainly worth reading.
Gambling for Life: Harry Findlay (2017)
Gambling For Life is a remarkable gambling book written by Harry Findlay and published in 2017. In the book, Harry Findlay is a respected player with excellent knowledge about gambling and plenty of luck. With that, he has managed to win more than $22 million on various games of chance, which is pretty impressive. Although many details of Findley's life are laid out in the book, he remains a mystery. People have tried to copy his moves to reach his level of success, but no one has achieved it yet.
Fortune's Formula (2006)
Fortune's Formula was written by William Poundstone and published in 2006. Mathematician Claude Shannon and physicist John L. Kelly Jr. work together and discover the formula of getting rich. They take it to Las Vegas and test it on blackjack, roulette and pretty much on everything they can, and it works. They win every single time and realize that they could make fortunes with it.Shannon is convinced that a smart gambler can easily beat the house, and reading Poundstone's Fortune's Formula, you'll see that he is right.

Gambling Books Published by Our Experts
Behind the Scenes at Online Casinos (2021)
Behind The Scenes at Online Casinos was written by Eve Luneborg and was published in January, 2021. The book gives you all the information you need about online casinos and the way they operate. You will learn about winning odds, bonuses, and payment processing. Furthermore, you will learn how they handle gambling addicts and high rollers. If you're ready to learn what most people don't know, this is a book you must read.
Biggest Innovations in the iGaming Industry Since 2000 (2021)
The Biggest Innovations in the iGaming Industry Since 2000 from Milena Petrovska was published in March, 2021. It reveals all of the changes throughout the years that transformed online gambling. The author explains mobile gambling and social gambling and all of their features in great detail. She also talks about new technologies like VR gambling and RPG slots that are yet to make waves in the industry.
Gambling in Pop Culture (2021)
Gambling in Pop Culture is an interesting read from Borina Kopcic Pandur published in May, 2021. The author introduces you to the complex relationship between iGaming and the entertainment industry. Movie titles, historical figures, famous poker players, and top-rated slots are mentioned. You'll be surprised to learn how they weave gambling into their stories. Gambling in Pop Culture is a mix of historical facts and the author's personal opinions about today's entertainment industry.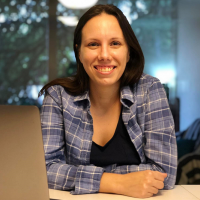 Milena Petrovska
Updated: 21 Jun 2021
Milena started her journey in the iGaming industry as a full-time English Content Writer back in 2014. It didn't take long for her to become passionate about this fast-growing mark...