One of the biggest concerns of many regulatory authorities is problem gambling. Another one is unlicensed casino brands that lurk after customers at risk. According to Gamstop research, problem gambling and unlicensed companies go hand in hand. What is more concerning is that it happens even with self-exclusion activated. The UK-based organization says 10% of its self-excluded users use brands on the black market to play games.
Gamstop Survey
The Gamstop survey included 1,703 participants, the vast majority of whom (1,576) had active self-exclusion during the research period. The good news is that 1,231 participants said they don't gamble at all. However, 471 people noted they still gamble, one way or another. The majority of self-excluded gamblers played in person, or simply used unlicensed casino websites. Casinos regulated outside the UK don't collaborate with Gamstop, meaning the access to games is undisturbed.
Yet, things are not that simple, as a certain number of people used UK sites as well. However, according to the report, that doesn't indicate Gamstop is not effective. From interviews with gamers, the organization noted many of them put a lot of effort into accessing gambling sites. Still, even when doing research, Gamstop tries to prevent such behavior. Interviewers never asked users about the methods they used, nor did they publish any such information revealed. The organization claims to want to prevent such topics. Additionally, it wants to prevent players from knowing of such methods in the first place.

At the moment, Gamstop offers exclusions for anywhere from 6 months to five years. Most participants have nothing against such long periods of exclusion. 200 players would prefer shorter exclusions. 400 of them would appreciate periods of up to 10 years.
Let's end this on a good note! The report explains even users who continued to gamble, played less. Also, those who gambled felt more secure while doing so.
Gamstop Services Increase Overall Well-Being
Even though it specializes in assisting gamers who develop gambling problems, Gamstop doesn't stop there. Many participants noted ever since getting involved, they experienced a great improvement in their overall well-being. Some of the most mentioned aspects of daily life that have been improved were relationships with family, friends, and finances.
Two-thirds of users said Gamstop delivers what it promises. Only 10% of gamers feel the organization failed completely. Most satisfied were players who wanted to stop gambling completely (both online and land-based). Gamstop practices were not as effective for those who just wanted to take a short break from gaming or stop playing online. 89% of all users think registering with Gamstop was easy or very easy.
Is there room for improvement? Users surely believe so! They got a chance to rank some of the recommendations Gamstop created for them. The first thing users would appreciate is a wider range of self-exclusion options. In addition to that, they believe Gamstop should focus on reaching audiences that aren't likely to contact the organization on their own, like younger women and older men.
49% of users believe content should be more easily accessible on the website. Participants also encouraged Gamstop to reach out to people who are related to persons with problem gamblers. Also, they believe the Gamstop logo should be more prominently displayed on gaming sites. Finally, they believe the organization should address issues of unlicensed gaming.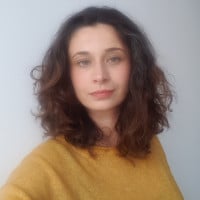 Borina Kopcic Pandur is a skilled and imaginative writer with years of experience in the gambling industry. As a writer for GoodLuckMate, she specializes in crafting detailed and engaging casino reviews that offer a fresh perspective on online gambling. With her unique writing style and profound industry knowledge, she provides readers with expert evaluations and insightful perspectives.