Soon after New York's Governor Cuomo backed mobile sports betting, Connecticut's Governor Ned Lamont followed his steps. Lamont explained that the pandemic evoked collaboration with neighboring states, which worked together towards stimulating economic growth. According to the Governor, one way to close the state budget gaps is legalizing remote gambling and betting on their territories. Moreover, Lamont recognized that sports betting is already available and widely used everywhere. "Sports betting, internet gaming, and legalized marijuana are happening all around us. Let's not hand over these opportunities to foreign markets or the underground economy," CT Governor concluded.
What Made Ned Lamont Change His Mind?
In 2018, the US Supreme Court legalized remote betting and gambling in the country. Ever since, states can allow online betting within their jurisdictions. Some US governors are still opposed to the idea, while some of them are embracing its potential.
CT's Governor has been, so far, against welcoming the concept to the state. That's when the Covid-19 pandemic entered the picture and changed everything. In fact, that's the main reason Ned Lamont changed his stance on legalizing internet gambling in Connecticut.
Covid-19 attacked the world suddenly and without warning. It took nearly two million lives worldwide and affected even the strongest economies. As Governor Lamont said in his annual speech, the coronavirus made 2020 "one of the most challenging and humbling years" of his life.
Moreover, the pandemic and all the restrictions seriously affected the state's revenue. Hence, Lamont sees gaming modernization and marijuana legalization as two key steps towards recovery.
How Does Gambling Work in Connecticut at the Moment?
Gambling regulations in Connecticut allow casinos on tribal land only. In return, operators must pay a percentage of the wins to the state. Connecticut allows greyhound tracks, horse racing, and lotteries. Off-track betting organizations are also allowed, as long as they are registered in Connecticut.
The Mohegan Sun Casino and the Foxwoods Resorts Casino are the only casinos in Connecticut. Two different tribes operate the Indian casinos, while the Indian Gaming Regulatory Act regulates them. Both casinos pay 25% of their video poker and slot machine wins to the state. With that, they have reserved the right to be exclusive sports betting providers. We are yet to see how they will react to the news and propositions by the Governor.

What Will the Future Bring to the Connecticut Online Gambling Market?
Currently, Mohegan Sun and Foxwoods are the only gambling providers in Connecticut. Thus, every step the Governor takes and every decision he makes must be approved by them.
Due to the pandemic, the Southeastern Connecticut Council of Governments (SCCOG) requested temporary authorization for the tribes to offer online gambling. Lamont did not accept it. Still, the tribes are expecting an expansion sooner or later. Foxwoods Resorts Casino already struck a deal with DraftKings, while Mohegan Sun partnered with Kindred Group.
Both operators reported a significant drop in their annual net revenues. Mohegan Sun saw its net revenue down by 28% to $715.67 million. Foxwoods' The Mashantucket Pequot noted even worse results. Its annual net revenue fell by 31.6% to $539.2 million. For both casinos, online expansion is inevitable for achieving better results in 2021.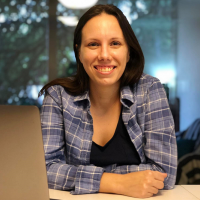 Milena is second-to-none when it comes to researching, reviewing, and recommending top online casinos. She stops at nothing when it comes to getting all of the facts and figures straight in each of her expert reviews. Plus, having worked as a writer within the iGaming industry since 2014, Milena has seen it all and is familiar with every aspect of online casinos.