The state-owned lottery and gaming operator Danske Spil in Denmark has increased its yearly profit guidance following a stronger than expected Q3 performance. The company reported gross revenue of DKK3.54bn, which is roughly €475m. This is an increase from the same period in 2020.
Stronger Performance than Expected
There was growth in both the Danske Lotteri Spil A/S company and its subsidiary Danske Licens Spil. The former of these is the lottery side of the business, which saw a 5.8% increase from the previous year. The latter is the sports betting and gaming side of the business and this reported an increase of 2.9%.
One of the main reasons cited for this increase is sports betting. The sporting calendar was very busy in the third quarter of 2021, with the final few stages of the UEFA European Championship dominating the market. This was particularly relevant in Denmark, with the country's team going all the way to the semi-finals.
What makes the rise in profit more impressive is that the country has raised its tax rate for gambling in the last 12 months. It was raised to 28% from 20% back in January.

Varying Fortunes
Not all sectors performed as strongly though. Elite Gaming, the Danske Spil's gaming-hall sector, saw a 30.5% drop in revenue from 2020. This figure could be slightly misleading though, with many venues being shut in Q3 2021 as a result of the ongoing Covid-19 pandemic.
The fantasy sports company Swush had very different fortunes, seeing an increase in revenue of DKK15.5m. Fantasy sports have become increasingly popular in recent years, and this is another fine example of that.
Overall Figures
The company released a lot of financial information, including its costs. There was an increase in taxes paid from the same quarter last year of 25.2% to DKK450.7m. Dealer commission and other related costs were down 18.8%, but the cost of direct games went up by 7%.
Overall, a profit of DKK2.54bn was reported. Once operating costs and staff costs had been factored in, this saw a profit before financial terms of DKK1.59bn, an increase of 3.4% on the previous year.
As a result of all of this, Danske Spil increased its profit expectation for 2021 by DKK100m. It is expected that the company will record overall profits of between DKK1.5bn and DKK1.6bn, whereas it had originally said it would make between DKK1.4bn and DKK1.5bn.
Changes in Danish Regulation
During the third quarter, there has also been a lot of talk of change in Danish gambling regulation. One proposal would see Danske Spil and the Danish Class Lottery, which is a charity, merged as one. The country is launching ID cards for betting transactions in shops and physical venues as it hopes to crack down on illegal activities linked to the industry.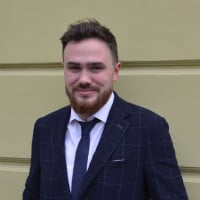 Liam is a skilled writer and journalist, highly regarded for his perceptive examination of the gambling industry. He specializes in online casinos and sports betting, and his work has been published in top-tier publications. Here at GoodLuckMate, Liam covers the latest industry news and has also authored various gambling guides, offering both beginners and experienced players in-depth analyses of games and strategies.