Residents in the state of Ohio will finally be allowed to place sports bets after a bill was passed on Wednesday, December 7th. The bill has been going backward and forwards for three years and was finally approved by the State's general assembly. Both the House and the Senate voted in favor of the bill.
Strong Support From the House and Senate
The bill, named House Bill 29, was supported by a strong majority of both the House and the Senate. The House voted in favor of the bill 72-23, while the Senate showed even stronger support with a 31-1 vote. Ohio governor, Mike DeWine will now take the bill.
Once the bill has been signed by DeWine, it is believed that it will take around a year to come into practice and players will be able to place bets. The deadline for the bill to be set up is January 1st, 2023, with licenses being able to be approved from April 1st, 2022.
Several compromises were made before the bill was passed, with a handful of last-minute changes being made. This included some changes to tax laws and write-offs, as well as the lowering of caps on online betting platforms.
Huge Benefits for Ohio
There were many debates about whether or not the bill should be passed in the state. One key argument was that a lot of illegal gambling activities were already taking place in Ohio. It is also said that sports betting could bring in 10s of millions of dollars for the state. With estimates bringing in around $20 million from tax and $10 million from legislators' fees.
Ohio has already proven itself to be a hub for gambling. The state recorded yearly records for 2021, demonstrating the potential that operators and sportsbooks could see in the area. Sports betting is also becoming legalized in several states, and Ohio will be keen not to miss out. Especially with neighboring states, Michigan, Pennsylvania, West Virginia, and Indiana all having passed similar bills recently.

Three Different Licenses
As per the bill, the 11 racinos and casinos that operate in Ohio already will be allowed to set up two online betting platforms and apps. These will be known as 'skins'. The first skin will cost the operator $3 million, while the second one will cost a further $10 million. Operators will not be able to own a second one until they have shown that strong results from the first one.
This will be what the bill calls a Class A license. The intention is for the State of Ohio to issue 25 of these. There will also be Class B licenses which will be handed out to land-based operators. The fees for this will range between $50,000-$100,000, and 40 of them will be handed out.
Finally, the state intends to expand things further by handing out thousands of Class C licenses to bars and restaurants. The cost for these will be significantly less. Licenses in the state will be handed out by the Ohio Casino Control Commission.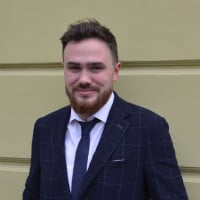 Liam is a skilled writer and journalist, highly regarded for his perceptive examination of the gambling industry. He specializes in online casinos and sports betting, and his work has been published in top-tier publications. Here at GoodLuckMate, Liam covers the latest industry news and has also authored various gambling guides, offering both beginners and experienced players in-depth analyses of games and strategies.