The state of California has won a legal battle against Pong Game Studios. The operator admitted that it went against state laws and was promoting "unlawful, unfair or fraudulent'' gaming solutions. As a result, Pong Game Studios will no longer operate in California and has to pay a settlement fee of $3.5 million.
Questionable Operating Practices
Pong Game Studios is a company from Ontario that provides gaming solutions including gaming terminals. It is these terminals that have gotten them into trouble.
It is said that it has been attempting to promote and sell these terminals to gambling shops in California. These terminals have gambling-styled products and lottery games on them. There is some ambiguity surrounding whether these constitute gambling or not, and it is this that has been noticed by California authorities.
These terminals operate throughout the United States and have drawn attention in several states. The grey area that these terminals sit in has made it tricky for regulatory bodies to classify them and regulate them accordingly.

Out of Court Settlement
Pong Game Studios offered these terminals to sweepstake cafes. These venues provided online gambling options where people could bet and win money. Sweepstake gaming solutions have been illegal in California since 2015, but this has not stopped Pong from providing these services.
As a result of this, California took Pong to court. Given the nature of the case and the fact that Pong was likely to be on the losing end, the company settled out of court. It paid $3.5 million in fees, which is likely to cover the cost of the lawsuit.
Kern County District Attorney Cynthia J. Zimmer spoke about the case, highlighting Pong's history of providing illegal gambling machines. In a strongly-worded statement, they said that the company has profited from some of the poorest communities in the state. They also pointed out that the pop-up casinos they have operated within have been a hive for criminal activities.
A Small Victory for California
Pong Studios believes that its machines don't constitute illegal gambling. This is because players do not always need to play with their own funds directly. Instead, they will purchase the chance to be a part of the games through other products in the cafes. Many states, including California, disagree with this.
There are still many of these kinds of machines operating all over the state, but it is hoped that the victory over Pong will send a message. Regulating these kinds of activities can be difficult but the state will see this as a victory in a long battle ahead.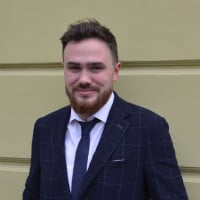 Liam is a skilled writer and journalist, highly regarded for his perceptive examination of the gambling industry. He specializes in online casinos and sports betting, and his work has been published in top-tier publications. Here at GoodLuckMate, Liam covers the latest industry news and has also authored various gambling guides, offering both beginners and experienced players in-depth analyses of games and strategies.