A six-year-long gambling-related study in Massachusetts, United States, has revealed some interesting results. One of the key findings recognized that the opening of new casinos did not have a negative impact on problem gamblers.
Detailed Research Into Gambling
The study was the most detailed of its kind in America, and the results were shared via a webinar at the end of March. The team behind the investigation included industry experts and leading academics from North American Universities. There were 2,300 - 3,000 participants in the research spanning over a six-year period. The aim was to come to a clearer understanding of how gambling addictions and problems developed.
The study saw the participants split into four different groups. These groups were non-gamblers, recreational gamblers, at-risk gamblers, and problem gamblers. Seven out of ten of them identified themselves as recreational gamblers. Those who identified as problem gamblers made up the smallest group (3.5%). The remaining were non-gamblers (14%), and at-risk gamblers (12.5%). There was no information provided on the backgrounds of those involved.
The results showed that approximately 20% of at-risk gamblers would turn into problem gamblers. 35% of at-risk gamblers would revert back to being recreational gamblers over time.

What Causes Problem Gambling?
The research delved deep into what causes problem gambling. The biggest factor in turning people into problem gamblers was a desire to win. Nearly 1 in 3, 30%, of the problem gamblers that took part identified this as the biggest course for their online gambling problems.
Boredom and excitement were next. 21.4% of participants recognized this as a key factor behind their problems. This is not surprising, all these factors have been cited as reasons for problem gambling in the past. Interestingly, the study revealed that the opening of new gambling venues in the state was not one of the main causes of problem gambling.
Positive Times Ahead in Massachusetts
There was some good news for gambling in Massachusetts though. The study showed that loosening of restrictions would allow Massachusetts to repatriate money that otherwise would have been spent on gambling outside of the state borders. This allows them to funnel the money into their own economy.
This was one of the most extensive studies into gambling taken so far in the United States. With more and more states beginning to review their laws on online gambling, this could be a positive step. One of the leaders of the study even said that the results would be able to help shape the future gambling policy across the United States.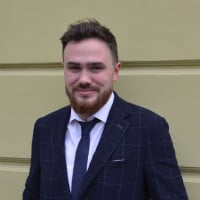 Liam is a skilled writer and journalist, highly regarded for his perceptive examination of the gambling industry. He specializes in online casinos and sports betting, and his work has been published in top-tier publications. Here at GoodLuckMate, Liam covers the latest industry news and has also authored various gambling guides, offering both beginners and experienced players in-depth analyses of games and strategies.