Ignoring the volatile nature of cryptos themselves, I see many benefits to gambling with cryptocurrency. Due to their use of blockchain technology, they offer a level of privacy and security that can't be guaranteed elsewhere. Having used several crypto casinos myself, I have also found the process of getting funds in and out to be a whole lot quicker than when I make my payments using fiat currencies. No transaction fees and winnings usually appearing instantly in my crypto wallet is, to me at least, also one of the greatest benefits of crypto casinos vs. the "normal" online casinos.
The Benefits of Crypto Gambling
Lately, I've been happy to see that many pay-and-play casinos have also adopted cryptocurrencies. The fact that there is no need to register an account and that players can simply just play the games using their crypto wallet makes this extremely hassle-free for us players. From a casino's perspective, it is much cheaper to operate through cryptos, and it can therefore save a lot of hassle for them as well, making it a win-win for all involved. Not least because when a gambling website costs less to run, then they can afford to offer better promotions and offers. Once again, from my personal experience, I've found the customer experience to always be good at the best online gambling crypto casinos, and this is always a major factor.
So, do I think you should be gambling with crypto? If you own some cryptos, then I believe, for the most part, yes. Online gambling and cryptocurrencies are two of the most dominant forces on the internet these days, and the two of them feel to me like a match made in heaven. The enhanced security, lower running costs, and quicker transactions are all things that benefit both the gambling site and the players.
The lack of any third-party involvement is also a big selling point. I know plenty of people who prefer to keep their gambling private. There are also plenty of people who have experienced issues with their banks and gambling. Cryptocurrencies remove this issue and make the whole process much smoother. I also like the fact I don't have to wait very long, if at all, to get my hands on my winnings from my crypto-gambling adventure.
A Volatile Market
I would add the caveat that you shouldn't be using cryptocurrencies unless you know what you are doing or have sound advice. The market is very volatile. Outside the big coins, there are a lot of altcoins and tokens that can see extreme highs and lows. Anybody who has jumped on the Doge bandwagon in the last few months will have felt this hard. Similar meme coins are appearing all the time and I would recommend approaching these with caution. If you are going to do this, then I would recommend approaching it as you would gambling - do not spend any more money than you can afford to lose. Some of these meme coins and tokens can see huge spikes over the course of a day but they can also crash and burn.
Day trading on these coins is akin to gambling, in my opinion, and it can definitely be a lot of fun. Be sure you approach the situation sensibly and don't invest any serious money into them. Like gambling, there are a lot of scam pages out there telling you that they have the answer. It can be easy to fall for these given the past successes of crypto.

Plenty of Benefits to Using Cryptocurrencies
Of course, using these coins at crypto gambling websites is not going to affect the value of the coins themselves. Though, who knows, you could get lucky, win a lot of a certain coin, and it could skyrocket the next day. The same does apply, though. You can gamble with a coin that is worth €100 one day, and by the time you withdraw it, it could be worth €50. This is why I think you should be sticking to more reliable coins like Bitcoin and Ethereum for crypto betting purposes.
On the whole, I see plenty of benefits to gambling with cryptocurrency and a few downsides. Any issues that come with using cryptocurrencies come down to the act of trading and owning coins/tokens, which is a separate issue from casinos. There are plenty of benefits to using it for gambling if you are sensible with coin ownership.
This article delivers the thoughts and opinions of the author, and it doesn't represent the stance of GoodLuckMate.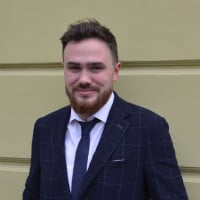 Liam is a skilled writer and journalist, highly regarded for his perceptive examination of the gambling industry. He specializes in online casinos and sports betting, and his work has been published in top-tier publications. Here at GoodLuckMate, Liam covers the latest industry news and has also authored various gambling guides, offering both beginners and experienced players in-depth analyses of games and strategies.