As a lower league football fan who writes about the iGaming and gambling industry for a living, it's fair to say I have a keen interest in both of them. A piece of news very recently caught my attention, with proposals to ban gambling sponsorships and promotions in English football. Needless to say, I think this is a drastic response and one that could prove hugely damaging.
A Proposed Ban On Gambling in Football
The proposals that have been made would see gambling advertising banned across British football. This would include shirts, advertising boards, branding, and everything in between. While many people would see this as a positive thing, given gambling's reputation in the UK, I believe this would be a catastrophic move that would severely impact both parties.
For me, these two sectors rely heavily on each other in the UK, and tearing them apart could have huge consequences. Gambling and football culture are intrinsically linked in the UK more than in any other country. I have lived in and attended football games in four different countries and the almost ritualistic element of placing bets for football matches does not exist as strongly anywhere else.
The financial implications of such a decision would be huge, with football outside of the Premier Division being the worst hit. Many clubs in the UK are entering a tough period. Covid has diminished crowds and severely hit revenue, and many teams are desperate for help. With the Premier League and the government turning a blind eye, a lot of clubs' survival hangs in the balance.
The Football League is in Need
Simply put, the English Football League needs the gambling industry. The Chief Executive of the Football League Trevor Birch said that an outright ban would be 'concerning' and it's easy to see where this comes from. It is estimated that betting companies bring in around €100-€200 million a year to the English Football pyramid.
The Football League, the three divisions outside the Premier League in England, is sponsored directly by SkyBet, so removing that will no doubt be a huge hit. In the Premier League, nine clubs, which is nearly half of the division, have gambling companies on the front of their shirt, while six more do in the Championship.
Huge Impact for Sports Betting Operators
For gambling firms, the impact would also be massive. While they are not as in danger as some of the lower league football clubs in England, their pockets would still be hit hard by such a decision. According to a Channel 4 documentary earlier this year, gambling logos will feature up to 700 times in a football match. That is an absolutely insane number but when you consider that betting companies sponsor the league, the match balls, kits, and appear on advertising hoardings and scoreboards, it makes a lot of sense.
This level of exposure is unparalleled for the industry anywhere else in the UK. It's also incredibly effective. All of my friends and everyone I know who attends football games use basically the same bunch of brands for betting. Ladbrokes, Skybet, Bet365, William Hill, 888Sport, Betway, and a handful of others. The reason they do this is that they recognize the brands and they trust them.
Football gives betting companies a direct line to their target audience. Young sports enthusiasts with a disposable income. Without football, a lot of these companies would not be in the position they are in in the UK. Losing that exposure would also potentially open the door for less trusted operators to infiltrate the market, which is something that would be bad for the industry and players on the whole.
Opening the Market for Questionable Sponsors
It is not just other gambling firms that it will open the way for. Concerns about companies with dangerous ethical practices like loan firms and the like moving in and taking that gap in the market are very real. A lot of financial exchange services, especially those specializing in crypto, could also move in, which most people, myself included, think is no difference anyway.
Of course, I'm not going to sit with my fingers in my ears and pretend that there isn't a ton of negative influences that the gambling industry has in the UK. As always though, the way to tackle this is with reform and not with blanket bans.
The gambling industry, as we have demonstrated, has a lot of influence in the UK, especially on young men, and it should use that for good. The industry needs an image change and getting behind social causes is definitely going to be a good way to help that. It could also invest in things like grass-roots football and community projects to really strengthen those ties.
Reform is Needed
The act of cross-selling is also something that should be investigated. This is when companies use their sports betting platform to push customers over to their casino products. Acts like this are what have given gambling such an insidious reputation. While they no doubt benefit the operators, it is a risk to players and is also putting the industry under more scrutiny.
The removal of all sponsorships from products aimed at or accessible by children should also be encouraged. This includes things like match-balls, training, and programs. If this involves making a separate program for younger fans, then so be it. It's a small price to pay.
Untying the two industries is going to be near impossible. The English Football League is severely dependent on the money poured into it by betting companies. With so many clubs in financial peril, removing a huge source of income could be the final nail in their coffins. Reformation is the answer here, not prohibition. English football needs gambling as much as gambling needs English football right now.
This article delivers the thoughts and opinions of the author, and it doesn't represent the stance of GoodLuckMate.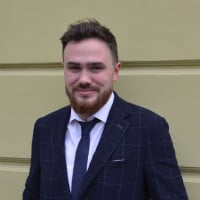 Liam is a skilled writer and journalist, highly regarded for his perceptive examination of the gambling industry. He specializes in online casinos and sports betting, and his work has been published in top-tier publications. Here at GoodLuckMate, Liam covers the latest industry news and has also authored various gambling guides, offering both beginners and experienced players in-depth analyses of games and strategies.