Making a living gamblingonline seems like the perfect plan for lots of gambling enthusiasts around the world. To make money by professional gambling, you need dedication, skills, lots of practice, and backup plans. It's equally possible to make cash gambling and to fail miserably. While many stories tell about how a professional casino gambler made millions in a single tournament, the reality is a bit different. So, let's see how much pro gamblers make, the most popular games among pros, and more.
Making a Living Gambling – The Basics
Professional gamblers are people whose primary income source comes from playing casino games or betting for real money. There are no rules about what your primary game of choice should be. Some pros play poker, blackjack, or even baccarat for a living.
One thing everyone wonders is how much can a professional baccarat player or any other pro gambler make. Well, there are no rules really because there are numerous factors that affect the earning potential. Skills, starting budget, and even luck all play a role in the average professional gambler's salary. Professional gambling celebrities like Phil Ivey and Daniel Negreanu can boast net worths of $100 million and $60 million. Yet, most poker pros can expect to earn from $40,000 to $100,000 a year.
Best Games for Gambling for a Living
Before bothering with how much your salary will be or how much the professional gambling taxes are, there is another thing to focus on. You need to know what games to play. Below, we listed some popular and viable options for beginners. These have been handpicked because they have the lowest house edge and the biggest winning potential. Plus, many other people have managed to turn their passion into a profession thanks to these casino games.
Poker

Blackjack

Baccarat

Arbitrage betting

Daily fantasy sports

Video poker
You can gamble for a living on all of these games if you want or stick to the one you know the most. Some players try to utilize betting strategies on roulette, but we wouldn't advise that. The progressive nature of wagering strategies makes it unlikely to win anything with them. Usually, you'll hit the table limit or spend your budget first.

Becoming a Blackjack Pro Player
Blackjack is a card game with a generally low house edge and easy rules. Moreover, it's widely popular among players thanks to the card-counting strategy that gives players an edge. Yet, before you decide to make a living playing blackjack, there are some things to consider.
It really is possible to become a blackjack pro and earn regular income through this. In some countries, you won't even have to pay taxes on your gambling winnings. However, before your professional blackjack player salary hits $100k or more, you must be ready to try, fail, and lose.
First, you need lots of cash to make lots of cash as a pro blackjack player. Then, many land-based casinos have banned card counting. If you get caught, you won't be allowed to play there anymore. Card counting on online blackjack isn't possible, while some live dealer tables constantly shuffle or use new decks each round. Making a living playing blackjack gets more challenging by the hour. There are all kinds of restrictions, each one created to prevent players from making big bucks.
Bill Benter, Edward Thorp, and Zeljko Ranogajec are some pro gamblers who made millions of dollars playing blackjack. Yet, most of them are master mathematicians who also got banned from multiple casinos around the world.
Making Money by Playing Poker
Poker is primarily a game of skill, with elements of luck thrown in for good measure. It's also among the best games to gamble for a living. The big advantage of poker is that if you master the game better than your opponents, you will win money from them in the long run. That's why the majority of the world's richest gamblers are actually poker players. Of course, this fact can also work against you!
For example, in a city like Las Vegas, many full-time poker players are actively trying to take advantage of tipsy tourists in the many cash games of the poker lounges. The tourists are particularly low-hanging fruit for the sharks. It is also possible to make a living gambling online, although the golden times you could easily make a lot of money are mostly over.
In the early 2000s, the average player base didn't have much of a clue about poker strategies. As a result, you didn't have to be that good to become a winning player. Nowadays, the story is very different. Even amateurs have learned a trick or two from watching TV broadcasts of high-stakes poker. Furthermore, strategy guides and video lessons are widely available online now.
Players Wising Up
When it comes to making a living from gambling and playing against other players, you should know that people aren't as uninformed as before. This means that you won't earn any money if you are just a little better than the competition. You have to outclass them by a mile! To acquire the necessary skill set, a lot of dedication is required. This includes mathematical analysis, developing proper bankroll management, and figuring out how to stay calm when dealing with tilt.
There are still many professional poker players around, but it's not a walk in the park. And it's much different than playing baccarat for a living or other games where you play against the house. You should be aware that less than 5% of all players regularly playing poker online are actually winning players or those that at least break even.
Only about 1% or less are making a decent living with the card game. The reason for this is mainly the high amounts of rake that every poker player must pay to the poker site for each pot they are winning or for each tournament they sign up for. Depending on the stakes and the site, this can be up to 5% of each pot. Since there is a lot of back and forth, this adds up quite quickly. Hence, you don't only have to be good enough to beat the other players. You also must be good enough to beat the rake!
Trying Arbitrage Betting
If making a living playing blackjack or any other card game isn't that attractive to you, why not try arbitrage betting? Arbitrage betting mainly focuses on sports betting, where you make smart use of differences in odds between different bookmakers. Sometimes it is possible to make a guaranteed profit by placing different outcomes of bets on the same event with different bookmakers. This has to do with the fact that different bookmakers have different odds on the same match.
If you are lucky enough to come across such odds, this can create a positive outcome for a bet, no matter the game's result. And arbitrage bettors take advantage of that. The percentages of guaranteed profit are small, sometimes no more than around 0.5% - 1.0%. But by investing heavily in the bets and placing multiple "sure bets" per day, they can just about make a living.
Betting on Horseracing
Professional gambling for a living isn't the only option for those who dream of becoming a professional gambler. There's betting, as well. Horse racing is especially popular in this category.
There are expert horserace gamblers. Based on the horse's performance, the size of the jockey, the track condition, and the weather forecast, they can estimate very well what a horse's chances of winning are on the racetrack. They then set off these winning odds against the odds offered by the bookmaker. If they get a good price, the horse provides value to the expert, and they might have a lucrative bet that is in their favor.
Of course, the horse will not always win, but when you get great odds that are better than they should be, you can win in the long run. At least, that's what people who gamble for a living have been saying.
Unfortunately, this is only half the truth. Horse racing is not always an honest business. It is well known that jockeys and owners artificially hold back their horses at times and only go for second place when they could have won the race. This allows a small circle of insiders to put down highly profitable bets that almost always hit. And, of course, it's hard to prove that this is even occurring.

How Do Professional Gamblers Make Money?
The simple answer to this question is that professional gamblers make money by winning games in online casinos. They also participate in gambling tournaments all over the world, where they compete against other pro punters. However, being a pro gambler entails never-ending learning and possessing several skills, such as observation, being good at math, and memorization.
Can You Make Money
Gambling on Sports for a Living
?
Yes, making a living with online sports gambling is possible. However, it's much easier said than done. If you decide to turn to sports gambling for a living, you'll need to put in a lot of hours of studying and learning the ropes of the betting industry. Remember, the best bettors aren't the ones that place the largest wager but rather the ones that can identify patterns and make smart bets.
How to Become a Professional Gambler?
Becoming a professional gambler is a long process that takes experience, patience, and a lot of learning. The best advice on gambling for a living we can give you is to pick a specific gambling niche and equip yourself with as much knowledge on it as possible. Moreover, studying statistics and gambling trends is crucial in this line of work. This way, you'll be able to notice patterns during the game that you can use to your advantage. After all, knowledge is power.
What Are the
Best Gambling Games
to Make a Living?
There are several casino games that can be extremely profitable if played well. Blackjack is first on the list, as it provides players with the best odds of winning and has the lowest house edge. Poker is another great choice since it's heavily reliant on the player's skill at gambling. Alternatively, if you're a novice player, baccarat would be perfect for you. It's very easy to learn, comes with odds higher than 44%, and a house edge of 1.06%.

Can You Make a Living Gambling? – The Bottom Line
Yes, you can make a living gambling. However, this isn't an option for just anyone who wishes to become a professional casino gambler. You need experience, skills, strategy, and planning to make a living gambling. Some pro gamblers make several thousand dollars a month, while others make millions. Naturally, some gamblers don't make any money, whereas some even generate losses. So, there's no simple answer to this complex question.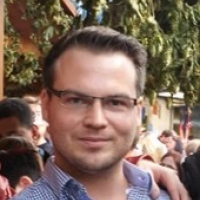 Andreas is our go-to guy for anything related to poker or in-depth guides. He's not only a former professional poker player, but he's also been working within the iGaming industry itself since 2014. Casino, Poker and Sports Betting are his main areas of expertise, in addition to anything and everything related to payment processes at online casinos.