I've been working as an iGaming writer ever since 2014. Whenever someone asks me what I do, I tell them I basically do content and copy for online gambling businesses. The reaction is almost always identical - people, naturally, want to know how to win. And I swear I try to explain that gambling is all about randomness. Yet, for some reason, most people will simply refuse to accept that fact. This common scene has brought me to the topic of my monthly GoodLuckMate opinion piece. I'd like to discuss the curious phenomenon of individuals who want to believe that they can somehow affect the outcomes of casino games. Why do they exist? What's the reasoning behind their beliefs? Well, I sure have some ideas. Let's go!
Some Simply Don't Understand the Technology
One of the explanations is the simplest one, really. Regardless of how hard I try to explain the concept of Random Number Generators (RNGs), not everyone can grasp it. Often someone would comment on how it's impossible for the script to give 100% random outcomes. "There must be SOMETHING that can be predicted," the most stubborn ones would say. "It's just not possible for red to end up the winning roulette color ten times in a row!" another person would claim with certainty.
For those unfamiliar with RNGs, this software works in the background and gives out the results. Its primary purpose is to be RANDOM, as one should guess by its name. This software doesn't really care about superstitions, magic, or even common sense. Its only job is to focus on the active game session and generate an outcome.
If it generates red, black, or even a single number 10 times in a row, it doesn't see it as we do. There are no "signs" or "energies" for the simple yet complex script. It doesn't care about the past and is not interested in the future either.
RNGs live in the moment, one could say. Unfortunately, the same doesn't apply to people.
They Need the Hope
If my two cents matter to anyone, I'd say players just need hope in general. The idea that you may hit a massive jackpot by employing a "tested" strategy is comforting. One might think that they could always try and beat the casino house if anything else fails. Anyone working in the industry, however, knows that just can't happen.
Moreover, I think that when someone accepts that gambling – the ultimate concept of luck – is actually based on chance, a pandora's box is opened. That means you have to accept that your lucky charm isn't actually lucky.
That even means bad choices and decisions are your fault, not "bad luck." And not many people want to accept full responsibility for everything that happens due to their actions. That's why they'd instead stick to the concept of having good and bad luck, depending on which one suits their narrative at the moment.
What Does Psychology Say?
I went a step further into analyzing this topic. What can I say, it's really amusing and curious to me, and I wanted to know more. There's research from 2015 on the effects of belief in good luck by So-Ra Kim, Young-Sil Kwon, and Myoung-Ho Hyun.
The study gives people Belief In Good Luck (BIGL) scores and then analyzes their gambling spending habits. Those with higher BIGL scores spend more than those who take gambling as it is – random. The study also explains how these people consider luck a personal trait, which was really interesting to me.
Imagine doing your resume and adding "lucky" among other traits like generosity, loyalty, and honesty. It's hilarious but also scary because this belief supposedly drives gambling addiction.

Another study from 2017 on distorted beliefs about luck and skill gives another curious aspect. Namely, it detects two so-called cognitive distortions. The first one we already covered – the belief that you are lucky. The second one is related to skill, i.e., the belief that you have special gambling skills.
As I already explained – none of these are real. They don't exist, and you can't do anything to affect the outcome of your gambling sessions. What players do have control over are their spending and attitude. Consider gambling an expensive hobby, and never spend more than you can afford. If you win when you feel lucky, that's not proof that you are indeed lucky. That just means it was the slot machine's time to be generous.
Smart Moves Have Nothing to Do With Luck
I cannot write about luck when gambling without mentioning that, sometimes, smart moves can help in the long run. This especially applies to live poker games, where bluffing and playing strong hands may have a positive impact. Similarly, using blackjack strategies on when to hit, split, double, or fold when playing live blackjack can also help.
But the verb I'm using here is HELP. It's not a GUARANTEE that you win. Knowing the likelihood of hitting a high or a low card doesn't mean that you will 100% get a high or a low card. And bluffing will not always mislead your poker opponents. I don't even want to open the topic of roulette betting strategies. These work in a gambling utopia where no table limits and spending limits exist. These days, managing to complete a betting system and profiting out of it is highly unlikely.
So, yes! You should learn the game rules and consider some playing tips to improve and prolong your gameplay. But don't believe that these tips will make you a sure winner. Even combined with your lucky charm, they will just not do the trick.

Positive Thinking Is Good Anyway
I want to conclude this opinion piece by urging you not to lose your positive attitude. As a Sagittarius, I'm widely known for my (sometimes even toxic) positivity. Keeping an open mind and hoping that things will go your way isn't a bad thing. I'm all for positivity, I swear.
However, objectivity is a must when it comes to gambling, which can be very costly if done excessively. It's one thing to hope that you'll visit one of the best online casinos with €20 and cash out €100 or even a multi million jackpot. If it happens – good for you! If it doesn't, I hope you give up as soon as you spend your planned playing funds. It's another thing to "feel" that you'll hit the jackpot and, because of that, end up spending hundreds or even thousands of euros you never planned on spending.
Unless you're a professional gambler, gambling and betting are just hobbies. And expensive ones, for that matter. Praying, drinking magical potions, and tarot readings won't change the fact that gambling and betting are based on chance.
And even if you get lucky by finding a software issue or anything that helps you trick the house, don't celebrate too soon. Operators always find a way to protect their interests, and it's unlikely that you'll get massive payouts anyway.
That's why my ultimate advice for anyone is to enjoy the game above all, and, who knows, maybe luck will be on your side. LOL, I'm kidding!
All online casino outcomes are random, I promise!
This article delivers the thoughts and opinions of the author, and it doesn't represent the stance of GoodLuckMate.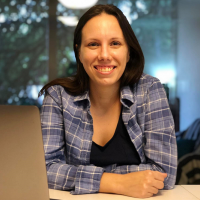 Milena is second-to-none when it comes to researching, reviewing, and recommending top online casinos. She stops at nothing when it comes to getting all of the facts and figures straight in each of her expert reviews. Plus, having worked as a writer within the iGaming industry since 2014, Milena has seen it all and is familiar with every aspect of online casinos.