I remember many years ago, when I first started writing about iGaming, bonus hunting was among the online gaming concepts I first heard about. Players would swear that bonus hunting earned them fortunes and enabled them to beat the house. Even to someone inexperienced as I was, that didn't sound right or probable.
I never actually went deeper into bonus hunting, but I did learn a thing or two about it. And after so much time has passed, I've been wondering lately why people would invest time and money in bonus hunting instead of getting VIP rewards. At first, this may sound like mixing up two ingredients that don't go together. But I'm asking you, for the sake of this opinion piece, to bear with me and hear me out.
What's the Deal With Bonus Hunting?
Bonus hunting or bonus bagging is a strategy that's been around ever since casino bonuses became a thing. The concept was simple, you hunt for bonuses by joining new gambling sites and claiming their generous welcome offers.
This strategy made sense before when online casinos were a novelty and trying to attract new customers with massive bonuses. Moreover, before they took notice of such unfair behavior, they didn't quite include so many restrictions in their bonuses.
So, a bonus hunter would find a new casino and register with it. Then, the person would claim the bonus – no deposit deals are the best option, but deposit bonuses work too – and try to profit from it. The idea is to make cash without investing anything or investing little to earn a solid amount back.

And in the past, the wagering requirements were much lower, plus there were rarely game restrictions. So, you could easily wager the bonus on blackjack, for example, and then cash out any winnings without any issues.
So far, everything sounds promising. Yet, casino operators are here to make money, and they're not stupid. As soon as they understood what was happening, they started implementing ways to protect themselves from bonus hunters.
These days, we have high wagering requirements, different game wagering contributions, and a range of other restrictions. Basically, bonus hunters made things worse for everyone involved because they wanted to be the smartest people around.
Plus, they made bonus hunting unprofitable in most cases. No deposit bonuses aren't easy to find, and they often come with max cashout limits. Deposit match deals are great, but you must invest cash in claiming them. So, a person could spend hours browsing online casino bonuses that could work for their scheming and, on top of that, they'll often need to invest money to get the deal. Overall, the process has become complex, time-consuming, and a wet blanket for anyone hoping to actually enjoy the entertainment provided by playing casino games.
And What About VIP Rewards?
On the opposite side, at least in my opinion, we have VIP and loyalty perks. For those unfamiliar with the concept, these are rewards casinos give to loyal users. Some are exclusive and invitation-only clubs reserved for high rollers only. However, there are also tiered loyalty schemes where most players can earn VIP status.
Sure, if you deposit €20 here and there, you can't expect to be treated as players who spend €200 a week, for instance. Yet, casinos often find a way to pamper anyone who comes back to enjoy their services, as retention is as important as conversion.

And I just love seeing the different types of VIP perks. You can get exclusive bonuses, free spins, spins on a unique fortune wheel, birthday bonuses, and whatnot. Some casino sites even have their shops where you get to purchase cool gadgets or merch with loyalty points.
Basically, you find a casino you like, and you just keep playing there drama and hassle-free. No constant research, no developing complex schemes. You just enjoy your hobby when your budget allows it. Then, after a while, your loyalty gets recognized, and the operator gives you some surprises in the form of perks or bonuses.
Sounds simple and lovely, doesn't it?
Summing My Thoughts Up
Yes, yes. I know by the time you've reached this section, you probably can guess my conclusion on this topic. But I'll say it anyway.
In my opinion, bonus hunting isn't for those who want to enjoy the experience of playing slots or live dealer games or whatever else is on offer. I don't think any casual player will see profits from bonus hunting when all the time and money invested are summed up. After all, time is money as well. If you waste three hours on research and multiply them by your hourly rate, for example, does the step make sense or not?
As for VIP perks, I know it's not that easy to qualify for them. Still, that doesn't mean that you won't get any ever. Some sites give users a VIP status right after they make their first deposit. Sure, the perks may be modest, but they're still better than nothing.
And finally, I always say that gambling is entertainment. Unless you're professionally making money from it, of course. So, why would you ruin the experience when you can simply fully enjoy it by sticking to a platform you already like?
Sure, it's fine to try out something different from time to time. I'm not saying you should never join new casinos, especially not considering the number of new brands that hit the market every month. I would just like to ask anyone who plans to gamble online to consider how much time they want to spend on the activity and how much money they want to invest in it. Then, I'd like them to ask themselves whether they're doing it to become rich or to unwind.
Becoming rich by gambling, my experience has shown, is very unlikely unless you go pro. You may hit a massive jackpot, sure. But that's not happening every day. The most likely outcome is for you to have some fun and possibly share it with your friends before you get back to reality. So, I think you shouldn't ruin this real opportunity for honest fun with unrealistic expectations to beat the house when everyone knows that the house always wins.
This article delivers the thoughts and opinions of the author, and it doesn't represent the stance of GoodLuckMate.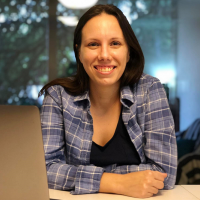 Milena is second-to-none when it comes to researching, reviewing, and recommending top online casinos. She stops at nothing when it comes to getting all of the facts and figures straight in each of her expert reviews. Plus, having worked as a writer within the iGaming industry since 2014, Milena has seen it all and is familiar with every aspect of online casinos.