It all started as an intrastate war in 2014, but it turned into an intercontinental conflict this year. When Russia decided to invade Ukraine in February 2022, this decision didn't have an impact only on international politics but also on almost every aspect of our lives (regardless of where we live).
Unexpectedly, the online gambling scene is affected by the war, too (or should I say the "special military operation," as one of the sides calls it). Several online slots introduced in the last few months were inspired by this event directly or indirectly. Some might say that mixing slots with politics is inappropriate because many people find playing games a form of escapism, but others disagree. The latter believe this issue should be stressed out in every way possible or simply fancy war-themed slots. Now, let's see what's going on at the gambling scene so I can find an answer to a question that no one thought about just a year ago – what does the Ukraine-Russia conflict bring in terms of slots?
The Ukraine-Russia conflict is a source of inspiration for slots
It makes sense that Nolimit City, the famous Malta-based studio, released one of the first online slots inspired by this war – Remember Gulag. After all, this game provider doesn't shy away from controversial themes. Still, some users did not accept the title well this time. Even though the game was not directly related to the conflict, it was obvious that the creators were referring to a potential scenario in which many people would end up in gulags.
Some users argued that this is similar to making a game about the holocaust. Still, in my opinion, this is not true because the holocaust happened at a different time and to another category of people. Also, Nolimit City's game is not making fun of these historical events. On the contrary, this release creates an ominous atmosphere. It reminds us of the horrors of these labor camps where many opponents of the USSR spent their lives.
Remember Gulag was released on April 19, 2022. Two days later, 5 Men Gaming unveiled its online slot with a self-explanatory name – Glory to Ukraine. So, the guys from 5 Men Gaming didn't refrain from showing complete support to one of the sides in this conflict. The popular chant used by many Ukrainians (Slava Ukrayini) became the title of a game with a borderline propaganda theme.
Technically, it's a standard slot game, but the visuals make the difference. You will find everything - from Ukrainian symbols and monuments to saluting Ukrainian soldiers and Bayraktar drones! It's definitely the most pro-Ukrainian slot game we've seen. So, if you are a big fan of Ukraine and war-themed slots, I say you should give it a try.
From 5 Men Gaming (a Czech-based studio) comes another online slot indirectly based on the latest unpleasant events in Ukraine – Three Cossacks. This time, the story is more subtle. It's about three fearless Cossacks wandering around the Ukrainian steppes suggesting that this is their home and that no one can tell them what to do there. The message is clear! It's worth noting that the game itself includes various motifs from the culture, traditions, and history of this country.

The Cossack culture, which many consider to be part of the Ukrainian national identity and (perhaps) the Ukraine-Russia conflict, served as a source of inspiration for the creation of the Of Sabers and Monsters slot by Yggdrasil. I say "perhaps" because I amare unsure whether the initial intent of the authors was to portray the hostilities in a fantastic environment. Namely, the game once again features a group of Cossacks. Still, this time they are not using the steppes to express their liberty, bravery, and independence but to protect their homes from the monsters. Given that the conflict made many people use derogatory names, especially for the Russian side (Orcs comes to mind) and the slot's title, I can notice a resemblance. So, we have a group of brave Cossacks on one side and monsters on the other. Of course, those who play video games are aware of the game with a similar title – Of Orcs and Men.
So far, we've seen only pro-Ukrainian war/military/politics-themed slots, which makes you wonder whether there are titles in favor of the military intervention in Ukraine. The simple answer is no, and there's more than one reason for this. First, the number of Russian casino game developers is relatively low. Igrosoft is one of them and doesn't release games regularly. We also have InBet Games, but this provider has always avoided such themes. The same goes for Belatra Games, a brand from Belarus – Russia's ally. A few successful European-based slot companies have strong Russian ties, but they, too, remain silent. I can't blame anyone for this because it seems that this conflict is a no-win situation for (almost) everyone.
Final thoughts
If we look at the newly-released war-themed slots, we will notice that the ones supporting Ukraine are dominating which is natural. However, after the few releases at the beginning of the conflict, many providers decided to put similar projects on hold, which makes sense. People are fed up with the news stories and are looking for a way to relax and unwind. For many players, a war-themed game is not a logical option.
The sad thing is that even after seven months, the Ukraine-Russia conflict is still active. As a matter of fact, the situation is more complicated than before. What we can hope for is a peaceful solution in the near future in which the only wars we can witness are the ones on the reels.
This article delivers the thoughts and opinions of the author, and it doesn't represent the stance of GoodLuckMate.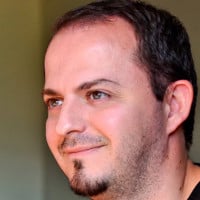 Andrej is an experienced writer specializing in online slots. He writes detailed slot reviews for GoodLuckMate, covering gameplay mechanics, graphics, bonus features, and payout potential. Andrej's expert analysis is highly regarded by both casual and serious slot enthusiasts. With his engaging writing style and deep knowledge of the industry, he is an essential contributor to the GoodLuckMate site.