When it comes to hot topics in the gambling world this week, Twitch streaming is absolutely sizzling. In case you missed it, let me give you a very brief rundown. A Twitch Streamer by the name of Sliker has been found to have been conning streamers out of money to fuel his gambling addiction. This has led to several well-known streamers calling on the platform to take action. Twitch released a statement this week detailing new laws that have come into place banning certain gambling practices. In this article, I'm going to take a look at the impact of these bans, and see what else could possibly happen in the future.
Details Released on Advertising Ban
Firstly, let's address Twitch's statement and what the ban will actually involve. It should be clear that the ban is not on gambling in full. The statement from Twitch was very carefully worded, with this being the key part:
We'll be making a policy update on October 18th to prohibit streaming of gambling sites that include online slots, roulette, or dice games that aren't licensed either in the U.S or other jurisdictions that provide sufficient consumer protection.
It then went on to list several crypto-casinos by name, including, most notably, Stake.com. For those who don't know, Stake is one of the best crypto casinos in the industry, making this a real statement of intent.
A Sensible Move?
Many of the issues surrounding gambling streams involve the silly amount of money that is being spent by these players on specific sites. It is not uncommon to see some of these wagering $50,000+ on single spins.
Needless to say, this is reckless and some sort of regulation is clearly needed. Unlicensed crypto-sites have been the bane of a lot of legit players' lives for a while now, with the gambling meta on Twitch quickly becoming full of them.
In theory, then, Twitch's recent move is a good one. It will control this reckless approach and will see streamers playing at sites that are regulated by bodies like the MGA, ensuring that we don't see this kind of behaviour.
More Clarity Needed
The big issue a lot of people have is the lack of clarity from Twitch on how this will be regulated. It has also led to concerns among legit streamers that their content will be banned next, cutting off not just a source of potential income, but also a fun community where they can interact with other players.
I personally think some sort of white list will be the best move for Twitch to make right now. This allows for clearer rules and should improve the quality of Twitch streams for gambling in general. Of course, it will also be very difficult to police.
However, to accompany this, age restrictions on streams and actual KYC style checks could be implemented. One of the biggest issues surrounding Twitch and gambling is that a lot of its audience could be underage, and the processes for checking this are slim to none.

Too Big To Ban?
The Gambling section on Twitch is one of their most popular. Back in June, Slots entered the top 10 most watched sections on the site. It had 39M hours watched, putting it above the likes of COD: Warzone. Now, I'm not a massive gamer, but I know enough to understand how significant this is.
As such, it is no doubt generating a lot of income for Twitch itself, which puts it in a tricky position. With many of Twitch's top casino streamers, ie, money makers, calling for bans, they clearly feel they need to pay attention. However, they also don't want to lose one of their biggest sections.
Concerns now are that many won't see the recent move as enough, and many will want an outright ban on gambling. I don't really think I need to express my thoughts on this as someone who works in, and hugely enjoys, the online casino industry. It remains to be seen whether those calling for the ban will see Twitch's recent moves as enough, and this could create problems for legit gambling streamers.
It seems unlikely that Twitch will want to go down this route. I feel as though they have left some of their wording ambiguous to give them time to iron stuff out and see how it plays out. It's a precarious situation and it is one they will probably be hoping fades into the background in the long run.
Regulation is the Way Forward
If this whole saga has highlighted anything, it's that Twitch needs to work out a way of regulating its online slot community if it wants it to continue. The streamers that have been impacted by the recent move will no doubt take their product elsewhere, and they're welcome to do so. They have peddled an extortionate way of gambling that isn't good for the wider online gambling streaming community as a whole.
Twitch now needs to make it clear how they are going to control this going forward. If they are able to implement the correct checks and put in place clear rules, there is no reason why the Twitch online gambling community can't continue to gro win in a healthy manner and be enjoyed by those who want to be a part of it.
This article delivers the thoughts and opinions of the author, and it doesn't represent the stance of GoodLuckMate.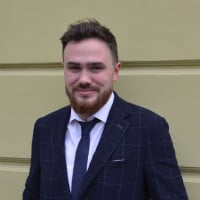 Liam is a skilled writer and journalist, highly regarded for his perceptive examination of the gambling industry. He specializes in online casinos and sports betting, and his work has been published in top-tier publications. Here at GoodLuckMate, Liam covers the latest industry news and has also authored various gambling guides, offering both beginners and experienced players in-depth analyses of games and strategies.