About a month ago, I read a LinkedIn rant from Daniel Hansson Sokcic about how banning demo mode at UK online casinos was a stupid rule. And honestly, I couldn't agree more with him. I've written a lot about nonsense regulations over the past few years, but I think I never focused properly on demo play. Since now seems as good a time as any, I'd like this opinion piece on GoodLuckMate to be all about free play mode of casino games and why it should be allowed. Let's dive in!
What's the Deal With Demo Play at All?
Before I move on to elaborating my views, I feel that I must first offer some insights on demo play for those unfamiliar with the concept. As the name suggests, demo play or free play lets players try out new casino games without investing money. Basically, you play with credits that have no value, and, in return, you win or lose credits that have no actual value.
In my opinion, demo mode, in fact, comes with various benefits for consumers. How often has there been hype surrounding a new slot, and you've ended up hating it? Imagine spending cash to try it out only to discover that you simply dislike that game.
Well, demo play makes it possible to try it out for free. If the game rocks your boat, you can then deposit cash and play it in real money mode. It's like a buffer zone between not knowing anything about a game and playing it for real cash. I believe that it's a critical buffer zone as it can prevent hundreds if not thousands of pounds from being wasted on unsatisfying iGaming experiences.
Another benefit is having the experience without spending the money. Obviously, the same level of thrill isn't there when you can't hit a massive jackpot. Yet, it's enough for some people to spin the reels and chill. By removing demo mode, regulators make this impossible and push for real-money play once again.
In a way, demo play solved several problems, and regulators decided to remove it. To me, that doesn't make sense.
The Outcome – Terrible and Worrisome
Just like Daniel mentioned in his LinkedIn post, there are basically two outcomes for those who want demo mode. The first one is visiting affiliate websites that allow UK visitors to try out games in demo mode. The second one is visiting non-UKGC and typically offshore casinos that offer free play.
I'd say both outcomes are equally dangerous because they can possibly lead to players gambling for real money at unlicensed casinos next. Once you're there, getting comfortable with the platform, and so on, I believe it's really easy to sign up and deposit. And that's something that nobody wants. We all know the possible dangers of playing with unlicensed operators. Consumers can have lots of headaches if things go south, from refusing to pay out winnings to account closings and lack of regulatory protection.
And I must say that I went the extra mile and tried to find some research or studies suggesting that demo play often leads to problem gambling. I couldn't find anything like that. Even in our own gambling addiction statistics article, no data supports such claims. So, I really can't understand the logic behind this decision and why it hasn't been withdrawn already.

There Should Be Some Rules Though
One possible issue with demo mode on online casino games would be the false expectations they may set if incorporated unfairly. Since I'm reading casino forums from time to time, I remember reading claims that demo mode slots came with a higher return to player percentage (RTP) than their real money counterparts.
So, for example, when someone plays the demo mode, they win frequently and often end up with more credits than when they started playing. By contrast, switching to real money mode wasn't not as nearly as pleasant as the wins weren't as frequent, and the playing budget was spent quickly.
I wouldn't want to mention brands here, but some commenters claimed, for instance, that one casino offered 96.21% RTP in demo and 94.25% RTP in real money mode on one of its slot machines. Another similar claim said that a casino offered 96% RTP on demo play and 94% on real money action on all its slots. Typically, these discrepancies weren't highlighted or easily found. Meaning, that they were pretty much misleading customers into believing a game was more generous than it actually was.
Thinking in this direction, I understand how demo play could be potentially dangerous. However, if there's proper regulation preventing casino operators from adjusting RTPs offered in demo and real money play, this issue would be instantly resolved. Once again, I think that smart decisions, which consider what consumers need and want, could be the perfect solution.
Regulators in the Role of an Overbearing Parent
Overall, I think that demo mode is a helpful feature that lets consumers try out different things and see what works for them. It also enables reviewers to try out games without spending money on them and allows anyone to compare game modes or explore new game mechanics for free. This is a huge benefit.
While the concept is primarily positive, it can be dangerous if used to mislead players and create unrealistic expectations regarding a game's generosity. So, instead of regulators taking the role of overbearing parents, I'd say that they should impose rules that make sense.
Rather than banning demo play altogether, it would be better to have outlines and guidelines on what's acceptable when it comes to free play. Changing the RTP, for instance, should be a huge no. Or, at least, if this is the case, operators should be required to highlight it on the demo mode playing screen and keep users well informed.
As always, I firmly believe that transparency and reasonable regulations are the way to keep everyone happy. If regulators simply ban anything that could be potentially dangerous, it seems that the entire iGaming industry may be at stake. And all the innovations that providers have been working on may be banned next.
That's why I'd like to see regulators pay more attention to player needs, conduct more surveys, and do more research. Only when there's enough data to support specific rulings, like the one to ban demo play, should they move forward with it. Otherwise, simple requirement adjustments and transparency could easily fix the problem without creating several more dangerous ones along the way.
This article delivers the thoughts and opinions of the author, and it doesn't represent the stance of GoodLuckMate.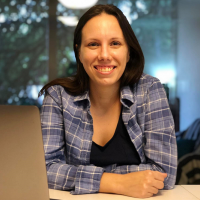 Milena is second-to-none when it comes to researching, reviewing, and recommending top online casinos. She stops at nothing when it comes to getting all of the facts and figures straight in each of her expert reviews. Plus, having worked as a writer within the iGaming industry since 2014, Milena has seen it all and is familiar with every aspect of online casinos.