It's funny how history repeats itself. Last year this month, I wrote about the scandal related to Evolution and the provider's possible illegal activities. At the time, the company was reported for supposedly accepting illegal wagers, i.e., wagers from consumers based in either banned or unregulated markets. At the time, I was wondering whether providers did turn a blind eye to such illegal activities and whether a more active role in the issue from their side could be one of the ways to deal with illegal gambling in general. This year, the news that Sweden will probably demand providers obtain a B2B license and ban them from working with unlicensed operators got my attention. What does this mean for players? Where will it lead? How will it affect the industry in general? Well, as always, I have a few thoughts to share.
A Short Overview of the Situation
The news that made headlines earlier this month isn't new. In fact, earlier this year (around January, more precisely), the new B2B licenses were mentioned alongside some possible new advertising controls. I believe it was noted that gaming software licenses would become necessary for any supplier hoping to service Swedish players.
In March, the same thing was mentioned again. It was clear then that software providers targeting Swedish players will have to get a license from the Spelinspektionen. My first thought was, "sweet." The change was supposed to go live starting from January 1st, 2023, but with the November update, it seems that July 1st, 2023, will be the date the changes go into force.
Simply put, any game supplier that works with Swedish casinos will have to obtain a license to keep those collaborations legit. Moreover, they will be banned from collaborating with illegal gambling sites targeting Swedish players. With this step, the authority hopes to shift (or, let's say, add) some of the responsibilities and accountabilities to gambling providers, too.
In my opinion, this is a good thing, even though I'm not a fan of market overregulation. I think it's fair for game suppliers - that profit significantly from the traffic they get - to be a bit more responsible. Selling your product is one thing but choosing profit over responsible and legitimate operations is just not nice.
How Will Providers React?
Let's say Provider A works with Operator B and Operator C, both targeting and serving Swedish players. However, if only Operator B has the appropriate licensing to do so, and Provider A doesn't stop working with Operator C, then Provider A will face hefty fines and risks losing its own license. The Swedish gambling market is solid, and I'm sure that providers wouldn't want to risk losing access to it.
As for whether they'll apply for this newly introduced license at all, my opinion is positive. Again, Swedish consumers have proven themselves valuable to both operators and providers. That's why I firmly believe that the most popular brands will apply for the approval, even though it means an additional expense for them.
The more interesting part would be how these providers handle their partnerships with illegal websites. I've seen lots of online casinos that, for example, you'll notice limit access to NetEnt games for Australian players. With a simple geotargeting solution, I believe they can also restrict access to specific games to Swedish players too. This would make them much less attractive though, so it's possible to see a positive shift toward licensed operators.
But the Swedish regulator mentions prohibiting providers from working with unlicensed operators, and I'm not sure about the scope of this ban. Consultations and more information about the regulation should be provided in early December. So, that's when we'll know more about what "supplying its products and services to unlicensed gambling operators" means.
Will MGA and Curacao sites count as unlicensed, or does this refer to offshore gambling sites without any licensing? Will this focus on servicing Swedish players only or on other consumers, too?
I must say, I'm curious about the direction this will and can go. Yet, such a step isn't something we haven't seen already. That takes me to my next point.

The Big Players Seem Dedicated to Maintaining a Good Brand Name
I think that iGaming – at least in the past few years – has seen a shift when it comes to branding and keeping a good name in the industry. Companies want to do better; they want to have responsible gambling policies, tools, etc. So, I believe that most providers won't have an issue with the new requirement.
Moreover, it's fair to mention that the situation has been like that in the UK for a while now. Game suppliers must hold the UKGC license if they want to offer their games to UK players. The MGA has a similar provision, but it allows its operators to work with providers that hold an EU/EEA license. Knowing this, it's easy to see that the requirement isn't something novel. In fact, it seems like a logical step in fighting illegal operations.
And unlike the restrictive deposit limits – which were removed and now will possibly be introduced again – or other measures that ruin the playing experience, this requirement isn't the worst one. I think that it's in everyone's best interest to ensure consumers get access to safe and fair games alongside a range of responsible gambling practices and restriction tools.
My one concern is perhaps what would happen if not many providers respond well to the new regulation. In that case, regulated Swedish casinos may end up having a limited game offer and become less attractive to consumers. This would surely push consumers towards illegal sites and keep the vicious circle alive.
Will Other Jurisdictions Follow?
As I already mentioned, the UKGC and the MGA have similar requirements for their licensees. Next year Sweden will simply join them. We can see the same trend in the legal US market, where for example, providers obtain approvals from state regulators to partner with licensed operators. These are significant markets that have the power to drive global changes.
In any case, I can definitely see other jurisdictions following the steps of Sweden, especially if there is enough data to support the decision.
However, before finishing this article, I'd also like to say how regulators are constantly coming up with restrictions to fight illegal gambling. It would be nice to see a shift in this approach and find ways to make legit casinos better because they provide higher value to players.
In most cases, it seems that consumers get what they want at illegal sites because they give them lavish online casino bonuses and other player perks. Their game catalogs seem equally good, and there are no specific reasons for users to avoid them.
Yes, we always have the issue of closed accounts or canceled withdrawals/winnings. However, players rarely focus on that until it's too late. That's why I believe that ensuring legit casinos have the upper hand in the game offer, at least, is a smart way to drive users to legal casinos.
Overall, I've hated and criticized many rules introduced by strict regulators like the Spelinspektionen or the UKGC. This one, I must admit, isn't one I'll complain about. Only time will tell whether I'm right or wrong. Though, I want to believe that not all decisions by these authorities exist to ruin the legal iGaming experience for consumers.
A girl can dream, right?
This article delivers the thoughts and opinions of the author, and it doesn't represent the stance of GoodLuckMate.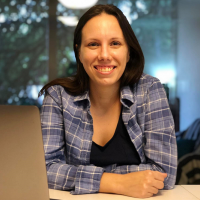 Milena is second-to-none when it comes to researching, reviewing, and recommending top online casinos. She stops at nothing when it comes to getting all of the facts and figures straight in each of her expert reviews. Plus, having worked as a writer within the iGaming industry since 2014, Milena has seen it all and is familiar with every aspect of online casinos.