iGaming brings people easy access to entertainment and promises potentially big rewards. That makes it attractive to a massive number of consumers who just love the excitement they get through this hobby. Of course, you don't have to take my word for it; a glance at the number instantly shows the high potential of this industry, which was valued at over $230 billion in 2021. And where one sees big money, one also expects to see the big brands. Amazon, Google, Netflix, Disney – you name them! These companies never stop with their expansions, and I wonder when they will enter iGaming. More importantly, I wonder how they will impact the global online gambling and betting industry once they join it. In this article, let me share some thoughts and possible scenarios of what could come ahead.
Disney Already in the Betting Game
When thinking about what big brands would first enter iGaming, my mind always went to giants like Netflix and Amazon for some reason.
Yet, it was amusing to discover that one well-known company has already dipped its toes into online gambling and betting, one we typically associate with cartoons and kids' entertainment. Yep, I'm talking about Disney!
In fact, after some research, I discovered that this was a topic back in late 2021. It's not even new. At the time, Disney revealed plans to expand into the fast-growing US betting market through its ESPN product. If you think about it, it makes perfect sense. They have access to millions of consumers and a good reputation. Partnering sports betting with such a sports-focused product is the best of two worlds.
It's not only that.
Apparently, Disney also owns about 6% of DraftKings through its acquisition of Fox Sports and 21st Century Fox.
With all this laid out, it's fair to conclude that Disney is deep into the action already, even though many people may not be aware of it.
So far, there's been an introduction of sports betting content on ESPN. The company itself admitted that betting must be part of sports entertainment, especially since it's considered a way to engage younger audiences.
And when Disney says that "betting has to be part of that storytelling," you know they're not playing.
In this sense, I'd say that the presence of the concept will drastically spread, especially throughout the US. I wouldn't be surprised if the company even produces some gambling and betting-related shows on its streaming services.
And that takes me to the next point.
Much More iGaming-Inspired Content for All Audiences
This is one thing that scares me, actually. I think that big brands and all their massive marketing budgets will take gambling and betting content everywhere, even to audiences that shouldn't be in touch with it.
In my opinion, American consumers are currently at high risk as their market is slowly opening but I'm not entirely convinced their regulations are strict enough. In European countries, there are many restrictions regarding advertising and type of content. Their goal is to protect minors.
From what I've seen in the past few months, that's not the case in the US.
I've seen trailers for a Nickelodeon movie called Fantasy Football. Sure, at first sight, this is an innocent movie about a girl who controls her father, a professional American football player.
She does this through her gaming console, but the movie title can easily refer young viewers to the not-so-innocent fantasy football concept. As fantasy football betting is huge and closely related to the activity, you can see the cause of my concern.
Aside from mainstream gambling-related content that will try to promote the activity, I'm also worried about the advertising concept. Big names don't play when it comes to marketing. They have elaborate stories created to sell. If you watch a show on any US network or streaming service with ads, you'll see gambling or betting advertisements at any time.
These can reach any audience, including minors and gambling addicts. And big brands have money for big names. Drew Barrymore is promoting the Bingo Blitz app. Martin Lawrence promoted DraftKings, and Jamie Foxx did the same for BetMGM. Ben Affleck spread the word for WynnBET.
In an era where Disney sees sports betting and gambling as a solid revenue source, it's only a matter of time before some of its Marvel superheroes admit bingo or casino slots are their favorite hobby.
Do you see my point?
Can Netflix Be Next?
The moment Netflix announced its gaming segment, I said to my friends – sooner or later, they'll bring real money gambling to your TV. Again, this is a fantastic idea profit-wise. If people enjoy playing games through their Netflix account, I don't see why they wouldn't like playing casino games the same way.
Again, Netflix is a massive success that reported over 223 million subscribers in 2022. Imagine adding gambling and betting products available to consumers in legal markets. This could be a real game changer, bringing online casino action to millions of homes.
In my opinion, as fantastic as this sounds, it could potentially be dangerous.
Prime Gaming is Amazon's answer to the high demand for gaming products among newer generations. This is another segment that can quickly adapt to gaming and gambling, or Prime iGaming/Prime Betting may be coming up next.
Imagine buying dog food and getting free spins as a perk or using your credit card points at your favorite online casino.
Everything is possible in this industry, especially if big global brands start meddling.
Can the World's Richest Companies Be Properly Overseen?
Finally, I wonder if there are regulators strict and dedicated enough to control and oversee big brands properly.
We've seen the issue in both iGaming and out of it.
In gambling, some of the biggest companies have received massive fines for foul play, and they just keep doing their own thing. A $1 million fine isn't as much as it seems for a company that makes $100 million from playing dirty, right?
We've seen the same thing with companies like Facebook, for instance, that constantly get fines but don't seem to change anything.
I'd say it's fair to be cautious, therefore, when talking about combining the profit potential from gambling with the already massive wealth and influence big brands have. The situation could quickly get out of control, and that would harm the most – as always – the most vulnerable consumers.
Naturally, I don't think that everything will be bad and dangerous. On the contrary, I'm sure big brands and their creative teams will introduce many amazing things. From awesome games to maybe even new casino game concepts, everything is on the menu.
I will conclude this article, however, by expressing hopes that the dedication to protecting vulnerable consumers and promoting responsible gambling will overpower the ever-growing hunger for profit above all.
This article delivers the thoughts and opinions of the author, and it doesn't represent the stance of GoodLuckMate.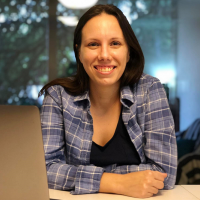 Milena is second-to-none when it comes to researching, reviewing, and recommending top online casinos. She stops at nothing when it comes to getting all of the facts and figures straight in each of her expert reviews. Plus, having worked as a writer within the iGaming industry since 2014, Milena has seen it all and is familiar with every aspect of online casinos.